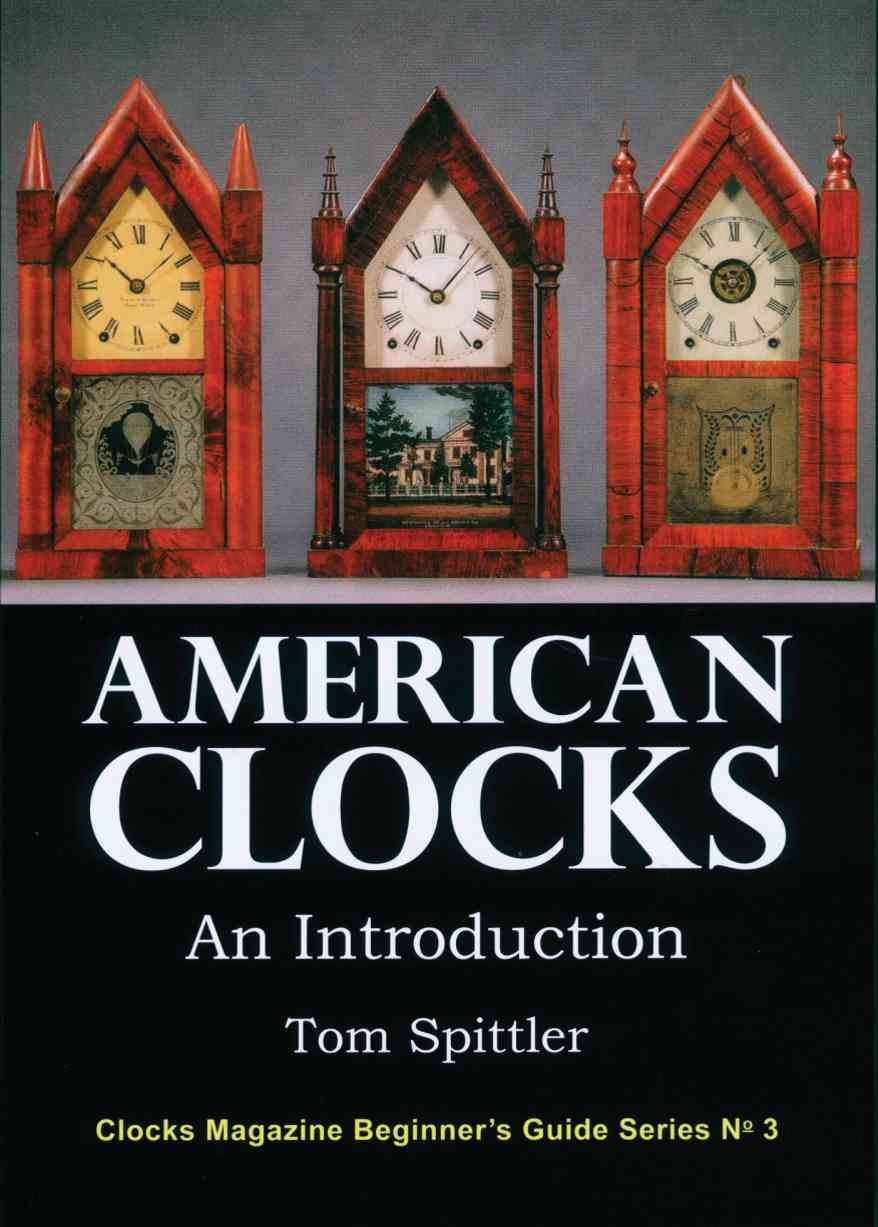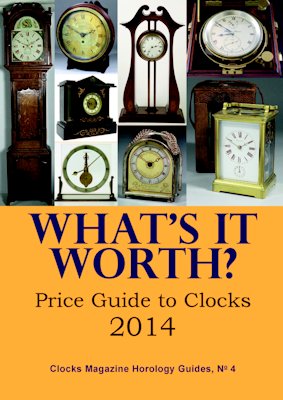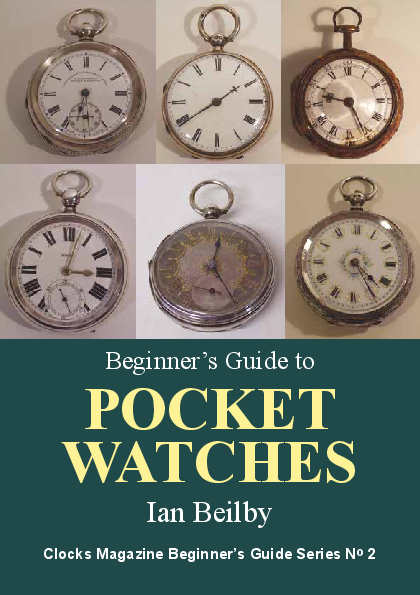 Clocks Magazine, Index 1980-1981, Volume 3
This volume runs from July 1980 to June 1981 inclusive.
The Index is in two sections. The 'General Horology Index' is an alphabetical list of topics covered. The 'Clockmaker Index' lists clock and watch makers with details of the magazine(s) in which they have appeared. We hold extensive stocks of back issues and you can use the 'Buy a back issue' button to check availability and buy.
GENERAL HOROLOGY INDEX
A
Acorn clock
, March 1981 page 34
Act of Parliament clocks
,
see
'Tavern clocks'
Alarm clock
, September 1980 page 14
American clocks
, October 1980 page 11, December 1980 page 46, February 1981 page 10, March 1981 page 9, March 1981 page 31, May 1981 page 11, May 1981 page 46
Anniversary clocks
,
see
'Four hundred day clocks'
Ann's Watches and Clocks
, September 1980 page 8
Antiquarian Horological Society
, April 1981 page 7, April 1981 page 33, June 1981 page 10
Antiquarian Horology
, November 1980 page 11
Antique Hypermarkeet, Kensington High Street
, September 1980 page 8
Art form clocks
, June 1981 page
Astrolabe
, June 1981 page 26
Astronomer's clock
, February 1981 page 32
Astronomical clock
, November 1980 page 24, June 1981 page 26
Attwood, Seth
, August 1980 page 17, October 1980 page 3, November 1980 page 24, April 1981 page 34
Auction snobbery
, August 1980 page 5
Auctions
, August 1980 page 17, October 1980 page 42, November 1980 page 5
Ayres, E A
, April 1981 page 33

B
Balance spring, invention of
, November 1980 page 38
Ball, Leonard, of Lutterworth
, July 1980 page 8, October 1980 page 7
Banjo clock
, August 1980 page 9
Barnard Castle
, July 1980 page 26
Barometer
, November 1980 page 26
Basle Trade Fair
,
see
'European Clock, Watch & Jewellery Fair, Basle'
Batchwood, St Albans, clock tower
, September 1980 page 8
Bell making, photographs of
, February 1981 page 48
Bells, longcase
, April 1981 page 12
Bermondsey Antique Warehouses Consortium
, December 1980 page 25
Bermondsey (New Caledonian) Market
, December 1980 page 25
BHI
,
see
'British Horological Institute'
Biddle & Mumford (Gears) Ltd of Clerkenwell
, July 1980 page 9, October 1980 page 7
Bilbie Society
, July 1980 page 6
Birdcage movement with rack striking
, June 1981 page 31
Black Forest clocks
,
see
'German clocks'
Black marble (or slate) clock
,
see
'Slate clocks'
Blind watchmaker
, August 1980 page 5
Bodgers
, September 1980 page 21
Bodleian Library, Oxford
, November 1980 page 24
Bohemian wall clock
, May 1981 page 12
Bonhams auctioneers
, October 1980 page 42
Books and journals
North Country Clockmakers, by C Leo Reid
, July 1980 page 26
Monthly Chronicle of North Country Lore and Legend
, July 1980 page 26
Curiosities of Clocks and Watches, by E J Wood
, August 1960 page 5
Watchmakers and Clockmakers of the World, Volume 2, by Brian Loomes
, August 1980 page 6
Time in Exeter, by Clive Ponsford
, August 1980 page 20
Price Guide to Clocks 1840-1940, by Alan and Rita Shenton
, September 1980 page 12
Horolovar 400-day Clock Repair Guide, by Charles Terwilliger
, October 1980 page 9
Thomas Cole and Victorian Clockmaking by J Hawkins
, October 1980 page 43
Chepstow Clock and Watch Makers, by Ivor Waters
, October 1980 page 48
Clock and Watch Makers of Nottinghamshire, by Harold M Mather
, October 1980 page 48
Precision Machinery Manufactured by the American Watch Tool Co, c1890
, October 1980 page 48
English Goldsmiths and their Marks, by Charles J Jackson
, November 1980 page 11
The Story of the Pendulum Clock, by Ernest L Edwards
, November 1980 page 24
&nbsp
Carillons of Belgium and Holland, by William Graham Rice
, November 1980 page 35
Ansonia Clock Company 1886/7 with 1979 Price Guide
, December 1980 page 7
Renovating Clocks, by Eric Smith
, December 1980 page 7
Suffolk Clocks and Clockmakers, by Arthur L Haggar and Leonard L Miller
, December 1980 page 9
Amateur's Book of Clocks, The, by Arnold Brun
, February 1981 page 5
Thomas Tompion, His Life and Work, by R W Symonds
, February 1981 page 13
Die Höhere Uhrmacherkunst, by Urban Jürgensen
, March 1981 page 5
Alte Uhren und Ihre Meister, by Ernst Basserman-Jordan
, March 1981 page 5
Die Reparatur Komplizierter Tashcenuhren, by Bruno Hillmann
, March 1981 page 5
Die Hemmunder der Uhren, by Curt Dietzschold
, March 1981 page 5
The Coloring Book of Antique Clocks, by Diane Benkendorf
, March 1981 page 5
Electric Clocks and Chimes by Frank Hope-Jones
, April 1981 page 11
Electrical Timekeeping by Frank Hope-Jones
, April 1981 page
An Introduction ot the Mechanical Part of Clock and Watch Work, by Thomas Hatton
, May 1981 page 6
Rudimentary Treatise on Clocks, Watches and Bells for Public Purposes, by Lord Grimthorpe
, June 1981 page
Bornholm clock
, February 1981 page 39
Bosley's index
, October 1980 page 38
Bracket clocks
, July 1980 page 5, August 1980 page 9, November 1980 page 11, November 1980 page 49, December 1980 page 9, December 1980 page 10, January 1981 page 23, April 1981 psge 38, June 1981 page 10
Bracknell New Town
, January 1981 page 43
Brass, expansion of
, March 1981 page 41
British Horological Institute
, July 1980 page 10, October 1980 page 9, November 1980 page 11
'British Jerome Movements'
, May 1981 page 10
British Museum, the
, November 1980 page 24, February 1981 page 39
British Steel Corporation, Shotton, Deeside
, September 1980 page 34
Burlington House Fair
, January 1981 page 19
Burlington Special pocket watch
, August 1980 page 41
Buying and selling clocks
, April 1981 page 3
Buying clocks at auction
, August 1980 page 17

C
'Cairo' model by Waterbury
, May 1981 47
Caledonian Market
, December 1980 page 25
Calendar clock
, June 1981 page 24
Call Boy alarm
, April 1981 page 18, June 1981 page 6
Cape Town Tompion clock
, April 1981 page 30
Carnegie Museum
, February 1981 page 38
Carriage clocks
, January 1981 page 39, June 1981 page 11
Carriage clocks, made by pupils of Davenport School, Stockport
, May 1981 42
Carriage clocks, miniature
, August 1980 page 26
Carrilon (carrilion)
, November 1980 page 27, November 1980 page 35
Carrington, S H, of New Milton
, March 1981 page 6
Cartel clocks
, June 1981 page 12
Carved cases
, October 1980 page 35, May 1981 page 9
Cased in India, English clock
, January 1981 page 7
Case makers, clock
, January 1981 page 18
Castlemaine Tompion, the
, August 1980 page 17
Celestial Orbitery
, November 1980 page 49
Chantler, J E, of Weybridge
, March 1981 page 6
Charles Bannister, the company, of Birmingham
, May 1981 32
Charles Greville & Co of Croydon
, July 1980 page 9
Cheshire Antiques
, September 1980 page 8
Cheshire Clocks of Plumley
, July 1980 page 9
Chimes, Westminster
, January 1981 page 5
Chimes, Whittington
, January 1981 page 5
Chinese Chippendale bracket clock
, December 1980 page 10
Chinoiserie
, April 1981 page 12
Chronometers
, December 1980 page 14
Church clocks
,
see
'Turret clocks'
Churchill, Somerset, bell
, July 1980 page 6
'Cincinnati' model by Seth Thomas
, May 1981 46
Classic Clocks of London
, July 1980 page 11, October 1980 page 19
Claude Reeve Memorial Trophy
, March 1981 page 6
Claw feet
, November 1980 page 11
Clay, Charles, Clockmaker to George II
, August 1980 page 34
Cleaning clocks, the importance of
, March 1981 page 14
Clepsydra
,
see
'Water clock'
Clockette, Bulle
, December 1980 page 11
Clock kits
,
see
'Kits for making clocks'
Clockmakers Company
,
see
'Worshipful Company of Clockmakers'
Clockmakers Company of the Netherlands
, January 1981 page 21
Clocks for Everyman Exhibition
, September 1980 page 5, September 1980 page 27, October 1980 page 7, November 1980 page 11, December 1980 page 42, May 1981 page 3
'Clocks that have Killed
, December 1980 page 5
Clock Widow
, July 1980 page 6, April 1981 page 5, June 1981 page 10
Colin Davies Antiques of Stafford
, July 1980 page
Comtoise clocks
, February 1981 page 24, February 1981 page 37, March 1981 page 13
Congreve rolling ball clock
, February 1981 page 24
Congreve rolling ball clock, kit for
, March 1981 page 5
Conservatoire National Des Arts et Metiers
, March 1981 page 24
Constellation wristwatch by Omega
, January 1981 page 10
Coppelia Antiques of Plumley
, July 1980 page 10l
Cottage alarm clock
, May 1981 page 11
Courses in clock repair, lost wax casting, clock dial and general enamelling
, April 1981 page 5
Cowell Engineering Ltd
, May 1981 page 6
Cowells Incorporated of Villa Park, Illinois
, May 1981 page 6
Crossroads Hotel clock, Weedon, Northamptonshire
, June 1981 page 5
Cuckoo clock
, August 1980 page 46

D
Davies' Antiques
, October 1980 page 7
Dealer, confessions of
, December 1980 page 49
Deck watch, repair of
, January 1981 page 10
Dennison Collection, the
, October 1980 page 26
Derek Roberts Antiques of Tonbridge
, July 1980 page 11
Designing clocks
, December 1980 page 42
Dial engraver's mistake
, April 1981 page 10
Dial, restoration
, April 1981 page 46, May 1981 page 24
Dials, enamel
, January 1981 page 40
Dickens, Charles, clock shop which inspired him
, July 1980 page 26, December 1980 page 40
Dikusha Palace clock
, September 1980 page 8
Diploma in Technical Horology
, January 1981 page 6
Discus patent
, November 1980 page 21
Dish clock
, March 1981 page
Disposable wristwatch
, November 1980 page 3, January 1981 page 10
Dom Tower (Domtoren) of Utrecht
, November 1980 page 35
Dover Castle clock
, April 1981 page 33
Duke of Northumberland
, May 1981 page 9
Durham Cathedral clock
, August 1980 page 11, October 1980 page 10
Durrani, Paul Khan, of Aldershot
, July 1980 page 8
Dutch clocks
, August 1980 page 36, May 1981 page 27
Dying trade
, March 1981 page 3

E
Earnshaw's chronometer escapement
, October 1980 page 38
Edenbridge Church clock
, September 1980 page 48
Edward Dean Foundation
,
see
'West Dean College'
Electric clocks
, August 1980 page 7, December 1980 page 11, February 1981 page 46, March 1981 page 6, April 1981 page 11, April 1981 page 16
Electrically-deposited gold
, January 1981 page 49
Elephant clock
, February 1981 page 38
'Empire' model by Forestville
, May 1981 46
Enamellers
, January 1981 page 40
English Clockmakers Guild
, June 1981 page 10
English regulators
,
see
'Regulators, English'
Equation of Time
, May 1981 19
Eric H Bernfeld Ltd of Potters Bar
, July 1980 page 9
Escapement, gravity
, September 1980 page 8
Escapement, Randall-Theurillat
, April 1981 page 33
Essex clocks and clockmakers
, April 1981 page 10
European Clock, Watch & Jewellery Fair, Basle
April 1981 page 5, May 1981 page 6
Ever Ready
, September 1980 page 13
Exhibitions containing clocks
, September 1980 page 5, September 1980 page 27, October 1980 page 7, November 1980 page 11
Exminster Parish Church clock
, August 1980 page 23

F
Father Time
, August 1980 page 6
Feill Collection
, June 1981 page 26
Fielden clock, the, of Bracknell
, January 1981 page 43
'Florentine No 1' model by Ansonia
, May 1981 47
Flying Post, The
, May 1981 page 5
Four-glass clock
, June 1981 page 12
Four hundred day clocks
, October 1980 page 9, March 1981 page 10, March 1981 page 11, June 1981 page 10
Franche-Comte district of France
, February 1981 page 25
Franklin Dennison Collection, the
, November 1980 page 38
French clocks
, September 1980 page 40, February 1981 page 9, January 1981 page 10, March 1981 page 9
Fusedale, Ian, of London
, July 1980 page 8

G
'Gail Borden' watch model
, June 1981 page 34
Galerie Koller of Zurich
, November 1980 page 26
Galileo's Escapement
, March 1981 page 6
Gas Referees' Stop Clock
, September 1980 page 16
German clocks
, July 1980 page 5, August 1980 page 46, January 1981 page 9, February 1981 page 18, March 1981 page 13, March 1981 page 31, June 1981 page 19
Gillis, R, of Arundel
, July 1980 page 11
Gilt
, January 1981 page 49
'Girl with a pitcher' clock
, September 1980 page 40
G K Hadfield of Loughborough
, July 1980 page 11
Goblin
, April 1981 page 20
Gold filled
, January 1981 page 49
Gold plate
, January 1981 page 49
Goldsmiths Company, empowered to assay and mark gold
, November 1980 page
Goodacre Engraving Ltd
, July 1980 page 11
Gothic clock
, August 1980 page 44
Grandfather clocks
,
see
'Longcase clocks'
Grays Antique Market, London
, November 1980 page 19
Grimthorpe escapement
,
see
'Escapement, gravity'
Guildhall
, November 1980 page 39
Guildhall Library
, July 1980 page 6, November 1980 page 11
Guildhall Museum
, October 1980 page 26, February 1981 page 39, May 1981 page 36
Gunsmith turned clockmaker
, March 1981 page 9

H
Hackney College Diploma in Technical Horology
, January 1981 page 6
Hadfields
, October 1980 page 7
'Halifax' case
, October 1980 page 35
Hands, clock, and their makers
, July 1980 page 20
Hands, clock, the making of
, August 1980 page 12
Harding, Keith, music box restorer
, October 1980 page 16
Harrison's own regulator
, April 1981 page 35
Harrogate clock, Grove House
, March 1981 page 6
Head, Barry, of Northwood
, July 1980 page 11
Helmith Kienzle Collection
, April 1981 page 24
Henley Carriage Clock Co of Henley on Thames
, July 1980 page 11
Henri Picard & Frere of London
, July 1980 page 11
Henry Ford Clock Museum
, March 1981 page 6
Herbert Scott electric clock
, March 1981 page 6
Herbert, Thomas, Clockmaker to the King
, August 1980 page 34
Hirst Brothers of Oldham
, May 1981 32
Holze, H, of Knochenhauerstrasse 21, Hanover
, December 1980 page 13
Hook-and-spike clocks
, January 1981 page 44
Horological art
, April 1981 page 33
'Horological Horrors'
, December 1980 page 17, February 1981 page 22
Horological Solvents of Bury
, July 1980 page 11
Horological suppliers
, March 1981 page 3
HoroMemo, the
, December 1980 page 25
House of Harbru of Rotherham
, July 1980 page 9
H S Walsh & Sons Ltd of Beckenham
, July 1980 page 11
Hunter watch, gold
, November 1980 page 11
Huntly, William, of Barnstaple, clock repair man
, August 1980 page

I
Ilbert Collection
, February 1981 page 39
Imperial Metal Industries (IMI) Bailey
, May 1981 14
'Improved Timepiece'
, August 1980 page 9
Innes, John, clock restorer
, November 1980 page 32
Ismay Synchronous Clocks
, April 1981 page 20
Institution of Civil Engineers
, November 1980 page 6

J
Japanese clock
, November 1980 page 26
Jean & John Antiques of Southend
, July 1980 page 11
Jersey Museum
, November 1980 page 20
Jonal Clocks Ltd
, April 1981 page 5

K
Kabul clock
, September 1980 page 8
Kaufman, Mark, of London
, July 1980 page 11
Kent Clock Services of Tonbridge
, July 1980 page 11
Kensington Town Hall
, October 1980 page 7
Kings College, Cambridge, turret clock
, July 1980 page 50
Kirkstall Power Station Clock
, September 1980 page 13
Kits for making clocks
, March 1981 page 5, May 1981 page 6
Knaphill Antiques, Woking
, July 1980 page 9
Kosmoid Time Recorder
, August 1980 page 10
Kronhus Boadarna, Gothenburg, Scotsman in
, November 1980 page 32

L
Lantern clocks
, November 1980 page 33, February 1981 page 12, February 1981 page 16, March 1981 page 44
Lantern clock, miniature
, January 1981 page 19
Lacquerwork
, April 1981 page 12
Leeds clock (outside John Dyson, jeweller)
, August 1980 page 6
'Le Vieil Horloger', picture
, August 1980 page 11
Lewis, Arthur, of Gloucester
, July 1980 page 11, October 1980 page 7
Lighthouse clock
, December 1980 page 35
Longcase clocks
, August 1980 page 5, August 1980 page 28, September 1980 page 12, September 1980 page 20, October 1980 page 5, October 1980 page 32, November 1980 page 12, November 1980 page 19, December 1980 page 5, December 1980 page 9, December 1980 page 11, December 1980 page 31, January 1981 page 5, January 1981 page 7, January 1981 page 10, January 1981 page 49, February 1981 page 8, February 1981 page 10, February 1981 page 12, February 1981 page 31, February 1989 page 40, March 1981 page 10, March 1981 page 18, March 1981 page 34, March 1981 page 45, April 1981 page 6, April 1981 page 11, April 1981 page 12, April 1981 page 23, April1981 page 41, May 1981 page 9, May 1981 page 11, May 1981 page 27, June 1981 page 38
Louis XIV clock
, June 1981 page 26
Lubrication for clocks and watches
, November 1980 page 6

M
Mainspring, broken
, October 1980 page 9
Mainspring, invention of
, November 1980 page 38
Making clocks
, February 1981 page 46
Maltese clocks
, May 1981 page 12
Maltese wall clock
, September 1980 page 29
Mantel clocks
, December 1980 page 9, February 1981 page 9, February 1981 page 10
Marriages, identifying
, March 1981 page 17
Mason and Sullivan of Osterville, Massachusetts
, August 1980 page
Masonic watches
, August 1980 page 41
'Master Humphreys' Clock'
, July 1980 page 26, December 1980 page 40
Matthew the Miller, clock automaton
, August 1980 page 5
Mercury pendulum, tips regarding
, May 1981 26
Merritt's Antiques of Douglasville, Pennsylvania
, August 1980 page 9
Model Engineer Exhibition, golden jubilee of
, March 1981 page 6
Moon clocks at St Margaret's, Kings Lynn
, December 1980 page 7
Morbier
, February 1981 page 25
Morez
, February 1981 page 25
Morris Cohen & Co of Leeds
, May 1981 32
Museums containing clocks
, August 1980 page 17, August 1980 page 36, October 1980 page 26, November 1980 page 20, January 1981 page 21, January 1981 page 40, February 1981 page 38, March 1981 page 6
Music boxes and musical clocks
, October 1980 page 16, February 1981 page 29, March 1981 page 36
'My Grandfather's Clock'
, July 1980 page 62
Myth of the mourning clock
, October 1980 page 11

N
Name and place requirement
, January 1981 page 10
'Napoleon hat' mantel clock
, May 1981 48
Nathan Shestopal
, July 1980 page 11
National Beiaard Museum, Austen
, November 1980 page 27, November 1980 page 35
National Maritime Museum, Greenwich
, October 1980 page 3, March 1981 page 14, April 1981 page 34
National Museum, Stockholm
, February 1981 page 38
Netherlands Gold, Silver and Clock Museum
, January 1981 page 21
New Call Boy alarm
, April 1981 page 18
Newton, Isaac
, February 1981 page 32
Nicholas Nickelby by Charles Dickens
, July 1980 page 25
Night alarm bracket (or shelf) clock
, April 1981 page 10
Night clock, French
, February 1981 page 30
Night projector clock
, September 1980 page 13
Nocturnal dial
,
see
'Night projector clock'
Noiseless Alarm, Ingersoll
, November 1980 page 12, December 1980 page 10
Normandy Calvados area of France
, February 1981 page 25
Nottingham Exchange clock
, February 1981 page 42

O
Old Malton School clock
, April 1981 page 5
Open Air Museum of Historic Buildings, Zaandam
, August 1980 page 36
Ottery St Mary church clock, Devon
, July 1980 page 31

P
Padside
, January 1981 page 12
Painted dial clocks
,
see
'White dial clocks'
Patent Detached Lever
, October 1980 page 38
Patent Office Library
, May 1981 14
Patent Repeater
, November 1980 page 42
Pendule a Cercles Tournants
, January 1981 page 3
Pendule de Prince de Talleyrand
, August 1980 page 43
Pendulum, gridiron, explained
, March 1981 page 41
Pendulum, patented
, April 1981 page 10
'Pendulum swinging in water'
, December 1980 page 5
Penney, David, horological artist
, April 1981 page 33
Penny moon
, June 1981 page 39
Perpetual calendar clocks
, September 1980 page 34
Phantasmagorie chronometer
,
see
'Night projector clock'
Pivot, worn, repair of
, March 1981 page 48
Platform escapement
, December 1980 page 10
Pocket watches
,
see
'Watches, pocket'
Portobello Road Market, London
, October 1980 page 5
Postage stamps featuring clocks
, May 1981 page 9
Postman's alarm
, February 1981 page 9
Postmaster, the
, May 1981 page 5
Price guide
, November 1980 page 5
Prisoner's clock
, June 1981 page 24
'Prize' model by Jerome
, May 1981 47
Public clocks
,
see
'Turret clocks'
Public Records Officed
, December 1980 page 31

Q
Quaker clockmakers
, January 1981 page 44, February 1981 page 31, March 1981 page 9, April 1981 page 11
Quill, Colonel H
, April 1981 page 33

R
Radio controlled clocks
, August 1980 page 7
Regulators, English
, December 1980 page 13
Renaissance clock
, June 1981 page 26
Repair and restoration of clocks
, December 1980 page 46
Repeater, restoration of
, November 1980 page 42
Robert Pringle, the company, of Clerkenwell
, May 1981 32
Robinson, T R (Robbie)
, June 1981 page 6
'Robertson' model by 'Ansonia
, May 1981 46
Rolled gold
, January 1981 page 49
Rose, R E
, July 1980 page 9
Rosewood case
, April 1981 page 23
Royal Astronomical Society
, October 1980 page 3
Royal Observatory, Kew
, November 1980 page 6
R P Products of Huddersfield
, July 1980 page 10

S
Salisbury clock, the
, November 1980 page 24
Sangamo by Magneta
, April 1981 page 19
'Save that clock'
, June 1981 page 3
Saw piercers
, August 1980 page 12
School clocks
, May 1981 42
Science Museum, South Kensington, London
, November 1980 page 24, November 1980 page 49, February 1981 page 39, April 1981 page 33
Scottish clocks
, November 1980 page 19
Sectric
, April 1981 page 18
Sedan clocks
, October 1980 page 9, March 1981 page 26
Self-winding clock
, May 1981 page 14
Sheepshead lantern clock
, February 1981 page 17
S Heller & Son Ltd
, May 1981 32
Shenton, Rita
, July 1980 page 9, October 1980 page 7
Shestopal
, October 1980 page 7
Shillingford St George, clock
, December 1980 page 5
Skeleton clocks
, August 1980 page 26, November 1980 page 16
Silent Kee-less Clock
, March 1981 page 9
Slate clocks
, July 1980 page 5, January 1981 page 9
Smiths floating balance
, May 1981 page 11
St James's Palace clock
, August 1980 page 33
St Margarets clock, Kings Lynn
, December 1980 page 7
St Mary Steps Church clock, Exeter
, August 1980 page 6
Statue of Liberty clock
, June 1981 page 7
Steel, expansion of
, March 1981 page 41
Steeple clock
, May 1981 47
Strike One Ltd of Islington
, July 1980 page 10
Strut clocks
, December 1980 page 35, March 1981 page 11
Sundials
, August 1980 page 42, May 1981 page 19
Sussex Tompion, the
, August 1980 page 17
Swedish clock
, March 1981 page 37
Synchronous clocks
, April 1981 page 16
Synclock
, April 1981 page 16

T
Tavern clocks
, September 1980 page 46, March 1981 page 35
Taylor, Gerald and Vera, antique dealers
, November 1980 page 19
Teasmade
, April 1981 page 19
Telechron
, April 1981 page 17
Teleminut
, August 1980 page 47
Telleruhr
, March 1981 page 13
Temco
, April 1981 page 19
'Tempus fugit'
, August 1980 page 6
Theft of clocks
, December 1980 page 3
'The Old Watchmaker'
,
see
'Le Vieil Horloger, picture'
Thomas Mercer of St Albans
, July 1980 page 11
Thorn, David, dial restorer
, April 1981 page
Tica Watch Camera
, February 1981 page 9
Tidal dial
, April 1981 page 10
Timecraft of Edinburgh
, July 1980 page 8
Time measurement in the past
, June 1981 page 44
Time Museum, the, at Rockford Illinois
, August 1980 page 17, October 1980 page 3, November 1980 page 24, April 1981 page 34
Time recorders
, August 1980 page 9, August 1980 page 10, September 1980 page 12
Tips for clock buyers
, July 1980 page 30
Tools for clock repairers
, October 1980 page 23
Train count
, December 1980 page 10
Travelling clocks
, May 1981 28
Travelling lantern clocks
, February 1981 page 17
Trimming, Paul
, March 1981 page 5
Trinity College, Cambridge
, February 1981 page 32
Trowell church clock
, February 1981 page 43
Tulip Tompion, the
, August 1980 page 17
Turkish market, clocks for
, February 1981 page 17
Turret clocks
, July 1980 page 50, August 1980 page 6, August 1980 page 33, September 1980 page 8, September 1980 page 48, October 1980 page 9, November 1980 page 24, December 1980 page 5, January 1981 page 43, February 1981 page 42, April 1981 page 5, May 1981 page 14, May 1981 page 30, June 1981 page 5
Turret clock, Dutch
, January 1981 page 17

U
Unimat lathe
, October 1980 page 7

V
'Vernon' model from Ansonia
, May 1981 46
Victoria and Albert Museum, London
, January 1981 page 40
Vienna (and Vienna-type) wall clocks
, October 1980 page 26, February 1981 page 22, May 1981 page 10
Volpone Clocks, Clerkenwell
, July 1980 page 9

W
Wachsman, J, antique clock dealer
, November 1980 page 20
Wall clock
, December 1980 page 9
Watch cases, design and manufacture of
, December 1980 page 20, January 1981 page 48
Watch cases, silver and gold
, January 1981 page 48
Watches, pocket
, August 1980 page 41, September 1980 page 12, October 1980 page 9, October 1980 page 38, November 1980 page 11, January 1981 page 9, January 1981 page 26, January 1981 page 48, February 1981 page 9, March 1981 page 10, March 1981 page 24, April 1981 page 24, June 1981 page 12, June 1981 page 32
Watches, pocket, evolution of
, November 1980 page 28
Watch keys
, March 1981 page 29
Watch pocket, how to make
, October 1980 page 12
Watch size reckoning
, June 1981 page 16
Watch stand, how to make
, May 1981 31
Water clock
, November 1980 page 11, June 1981 page 3
West of England clock repairer
, March 1981 page 44
West Dean College
, July 1980 page 9
Westminster Chimes
,
see
'Chimes, Westminster'
Wetherfield Collection
, August 1980 page 11, October 1980 page 26, November 1980 page 49, February 1981 page 39
Wheatstone, Charles
, April 1981 page 16
Whitechapel Bell Foundry, London
, July 1980 page 6, April 1981 page 12
White dial clocks
, August 1980 page 5, January 1981 page 3
Whittington chimes
,
see
'Chimes, Whittington'
'Wide Awake' catalogues
, May 1981 32
Wind, effect of on 400-day clocks
, March 1981 page 10
Windebank, Bob, antique watch dealer
, November 1980 page 21
Woodburn, Anthony
, July 1980 page 9
Wooden timepiece, making of
, May 1981 36
Woodhouse Marketing (Clocks) Ltd of Leicester
, July 1980 page 9
Work, Henry Clay
, July 1980 page 62
Worshipful Company of Clockmakers
, July 1980 page 6, July 1980 page 20, July 1980 page 48, November 1980 page 26, November 1980 page 49, December 1980 page 10, December 1980 page 36, January 1981 page 18, January 1981 page 32, February 1981 page 9, February 1981 page 16, April 1981 page 35, May 1981 page 34, June 1981 page 10
Z
Zaandam wall clock
, June 1981 page 26
Zappler clocks
, January 1981 page 21

CLOCKMAKER INDEX
A
Adams of 36 Lombard Street, London
, December 1980 page 10, March 1981 page 11
Adams of 84 Cannon Street
, March 1981 page 11
Adams, Thomas, of Lombard Street, 84 Cannon Street and Catford
, March 1981 page 11
Addis, William, of London
, November 1980 page 26, January 1981 page 30
Agar, Seth, of Wisbech
, November 1980 page 26
Ahlgren, N, of Carlshamm
, March 1981 page 37
Alcock, Thomas, of London
, July 1980 page 49
Alexander, John, of Edinburgh
, September 1980 page 11
Alexander Wright & Co Ltd of Westminster
, September 1980 page 16
American Waltham Watch Co
, March 1981 page 10, June 1981 page 12, June 1981 page 32
Ansonia
, May 1981 46, May 1981 page 47
Ansonia Clock Co
, March 1981 page 9
Appleton Tracy & Co
, June 1981 page 35
Appley, E, of Charing Cross, London
, December 1980 page 36
Archard of London
, November 1980 page 11
Arnold, John, of London
, October 1980 page 44, December 1980 page 14
Astral of Coventry
, October 1980 page 9, March 1981 page 11
ATO
, December 1980 page 26
Avery, T M
, February 1981 page 9
Aviolet, Samuel, of Exeter
, August 1980 page 25
AWW Co of Waltham, Massachusetts
, October 1980 page 45

B
Bachelet, Mathieu
, June 1981 page 26
Badeley, John, of Albrighton
, September 1980 page 28
Bailey, J & W H
, May 1981 page 14
Bailey, William Henry, of Albion Works, Salford, Manchester
, May 1981 page 14
Bain, Alexander
, April 1981 page 14
Baker of Billingshurst
, November 1980 page 12
Baker, David, of Billingshurst
, November 1980 page 12
Baker, Edward, of London
, July 1980 page 32
Barber, Jonas, of Winster
, May 1981 21
Barker, Thomas, of Wigan
, May 1981 page 11
Barnes, Robert (Bob), of Birmingham
, August 1980 page 5, October 1980 page 19
Barr, J S, of Alford, Lincolnshire
, January 1981 page 9
Barraud & Lund of Cornhill, London
, October 1980 page 43, February 1981 page 30, June 1981 page 11
Bartleet, William, of Birmingham
, November 1980 page 42
Bartley, A, of Bristol
, November 1980 page 20
Barwise of London
, July 1980 page 23, October 1980 page 39
Bautte & Moynier of Geneva
, June 1981 page 26
Bayley, Thomas, of London
, August 1980 page 26
Beauvais, Paul, of London
, October 1980 page 13, December 1980 page 33, February 1981 page 9
Beck, Richard, of London
, July 1980 page 49
Becker, Gustav, of Freiburg
, March 1981 page 11
Beckett of Landican
, April 1981 page 11
Bell-shaped clock, Japanese
, October 1980 page 26
Benson, J W, of 25 Old Bond Street, London
, March 1981 page 35
Benson, John, engraver
, February 1981 page 9
Benzonni of Brighton
, May 1981 page 9
Berry, John, engraver
, February 1981 page 9
Berry, John, of London
, March 1981 page 31
Big Ben
, August 1980 page 6
Bilbie, Abraham, of Chewstoke
, July 1980 page 6
Bilbie, Edward, of Chewstoke
, July 1980 page 6
Bilbie, James Fear, of Chewstoke
, July 1980 page 6
Bilbie, John, of Chewstoke and Axbridge
, July 1980 page 6
Bilbie, the family, of Chewstoke
, July 1980 page 6
Bilbie, Thomas (the Great), of Chewstoke
, July 1980 page 6
Bilbie, Thomas Webb, of Chewstoke
, July 1980 page 6
Bilbie, William, of Chewstoke
, July 1980 page 6
Binche, James, of Liverpool
, May 1981 page 11
Birdshystell, Isaac, of London
, October 1980 page 45
Birdwhistell, Isaac
, October 1980 page 45
Bolton, John, of Chester-le-Street
, July 1980 page 26
Bolton, John, of Durham
, May 1981 page 17
Bonnet, Charles Etienne, of Geneva
, January 1981 page 26
Bonniksen
, March 1981 page 31
Borden, Gail
, February 1981 page 9
Borrett, George, of Stowmarket
, December 1980 page 9
Borrett, the family, of Fressingfield
, December 1980 page 9
Bouchet of Paris
, November 1980 page 26
Bovet
, March 1981 page 31
Bovet, Edouard, of London
, July 1980 page 39
Brachhausen, Gustave
, October 1980 page 17
Breckell, Edmund, of London
, October 1980 page 5
Breguet
, March 1981 page 24, March 1981 page 32, June 1981 page 26
Breguet, Abraham-Louis
, January 1981 page 39, April 1981 page 24
Breguet at Paris
, April 1981 page 25
Brewster and Ingrahams of Bristol, Connecticut
, May 1981 page 11
Bridges, Samuel
, February 1981 page 9
Bridge, Thomas, of Wigan
, May 1981 page 11
British Hero-Electric Ltd, of 109 Kingsway, London
, December 1980 page 11
British Time Recorder Company
, August 1980 page 10
British United Clock Company
, September 1980 page 14, May 1981 page 28
British Vacuum Engineering Co Ltd of Leatherhead, Surrey
, April 1981 page 19
Brock, of George Street, Portman Square, London
, June 1981 page 5
Bromley, William, of Halifax
, March 1981 page 22
Brown, Benjamin
, July 1980 page 51
Brown, John, of Edinburgh
, January 1981 page 30
Brown, William, of Roscrae
, December 1980 page 33
Brulfer of Paris
, August 1980 page 10
Bryson & Son of Dalkeith
, August 1980 page 10
Budgen, Thomas, of Croydon
, July 1980 page 20
Bulle
, December 1980 page 11
Bulle Products Ltd, of 187a Tottenham Court Road, London
, December 1980 page 11
Bullock, Edmund, of Ellesmere, Somerset
, September 1980 page 29, December 1980 page 34, March 1981 page 10
Bullock, Richard
, March 1981 page 10
Burges, Thomas, of Gosport
, July 1980 page 21
Burgi, Jost, of Prague
, March 1981 page 6
Burgis, Edward
, February 1981 page 29
Burmester, E, of 86 Alderly Street, Capetown
, March 1981 page 10
Burton, William
, February 1981 page 17
Butterfield, H C, of Croydon
, January 1981 page 43

C
Cabrier, Charles, of London
, January 1981 page 26
Caffiéri, Philip
, February 1981 page 38
Caledonian Registered
, January 1981 page 10
Callam, Alexander, of London
, August 1980 page 26
Callcott, John, of Bolton
, March 1981 page 10
Callcott, John, of Cotton
, March 1981 page 10
Card, Edwardus, of London
, December 1980 page 36
Carter, John, of London
, September 1980 page 10
Carter, William, of Kingston
, October 1980 page 43
Cartier
, August 1980 page 42, March 1981 page 30
Cary of London
, March 1981 page 22
Castell, Prior, of Durham
, August 1980 page 11
Cattell, William, of London
, February 1981 page 9
Caygill of Askrigg
, May 1981 19
Chamberlain of Leicester
, June 1981 page 5
Chantler of London
, April 1981 page 29
Chapman, Thomas
, July 1980 page 49
Cheetham, Samuel, of Middleton
, December 1980 page 5, May 1981 page 11
Churchill, Sam, of Dorchester
, November 1980 page 20
Clare, Peter, of Manchester
, May 1981 page 19
Clare, Thomas, of Warrington
, January 1981 page 41
Clark, John
, March 1981 page 9
Clark, William, of Kendal
, March 1981 page 9
Clark of Kirkby Lonsdale, York, Alnwick and Morpeth
, March 1981 page 9
Clarke, Christopher, of the Hague
, July 1980 page 50
Clarke & Dunster
, July 1980 page 51
Clarke, George, of Whitechapel
, September 1980 page 48
Clement, Edward
, July 1980 page 49
Clement, Francis
, July 1980 page 49
Clement, William
, July 1980 page 49
Clifton, Joseph, of Bull Head Yard, Cheapside, casemaker
, January 1981 page 18
Closon, Peter, of London
, July 1980 page 20
Cocker, R, of Barrow
, October 1980 page 43
Cockey, Edward, of Warminster
, July 1980 page 12
Cole, Thomas, of London
, October 1980 page 43, December 1980 page 35, March 1981 page 11
Collyer of Leadenhall Street, London
, September 1980 page 46
Comber, Richard, of Lewes
, April 1981 page 28
Condliff, the family
, June 1981 page 5
Condliff, James
, June 1981 page 5
Condliff, T, of Liverpool
, June 1981 page 5
Condliff, Thomas
, June 1981 page 5
Congress Clock Co
, May 1981 48
Cooke of York
, April 1981 page 5
Cooke, Charles, of London
, June 1981 page 10
Cooke, T & Sons, of York
, October 1980 page 10
Cooke, Thomas, of York
, April 1981 page 5
Cooke, William
, July 1980 page 42
Cooper, Charles, of Lebanon, Pennsylvania
, March 1981 page 35
Coster, Saloman
, January 1981 page 17
Cox, James, of London
, July 1980 page 39
Crawford, Alex, of Scarborough
, October 1980 page 9
Crawford, Alex junior
, January 1981 page 9
Crawford, W J, of Glasgow
, October 1980 page 9, January 1981 page 9
Crawford, Walton, of Pickering
, January 1981 page 10
Crawford, Walton, of 25 Cliff Street and 68 Newborough Street, Scarborough
, January 1981 page 9
Crutchfield, Richard, of Mapledurham
, October 1980 page 43
Culver, H Z
, February 1981 page 9
Curtis, George, of Cheltenham
, December 1980 page 36

D
Dalsni of Sheffield
, February 1981 page 9
Daniels, George
, April 1981 page 34
Davall
, February 1981 page 16, April 1981 page 11
Davis, Robert, of Burnley
, May 1981 21
Davis, Toby
, July 1980 page 49
De Gruchy, Thomas, of St Helier
, November 1980 page 20
De Lasalle, John, of London
, January 1981 page 29
Denison, Edmund Beckett
, August 1980 page 6, September 1980 page 8, June 1981 page 5
Dennison, Aaron Lufkin
, December 1980 page 20
Dennison, Andrew L
, December 1980 page 20
Dennison, Franklin
, December 1980 page 20
Dennison, Gilbert
, December 1980 page 20
Dennison Manufacturing Company
, December 1980 page 20
Dennison Watch Case Company
, November 1980 page 38, December 1980 page 20, January 1981 page 48, March 1981 page 10
Dennison & Wigley
, December 1980 page 20
Dent of London
, June 1981 page 33
Dent, Watchmaker to the Queen, 61 Strand and 4 Royal Exchange, London
, October 1980 page 44, January 1981 page 39
Dent, F, of 61 Strand, London, Watchmaker to the Queen
, April 1981 page 26
d'Hautefeuille, Abbe
, January 1981 page 31
Dodd, John, of London
, November 1980 page 33
Dodson of Beeston
, September 1980 page 8
Dodson, Thomas, of Leeds
, September 1980 page 8
Drocourt
, July 1980 page 32
Drocourt, A, of 23 Rue Debelleyme, Paris
, October 1980 page 45
Du Chesne
, December 1980 page 33
Duchesne, Johannes, of Amsterdam
, December 1980 page 36
Duchesne & Fils of Geneva
, March 1981 page 28
Dunster, Roger, of Amsterdam
, July 1980 page 51
Duplock
, September 1980 page 48
Dutertre of Paris
, January 1981 page 26
Dutton, Matthew, of Fleet Street, London
, December 1980 page 34
Dutton, Matthew & Thomas
, July 1980 page 21
Dutton, William
, July 1980 page 21, December 1980 page 34
Dwerrihouse, John, of 23 Charles Street, Berkley Square
, February 1981 page 2, June 1981 page 5

E
Earle, Thomas
, July 1980 page 20
Earnshaw, Thomas
, December 1980 page 14
East, Edward, of London
, July 1980 page 48, August 1980 page 17, June 1981 page 10
Ebsworth, John, of London
, February 1981 page 16
Edin Watch Company of Lucerne
, November 1980 page 12
Edwards, Thomas, of London
, January 1981 page 19
E Howard & Co of Boston
, June 1981 page 32
Elgin
, October 1980 page 10, November 1980 page 20, February 1981 page 9
Elgin, Lady
, February 1981 page 9
Elgin National Watch Company
, February 1981 page 9, June 1981 page 34
Ellis, Henry, of Exeter
, August 1980 page 24
Ellis, J W
, June 1981 page 6
Emery, Josiah, of London
, February 1981 page 37
Emperor Clock Co of Fairhope, Alabama
, May 1981 page 6
Emperor Clock Co Ltd of Virginia Water
, July 1980 page 8, October 1980 page 7, March 1981 page 5
England, William, of North Petherton
, December 1980 page 31
English Clock Systems
, August 1980 page 7
English Watch & Clock Manufacturers Ltd
, March 1981 page 11
English Watch Company of Birmingham
, December 1980 page 20
Enoch, Ezra, of Sibford Gower
, January 1981 page 45
Etherington, George, of Fleet Street and Strand, London
, May 1981 page 5
Eureka
, February 1981 page 37
Everard, D J, of York
, March 1981 page 6
Everett Edgcumbe & Co Ltd
, April 1981 page 16

F
Fardon, John, of Deddington
, January 1981 page 45
Fardon, John, of Woodstock
, January 1981 page 45, April 1981 page 11
Fardon Thomas, of Woodstock
, January 1981 page 45
Fargo, Charles
, February 1981 page 9
Fasolt, H A, of London
, January 1981 page 26
Favre-Bulle, Maurice Philippe
, December 1980 page 11
Ferranti
, April 1981 page 17
Findlay, George, of 43 Ratcliff Highway
, July 1980 page 23
Finnemore and Sons
, March 1981 page 10
Finnemore (William) & Son, dialmakers
, February 1981 page 8
Fletcher, William, of Leeds
, July 1980 page 23
Fleurier
, April 1981 page 24
Forestville Manufacturing Company, Bristol, Connecticut
, March 1981 page 34, May 1981 page 46
Fowlds (or Foulds), Alan, of Kilmarnock
, October 1980 page 11, December 1980 page 10
Fowle, Thomas, of East Grinstead
, July 1980 page 20
French, Joseph, of Royal Exchange, London
, January 1981 page 31
Frodsham and Baker, of London
, December 1980 page 29
Fromanteel & Clarke
, June 1981 page 35
Fromanteel, Abraham, of Newcastle-upon-Tyne
, July 1980 page 48
Fromanteel, Ahaseurus
, July 1980 page 48, September 1980 page 20, January 1981 page 18, May 1981 page 20
Fromanteel, Daniel
, July 1980 page 48
Fromanteel, John
, July 1980 page 48
Fromanteel & Clarke
, July 1980 page 51
Fuller, D, of Merthyr Tydfil
, March 1981 page 6
Furet
, February 1981 page 39

G
Gale, James, of London
, July 1980 page 32
Gale, John, of London
, February 1981 page 28
Galtenbach, G, of Hulme
, July 1980 page 5
Gandy, James, of Cockermouth
, February 1981 page 6
Gandy, Samuel, of Cockermouth
, February 1981 page 6
Gandy, the family, of Cockermouth
, February 1981 page 6, February 1981 page 29, April 1981 page 10
Gardner of Oswestry
, March 1981 page 11
Gardner, John, of Oswestry
, March 1981 page 11
Garnault, Jacobus
, June 1981 page 26
Garnier, Paul
, January 1981 page 39
Garrard & Co Ltd, of 112 Regent Street, London
, December 1980 page 36
Garrards
, November 1980 page 11
Garrat of Peterboro
, February 1981 page 8
Garratt, John, of Peterborough
, February 1981 page 8
Garon, Peter, of London
, September 1980 page 9
Gatty of France
, November 1980 page 26
Gaudron, Pierre
, March 1981 page 31
Gerard, John, of London
, January 1981 page 30
Gibbs, Joshua, of Deddington and Soulden
, January 1981 page 45
Gilbert, William L, of Winstead, Connecticut
, February 1981 page 10
Gilkes, John, of Burford
, January 1981 page 45
Gilkes, Richard, of Adderbury
, January 1981 page 45
Gilkes, Richard, of Devizes
, January 1981 page 45
Gilkes, Thomas, of Charlbury
, January 1981 page 45
Gilkes, Thomas, of Chipping Norton
, January 1981 page 45
Gilkes, Thomas, of Shipston on Stour
, January 1981 page 45
Gilkes, Thomas, of Sibford Gower
, January 1981 page 45
Gilkes, Tobias, of Chipping Norton
, January 1981 page 45
Gilkes of Oxfordshire
, September 1980 page 11, February 1981 page 17
Gillett & Bland
, July 1980 page 31, March 1981 page 7, April 1981 page 41, June 1981 page 5
Gillett & Co of Croydon
, August 1980 page 35
Gillett & Johnston of South Croydon
, July 1980 page 10, October 1980 page 44, November 1980 page 16, January 1981 page 43, February 1981 page 48, March 1981 page 6, June 1981 page 7
Gillows of Lancaster, casemakers
, April 1981 page 41
Gledhill Brook Time Recorders Ltd
, September 1980 page 12, December 1980 page 11
Gleeson, S, of London
, March 1981 page 6
Golkes
, April 1981 page 11
Goode, Charles, of London
, October 1980 page 26
Gout, Ralph, of London
, July 1980 page 40
Graham, George, of London
, October 1980 page 44, December 1980 page 34, February 1981 page 33, March 1981 pae 41, May 1981 page 5, June 1981 page 40
Gravell & Tolkein
, April 1981 page 40
Green, John, of London
, April 1981 page 38
Green, William, of Milton under Wychwood
, January 1981 page 45, May 1981 page 11
Gregg, Francis, of Russell Street, Covent Garden
, August 1980 page
Gribbin, Edward, of Belfast
, November 1980 page 21
Grimley, William, of London
, January 1981 page 19
Grimshaw, Baxter and Elliot Ltd
, June 1981 page 20
Grimthorpe, Lord
,
see
'Denison, Edmund Beckett'
G T Riches & Co, of 18 Store Street, London W
, June 1981 page 11
Gubelin of Paris
, November 1980 page 12
Gudin, J, of Paris
, February 1981 page 38
Gudin, Jaques Jerome
, February 1981 page 38
Guiho of Roche-Bernard
, February 1981 page 25
Guy, William, of Rye
, March 1981 page 26

H
Haakma, Illo, of Leeuwarden
, May 1981 27
Haanstra, B, of Sneek
, August 1980 page 37
Haas, Philipp & Son, of St Georgen
, December 1980 page
Hair, William, of Birmingham
, November 1980 page 42
Haller, Thomas, of Schwenningen
, August 1980 page 10
Hamilton Watch Co
, June 1981 page 35
Hancock, C F, of 39 Bruton Street, Bond Street, London
, March 1981 page 11
Handmade Clocks of Ipswich
, July 1980 page 9
Harold, Charles, of Birmingham, watch casemaker
, September 1980 page 12
Harris & Harrington, of New York
, July 1980 page 6
Harris, Thomas, of Deddington, Blixham and Milton under Wychwood
, January 1981 page 45
Harrison, G M, of London
, June 1981 page 34
Harrison, James
, May 1981 36
Harrison, John, of Lincolnshire and London
, October 1980 page 3, December 1980 page 14, March 1981 page 41
Harrison, William, of Charlbury
, January 1981 page 45
Harvey, Robert
, December 1980 page 33
Hatot, Leon
, December 1980 page 26
Haward Horological Ltd
, November 1980 page 24
Haycock, William & Son, of Ashbourne
, October 1980 page 44
Hechstetter (or Hochstetter), Joseph
, February 1981 page 9
Heinigen & Bachman of Medellin
, June 1981 page 35
Hemony, Frans and Pieter
, November 1980 page 35
Hindley, Henry, of York
, May 1981 page 9
Hobson, Charles
, August 1980 page 13
Hodgson, George, of Gateshead
, January 1981 page 9
Hodgson, George, of London
, January 1981 page 9
Hodgson, John, of Hexham
, August 1980 page 11
Hodgson, Robert, of Hexham
, August 1980 page 11
Hoevenaer, Anthonius, of Leiden University
, August 1980 page 37
Holborn of North Cave (near Hull)
, October 1980 page 32
Holliwell & Son of Derby
, April 1981 page 7
Holliwell, Francis, of Derby
, April 1981 page 7
Holliwell, William, of Derby
, April 1981 page 6
Holloway, John, of Lavington
, February 1981 page 17
Holloway, John, of Stroud
, October 1980 page 26
Holmes, John, of London
, July 1980 page 33
Holmes, Charles Joseph, of Cheadle
, September 1980 page 12
Holmes, Thomas, of Cheadle
, September 1980 page 12
Holt, William, of Petworth
, October 1980 page 9
Hoogenkyd, Steven, of Rotterdam
, January 1981 page 26
Hope-Jones, Frank
, April 1981 page 16
Hornby, Richard, of Liverpool
, March 1981 page 25
Horne, William, of London
, September 1980 page 12
Horseman, Stephen, of London
, October 1980 page 26
Horton, E, of New Haven, Connecticut
, April 1981 page 10
Houghton, George & Sons
, February 1981 page 9
Howell James Company of Regent Street, London, and Paris
, January 1981 page 7
Hudson, W G
, April 1981 page 25
Huggeford, Ignatius, of London
, February 1981 page 9
Humphreys, Thomas, of Barnard Castle
, July 1980 page 26
Humphreys, Thomas, of Chester-le-Street
, May 1981 page 17
Humphreys, William, of Barnard Castle, West Aukland and Hartlepool
, July 1980 page 26, December 1980 page 42
Husband, Thomas, of Hull
, October 1980 page 34
Houthuesen, C, of Sunbury on Thames
, March 1981 page 6
Huygens
, January 1981 page 18
H Williamson Ltd
, October 1980 page 44

I
Ilbery, William, of London
, July 1980 page 39
Ingersoll
, September 1980 page 14, November 1980 page 12, December 1980 page 10
Ingraham
, April 1981 page 20
Inter-Ocean
, February 1981 page 9
Isaac Grasset & Cie, Geneva
, April 1981 page 26
Ivory, James, of London
, October 1980 page 32

J
Jacot, Charles Henry
, July 1980 page 39
Jacot Fréres
, July 1980 page 32
Jacot, Henri
, July 1980 page 33
Jaeger
, March 1981 page 25
Japanese clock
, October 1980 page 26
Japy
, August 1980 page 9, December 1980 page 10
Japy Fréres
, December 1980 page 5
Jennings, Robert, of London
, July 1980 page 16
Jennings, Thomas, of Fritwell, Oxfordshire
, April 1981 page 11
Jeremy, Robert, of London
, December 1980 page 10
Jerome
, October 1980 page 7, May 1981 page 47
Jerome and Company
, May 1981 page 10
J J Elliott Ltd
, October 1980 page 44
John Silke & Co of Elmstead
, June 1981 page 12
John Taylor & Co, bellfounders
, June 1981 page 5
Johns, Robert, of Amblewitch
, March 1981 page 9
Johnson, Robert, of Ballymoney
, March 1981 page 9
Johnson, Robert, of Darlington
, March 1981 page 9
Johnson, Robert, of Linlithgow
, March 1981 page 9
Johnson, Robert, of Philadelphia
, March 1981 page 9
Johnson of Amblewitch
, March 1981 page 9
Johnson, Thomas, of London
, January 1981 page 19
Jones, Henry
, February 1981 page 9
Jones, J, of 338 Strand, London
, August 1980 page 10
Joyce, J B & Co
, September 1980 page 8
Joyce, J B, of Whitchurch
, December 1980 page 6
Joyce, James, of Whitchurch, Shropshire
, September 1980 page 8
Jourdain, William, of London
, March 1981 page 45
Junghans
, August 1980 page 47
Jurgensen, Jules
, March 1981 page 31
Juvenia
, March 1981 page 31

K
Kaiser, A
, March 1981 page 31
Karner, Conrad
, March 1981 page 32
Kee-Less Clock Company
, December 1980 page 35
Kents, George, of Biscot Road, Luton
, February 1981 page 10
King, Andrew
, September 1980 page 9
King, Thomas, of Alnwick
, November 1980 page 20
Kirkland, Richard, of Port Glasgow
, October 1980 page 32
Knibb, John, of Oxford
, July 1980 page 21, January 1981 page 29
Knibb, Joseph, of Oxford and London
, July 1980 page 21, July 1980 page 50, August 1980 page 35, September 1980 page 20
Knip, Gerrit, of Amsterdam
, August 1980 page 38

L
Laflin, Matthew
, February 1981 page 9
Lake, James Arnold, of London
, February 1981 page 23
Lalique
, December 1980 page 26
Lancashire Watch Company
, March 1981 page 10
Langdorf et Cie
, September 1980 page 29
Latham, L, of Macclesfield
, September 1980 page 9
Laurence of Stoke
, November 1980 page 24
Lawson, the family, of Kieghley
, March 1981 page 18
Leadbeater, S, of Sandbach
, October 1980 page 43
Leader
, February 1981 page 9
Leah of Old Street, London
, October 1980 page 38
Le Blond, Robert, of London
, October 1980 page 26
Lee, Cuthbert, of London
, September 1980 page 46
Lee, Roger, of Leicester
, January 1981 page 19
L'Epee
, July 1980 page 8
Lenzkirch
, August 1980 page 9, December 1980 page 9, June 1981 page 22
Le Roy and Son of London
, March 1981 page 26
Le Roy, Julien, of Paris
, October 1980 page 11
Lever, James, of London
, July 1980 page 32
Lister, the family, of Yorkshire
, March 1981 page 18, May 1981 page 9
Lister and Bromley of Halifax
, March 1981 page 22
Lister, Samuel
, March 1981 page 20
Lister, Thomas, of Halifax
, March 1981 page 18
Lister, Thomas, of Luddenden
, March 1981 page 19, May 1981 page 9
Lister, William, of Halifax
, March 1981 page 20
Lister, William, of Keighley
, March 1981 page 18
Litherland, W, of Paris and Liverpool
, March 1981 page 35
Lloyd, Philip, of Bristol
, October 1980 page 26
Lochman, Paul
, October 1980 page 16
Lockwood, Benjamin, of Swaffham
, July 1980 page 21
Loomes, Thomas
, July 1980 page 48
Loomes, Thomas, of the Mermaid, Lothbury
, May 1981 20
Lowndes, J F, of Blackpool
, March 1981 page 6
Lowndes (or Loundes), Jonathan
, July 1980 page 32
Lugg, of Oakhampton
, January 1981 page 35

M
Magneta
, April 1981 page 19
Mamet & Cie, C, of 59 Rue de Richelieu, Paris
, December 1980 page 25
Markwick Markham of London
, July 1980 page 40, February 1981 page 17
Marti
, August 1980 page 9
Marti et Cie
, February 1981 page 10
Marti, J & Cie
, January 1981 page 9
Martin & Roberts
, October 1980 page 7
Martinot of Paris
, February 1981 page 38
Martinot, Barnaby, of Farringdon Within, London
, February 1981 page 38
Mauthe
, April 1981 page 19
Maynard
, December 1980 page 36
McCabe, James, of London
, December 1980 page 10, January 1981 page 29, January 1981 page 39, March 1981 page 26
McKay, James, of Glasgow
, June 1981 page 34
McKee, J R, of Worcester
, March 1981 page 6
Mercer, Thomas, of St Albans
, July 1980 page 11, March 1981 page 6
Mercers of St Albans
, June 1981 page 11
Mercier of Grannar
, October 1980 page 43
Mersmann
, March 1981 page 26
Metamec
, June 1981 page 6
Miles, C R and HW, of 272 St Johns Street, London
, August 1980 page
Miles, the family, saw piercers of Clerkenwell
, August 1980 page 12
Miles, Thomas, of 36-42 Clerkenwell Road, London
, August 1980 page 12
Miller, Robert, of Perth
, November 1980 page 20
Mitchell, Charles F, of Eltham
, November 1980 page 11
Mitchell of Glasgow
, December 1980 page 13
Montres Octo Metz
, June 1981 page 11
Morath Brothers of Liverpool
, June 1981 page 22
Motel, Jean-Francois Henri, of Paris
, March 1981 page 24
Mottram, John, of London
, February 1981 page 27
Mougin
, February 1981 page 9
Moulin, Professor Marcel
, December 1980 page 11
Movado of La Chaux de Fonds, Switzerland
, December 1980 page 26
Mudge & Dutton of London
, July 1980 page 33
Mudge, Thomas
, December 1980 page 34, April 1981 page 34
Mugnier
, March 1981 page 31
Muller & Co of Geneva
, October 1980 page 11

N
Nardin, Ulysee, of Locle
, December 1980 page 14, March 1981 page 31
National Autograph of Foots Cray
, August 1980 page 9
National Clock and Manufacturing Company, Chicago
, December 1980 page 46
National Watch Company of Chicago
, February 1981 page 9
Neale, George, of London
, October 1980 page 26
Nethercott of Tredington
, January 1981 page 45
Nethercott, John, of Long Comption
, January 1981 page 45
Nethercott, John, of Standlake
, July 1980 page 21, January 1981 page 45
Nethercott, William, of Long Comption
, January 1981 page 45
New Haven Clock Company of Newhaven, Connecticut
, March 1981 page 9, April 1981 page 10, May 1981 page 10
Nickals, Isaac
, August 1980 page 11
Nicole Fréres
, February 1981 page 5, March 1981 page 36
Noblich, Thomas, of Hamburg
, December 1980 page 14
Norman, Matthew
, August 1980 page 18
Norris, Joseph and Edward
, July 1980 page 48
Northgraves, Denton, of Hull
, October 1980 page 32
Norton, Eardley, of London
, August 1980 page 26, October 1980 page 45, April 1981 page 41

O
Oakes, James
, February 1981 page 29
Ogden, John, of Bowbridge
, May 1981 20
Ogden, M D
, February 1981 page 9
Ogden, Thomas, of Halifax
, February 1981 page 31, March 1981 page 18, May 1981 page 9, June 1981 page 38
Omega
, January 1981 page 10, May 1981 page 10

P
Paillard of Switzerland
, December 1980 page 37
Paine, J P
, September 1980 page 48
Parker, Daniel, of London
, November 1980 page 23
Parkinson & Frodsham, of Exchange Alley, Cornhill, London
, December 1980 page 15
Parr, Ellis
, October 1980 page 16
Passmore, William
, March 1981 page 44
Patek Phillipe of Switzerland
, August 1980 page 7, March 1981 page 33, April 1981 page 24
Patton, James, of Newtownards
, February 1981 page 10
Pearson Page & Co Ltd of Birmingham
, November 1980 page 11
Pellaton, Albert
, April 1981 page 26
Pellaton, James
, April 1981 page 26
Perigal of London
, January 1981 page 31
Perregaux, Girard, of la Chaux de Fonds
, June 1981 page 33
Phillips of Knowle
, September 1980 page 13
Picard of Geneva
, January 1981 page 32
Piguet, Audemars, of Geneva
, March 1981 page 33
Pile, Francis Jr, of Honiton
, August 1980 page 22
Pinchbeck, Christopher
, December 1980 page 36
Pistor, Edward, of London
, July 1980 page 42
Pitt, E C, of Frome
, July 1980 page 42
Player, Robert, of London, casemaker
, January 1981 page 19
Pleig, Christof, of Ulm
, June 1981 page 31
Polhammer, Anders, of Stjarnsund
, November 1980 page 35
Polhem, Christoffer, of Sweden
, November 1980 page 34
Polyphon Musikwerke
, October 1980 page 17
Potts, William & Sons Ltd, of Leeds
, October 1980 page 10
Prime, Abraham
, July 1980 page 49
Prime, Andrew
, July 1980 page 49
Prior, Edward, of London
, July 1980 page 40, February 1981 page 17, March 1981 page 31
Prior, George, of London
, July 1980 page 40, February 1981 page 17, March 1981 page 40
Probst, Les, of Loerrach
, November 1980 page 26
Pyke of Birkenhead
, April 1981 page 11

Q
Quare, Daniel, of St Martins-le-Grand
, July 1980 page
Quare and Horseman
, October 1980 page 26, October 1980 page 44

R
Raingo Fréres
, August 1980 page 43, January 1981 page 10
Randall, Anthony
, April 1981 page 33
Raper of Northallerton
, June 1981 page 12
Rayment of Bury St Edmunds
, March 1981 page 44
Rayment, Thomas, of London
, December 1980 page 26
Raymond, B W
, February 1981 page 9
Record Watch Company of Tramelan
, April 1981 page 26
Reeve, Claude
, March 1981 page 6
Regally a Lailach, Anton
, October 1980 page 43
Regina Music Box Company of Rahway, New Jerseet
, October 1980 page 17
Reisner, Paul
, October 1980 page 17
Reuge of Ste Croix
, May 1981 23
Reynold, Thomas, of Holywell, Oxfordshire
, July 1980 page 20
Richard of Wallingford
, November 1980 page 24
Richter, Felix Jacob, of Nuremberg
, January 1981 page 26
Rimbault, Stephen
, December 1980 page 36, February 1981 page 37
Rivers, William, of London
, January 1981 page 26
Robert, John, of Melcombe
, October 1980 page 7
Robinson, Francis
, July 1980 page 6
Rogers, P, of Basingstoke
, March 1981 page 6
Rolex
, January 1981 page 10
Roskell of Liverpool
, March 1981 page 31
Roskell, Robert, of Liverpool
, July 1980 page 23, August 1980 page 11
Roulet of Le Locle
, May 1981 23
Rowntree, Robert, of York
, October 1980 page 34
Roy of Renan
, January 1981 page 10
Rubie, Francis
, February 1981 page 9
Ruempol, Goslink
, August 1980 page 36
Russell, John
, September 1980 page 25
Russell, Joseph, of Wootton, Bedfordshire
, September 1980 page 25
Russell, Thomas, of London
, September 1980 page 26
Russell, Thomas, of Wootton, Bedfordshire
, September 1980 page 24
Russell, William
, February 1981 page 37
Russell, William, of Wootton, Bedfordshire
, September 1980 page 24, February 1981 page 26
Ryerson, J T
, February 1981 page 9

S
Saltbuy, Thomas, of Grantham
, December 1980 page 10
Salzmann, Auguste, of la Chaux de Fonds
, June 1981 page 33
Sampson, Thomas, of Oldham
, November 1980 page 16, February 1981 page 6
Samuel, H, of Market Street, Manchester
, March 1981 page 10
Schaufel, Veyt, of Munich
, June 1981 page 26
Schmidt, John, of St Mary Axe, London
, September 1980 page 13
Schneckenburger, R, of Mulheim
, October 1980 page 11
Schniep, Ulrich, of Munich
, August 1980 page 42
Schofield, Major, of Manchester
, April 1981 page 41
Schwob Freres & Co of La Chaux de Fonds
, April 1981 page 24
Secrett, David
, September 1980 page 30
Seignior, Robert, of Exchange Alley, London
, July 1980 page 21
Selwood brothers
, July 1980 page 49
Selwood, William
, July 1980 page 48
Sessions Clock Company, of Forestville, Connecticut
, December 1980 page 46
Sharp of Westmorland
, December 1980 page 13
Shaw, A, of Billingborough
, December 1980 page 9
Shaw, E, of Billingborough
, December 1980 page 9
Shorlman, Samuel, of Newnham
, November 1980 page 12
Seidel, Martin
, April 1981 page 25
Silke, John, of Stouting, Kent
, June 1981 page 12
Simpson of Wigton
, October 1980 page 43
Sinclair Harding & Co of Cheltenham
, July 1980 page 8, October 1980 page 7
Slater, George, of Burslem
, November 1980 page 12
Smallwood, John, of Chelford, Cheshire
, May 1981 22
Smith & Sons of Clerkenwell
, November 1980 page 26
Smiths
, November 1980 page 11, February 1981 page 18
Smiths English Clocks Ltd
, August 1980 page 41, March 1981 page 11, April 1981 page 18
Smith, John & Sons, of Derby
, August 1980 page 6, August 1980 page 35
Smith, James, of London
, July 1980 page 14, October 1980 page 11
Smith, John, of Pittenweem
, November 1980 page 13
Smith, Robert, of North Berwick
, September 1980 page 12
Smith, S & Sons Ltd, of Trafalgar Square, London, Watchmakers to the Admiralty
, March 1981 page 32
Smith, Samuel, of London
, July 1980 page 63, August 1980 page 26
Snidall of Sheffield
, February 1981 page 9
Snow, Joseph, of Bradford
, January 1981 page 15
Snow, R, of Pateley Bridge
, January 1981 page 12
Snow, Richard, of Burstwithe
, January 1981 page 14
Snow, Richard, of Pateley Bridge
, January 1981 page 13
Snow, Richard R, of Ripon
, January 1981 page 15
Snow, Thomas, of Bradford
, January 1981 page 13
Snow, T(homas), of Otley, Birstwith and Knaresborough
, January 1981 page 14
Snow, William, of Otley
, January 1981 page 15
Snow, Will, of Padside
, January 1981 page 12
Solo
, March 1981 page 9
Sommer, Johannes
, March 1981 page 32
Sousse Fréres
, February 1981 page 9
Speakman, William
, August 1980 page 17
Stancliffe, Eli
, March 1981 page 21
Stancliffe, John, of Barkisland, near Keighley
, March 1981 page 18
Staples, James, of Odiham
, September 1980 page 8
Sterck, Will
, April 1981 page 7
Sterling Clock Co Ltd, of Dagenham, Essex
, April 1981 page 20
Stewart & Clark Manufacturing Company
, October 1980 page 9
Street, Dexter
, February 1981 page 9
Street, Richard, of London
, February 1981 page 32
Strelley, Francis, of London
, July 1980 page 12
Strigel of London
, December 1980 page 36
Suchy, Karl, of Prague
, May 1981 page 12
Summerhayes, Robert, of Ilminster and Taunton
, June 1981 page 11
Summers, Henry Hall
, September 1980 page 34
Symphonion
, September 1980 page 28, October 1980 page 17
Synchronome Company
, April 1981 page 11
Syx, Hieronymous, of Augsburg
, June 1981 page 26

T
Tame, H, of Winchester
, November 1980 page 11
Tantum of Loscoe Park
, April 1981 page 12
Tate of Winterton
, October 1980 page 32
Tavannes Watch Company
, November 1980 page 20, December 1980 page 26
Taylor of London
, April 1981 page 39
Taylor, H H
, February 1981 page 9
Taylor, Thomas, of Holborn, London
, July 1980 page 13
Telephone Manufacturing Company of Dulwich
, April 1981 page 19
Thomas, Seth
, October 1980 page 11, May 1981 page 46
Thomas, Seth, of Plymouth Hollow
, May 1981 page 11
Thomas, Seth, of Thomaston, Connecticut
, May 1981 page 11
Thuret of Paris
, October 1980 page 43
Thwaites
, November 1980 page 11
Thwaites & Reed
, November 1980 page 11
Thwaites, John, of London
, November 1980 page 11
Thwaites, Robert, of Barnard Castle
, July 1980 page 26
Tickell, John, of Crediton
, September 1980 page 46, March 1981 page 45
Tickle, William, of Newcastle upon Tyne
, October 1980 page 34
Time Recorder Company, The, of Borough High Street, London SE1
, August 1980 page 9
Tinkingh, Jan, of Ozzaandan
, October 1980 page 45
Tobias, Morris, of London
, June 1981 page 34
Tomlinson of Bicester
, July 1980 page 23
Tompion, Thomas, of London
, July 1980 page 21, July 1980 page 31, August 1980 page 35, September 1980 page 20, February 1981 page 12, April 1981 page 30, May 1981 page 5
Tompion, Thomas, and Edward Banger of London
, March 1981 page 34, April 1981 page 30
Tregent, Anthony, of London, enameller
, January 1981 page 34
Tregent, James, of Leicester Square, London
, January 1981 page 40
Trusted, Charles, of Oversley, Warwickshire
, November 1980 page 42
Tudman, James, of London
, October 1980 page 44
Tue, Thomas, of Kings Lynn
, December 1980 page 7
Tyler, Richard, of Adderbury
, January 1981 page 45
Tyler, Richard, of Wallingford
, July 1980 page 20

U
United Freiburg Clock Factory, Silesia
, September 1980 page 13
Upjohn, Edward, of Shaston, Topsham and Exeter
, August 1980 page 20
Upjohn, Elizabeth, of Exeter
, August 1980 page 23
Upjohn, High Street, Exeter
, August 1980 page 20
Upjohn, James, of Exeter
, August 1980 page 23
Upjohn, James & Co, of London
, August 1980 page 21
Upjohn, James, of Exeter
, August 1980 page 25
Upjohn, John, of Launceston
, August 1980 page 24
Upjohn, Nathaniel, of Plymouth
, August 1980 page 21
Upjohn, Peter, of Bideford
, August 1980 page 20
Upjohn, Richard, of Exter
, August 1980 page 23
Upjohn, Robert, of Exeter
, August 1980 page 25
Upjohn, the family
, August 1980 page 20
Upjohn, Thomas, of Launceston
, August 1980 page 24
Upjohn, William, of Exeter
, August 1980 page 21
Upjohn & Co of Exeter
, August 1980 page 25
Upjohn & Michie of Exeter
, August 1980 page 25

V
Vacheron and Constantin of Geneva
, April 1981 page 24
van Wyr, Johannis, of Amsterdam
, May 1981 27
Verneuil of Paris
, August 1980 page 26
Videnman, Jacques, of Vienna
, January 1981 page 39
Vincenti et Cie, of Rue d'Anjou au Marcais, Paris
, October 1980 page 11, February 1981 page 10
Vincent, Peter, of London
, April 1981 page 34
Vulliamy
, October 1980 page 43l, April 1981 page 28
Vulliamy, Benjamin Lewis
, August 1980 page 17, November 1980 page 6, April 1981 page 28
Vulliamy, Benjamin
, August 1980 page 34

W
Wadworth, James, of Manchester
, March 1981 page 10
Walker & Finnemore of Birmingham, dialmakers
, February 1981 page 8
Wallerius of Norrkoping
, November 1980 page 35
Walsham, William
, November 1980 page 24
Waltham Watch Company
, October 1980 page 10, December 1980 page 20
Warren Clock Company
, April 1981 page 17
Warren, Henry E, of Ashland, Massachusetts
, April 1981 page 17
Waterbury
, May 1981 47
Watson, Samuel, of Coventry
, November 1980 page 48
Watson, Thomas
, March 1981 page 9
Webb, Frederick
, March 1981 page 9
Webster, William, at the Dyal and Three Crowns, Exchange Alley, London
, May 1981 page 5
Webster, William, of Exchange Alley
, March 1981 page 33
Wellenius, Eric
, November 1980 page 35
Wells, John, of Banbury
, January 1981 page 45
Wells, John, of Sibford Gower and Shipston on Stour
, January 1981 page 45
Wells, Thomas, of Banbury
, January 1981 page 45
Wells, Thomas, of Shipston on Stour
, January 1981 page 45
W H Bailey & Co Ltd of Albion Works, Salford, Manchester
, May 1981 page 14
Wheeler, G M
, February 1981 page 9
Whitehurst of Derby
, October 1980 page 43, February 1981 page 43
Whitehurst, John, of Congleton
, July 1980 page 20
Whittaker, William
, October 1980 page 26
Widenham and Adams of Lombard Street, London
, March 1981 page 11
Widenham, Richard, of 6 East Street, Clerkenwell, and 13 Lombard Street
, March 1981 page
Wigley, Alfred
, December 1980 page 20
Wilding, John, of Petworth
, October 1980 page 7, March 1981 page 6
Wilkinson of Congleton
, September 1980 page 8
Wilkinson, William, of Congleton
, September 1980 page 8
Willard, Simon, of Grafton, Massachusetts
, August 1980 page 9
Willard, Simon, of Roxbury, Massachusetts
, March 1981 page 34
Willard, Thomas
, November 1980 page 20
William L Gilbert Clock Company of Winstead, Connecticut
, September 1980 page 14
Williams, Joseph, of Adderbury
, January 1981 page 45
Williams, William, of Adderbury
, January 1981 page 45
Williamson, H W, of Coventry
, March 1981 page 11
Wilson of Birmingham, dialmakers
, April 1981 page 41
Windmills, Joseph, of London
, August 1980 page 26
Winterhalder, Anton, of Schwarzenbach
, June 1981 page 19
Winterhalder, Herman, Ludwig, Linus and Bernard
, June 1981 page 10
Winterhalder, Johann, of Neustadt
, June 1981 page 19
Winterhalder & Hoffmeier of Schwarzenbach
, July 1980 page 5
Windmills, Joseph, of St Martins-le-Grand
, July 1980 page
Windmills and Wightman of London
, February 1981 page 12
Winnock, Daniel
, July 1980 page 51
Winnock, Joshua
, July 1980 page 51
Winterhalder & Hofmeier of Schwarzenbach
, April 1981 page 12, June 1981 page 19
Wm L Gilbert Clock Co of Winstead, Connecticut
, February 1981 page 10
Wyse, John, of London
, July 1980 page 20, December 1980 page 34
Wise, Peter, of London
, October 1980 page 26
Wise, T
, December 1980 page 10
Wise, T, of Charlbury
, December 1980 page 10
Woods, James, of Ipswich
, June 1981 page 5
Woolley, the family, of Derbyshire
, February 1981 page 40, April 1981 page 12
Woolley, James
, February 1981 page 28, April 1981 page 12
Woolley, James, of Codnor
, February 1981 page 40
Woolley, John
, February 1981 page 40
Worsfold, Thomas, of Dorking
, April 1981 page 12
Worsfold, Thomas, of Hampton Wick
, April 1981 page 12
Wythe, Lionel
, July 1980 page 21

Y
Yeates & Son of Penrith
, June 1981 page 6
Younghusband, D
, September 1980 page 34
Z
Zenith of Le Locle
, December 1980 page 26, April 1981 page 26
Zenith Watch Company
, May 1981 28
Zipfel (Zippel, Zipfell, Zypfell
, November 1980 page 12
Zoller, Wilhelm David
, March 1981 page 31

© 1977 to 2015 Clocks Magazine & Splat Publishing Ltd