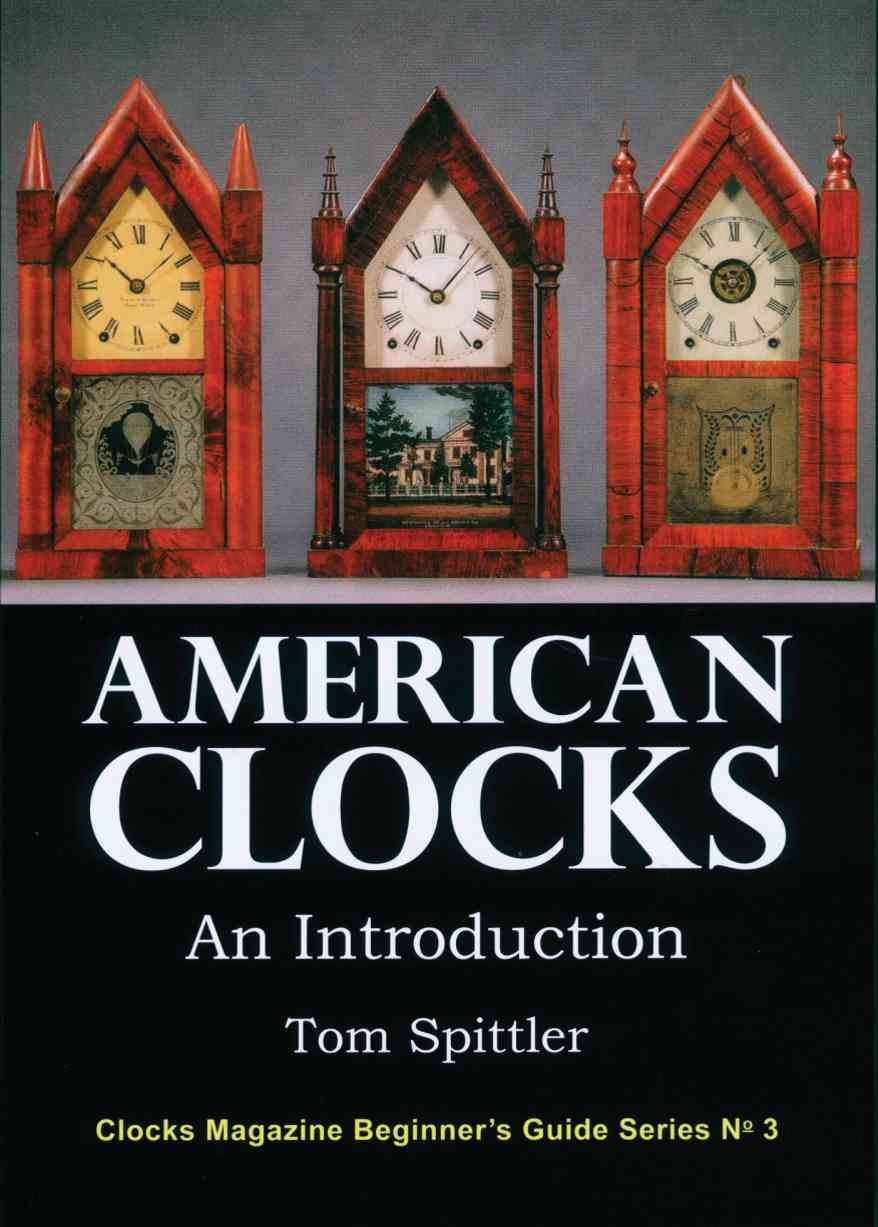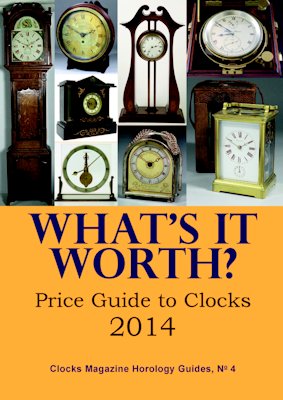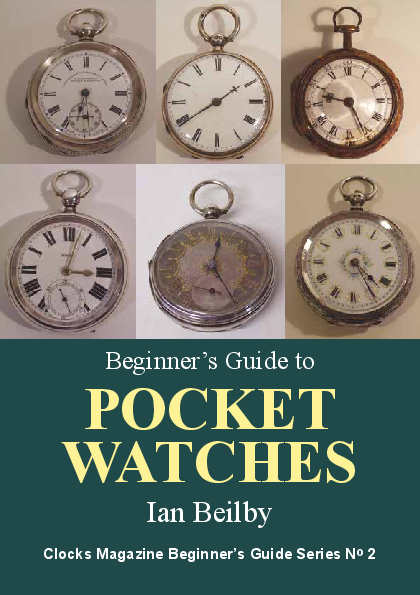 Clocks Magazine, Index 1979-1980, Volume 2
This volume runs from July 1979 to June 1980 inclusive.
The Index is in two sections. The 'General Horology Index' is an alphabetical list of topics covered. The 'Clockmaker Index' lists clock and watch makers with details of the magazine(s) in which they have appeared. We hold extensive stocks of back issues and you can use the 'Buy a back issue' button to check availability and buy.
GENERAL HOROLOGY INDEX
A
A A Shoot & Sons of Clerkenwell
, June 1980 page 7
Abbey House Museum, Kirkstall
, January 1980 page 42
Abinger Hammer clock
, September 1979 page 35
Act of Parliament clocks
,
see
'Tavern clocks'
Air raid clock
, January 1980 page 12
Alarm mechanisms
, December 1979 page 38
All Saints Church clock, Market Weighton
, September 1979 page 8
American clocks
, April 1980 page 6, May 1980 page 8
American Clock and Watch Museum, Bristol, Connecticut
, September 1979 page 6
American shelf clock
, January 1980 page 10
Anglo-American clocks
, August 1979 page 8, February 1980 page 7
Antiquarian Horological Society
, September 1979 page 6
Antiques Hypermarket
, May 1980 page 5
Apprentice clockmakers, the lives of
, September 1979 page 43
Arlington clock, Arlington, North Devon
, January 1980 page 8
Asprey Planetarium
, January 1980 page 57
Astronomical clocks
, August 1979 page 11
Atmos clock
, January 1980 page 53
Auctions containing clocks
, November 1979 page 39, February 1980 page 26, June 1980 page 62
Automaton clock
, August 1979 page 25

B
Banjo clocks
, November 1979 page 42
Barometric pressure
, October 1979 page 28
Barometers
, August 1979 page 52
Basle Fair
, April 1980 page 62
Battery powered clocks
, August 1979 page 50, November 1979 page 12, November 1979 page 50, January 1980 page 10, February 1980 page 5, February 1980 page 11, May 1980 page 62
Beat setting adjustment mechanism
, May 1980 page 28
Bells, making of
, April 1980 page 32
'Big Ben'
,
see
'Great clock of Westminster'
Birmingham City Museum and Art Gallery, Newall Street
, January 1980 page 43
Birmingham dials
, February 1980 page 7
Black Forest clocks
,
see
'German clocks'
Bodgers, clock
, May 1980 page 12
Boilerroom clocks
, October 1979 page 10
Books, horological
, November 1979 page 25
Books and Book Reviews
Beginner's Guide to Antique Watches, by Carl and Maria-Luise Sifakis
, November 1979 page 27
The Beauty of Clocks, by Michael Pearson
, August 1979 page 62, November 1979 page 25
Patents for Inventions, Abridgements of Specifications
, October 1979 page 62, November 1979 page 27
The World's Great Clocks and Watches, by Cedric Jagger
, November 1979 page 25
Dictionary of Clocks, edited by Alan Smith
, November 1979 page 25
The Price Guide to Clocks 1840-1940, by Alan and Rita Shenton
, November 1979 page 26
A Catalogue of Tools for Watch and Clock Makers, by John Wyke
, November 1979 page 26
Horological Wheel Cutting Engines, 1700-1900, by Theodore Crom
, November 1979 page 26, January 1980 page 44
The Craft of the Clockmaker, by E J Tyler
, November 1979 page 26
Practical Clock Repairing, by Donald De Carle
, November 1979 page 26, May 1980 page 13
Practical Watch Repairing, by Donald De Carle
, November 1979 page 26
Clock and Watch Escapents, by W J Gazeley
, November 1979 page 26
Watch and Clock Making and Repairing
, November 1979 page 26
Clocks - Their Working and Maintenance, by Eric Smith
, November 1979 page 26
Repairing Antique Clocks - A Guide for Amateurs, by Eric Smith
, November 1979 page 26
Clocks and Clock Repairing, by Eric Smith
, August 1979, page 62, November 1979 page 26
Clock Cleaning and Repairing by Bernard E Jones
, November 1979 page 26
Brittain's Watch and Clock Maker's Handbook Dictionary and Guide, revised by Richard Good
, November 1979 page 26
Geared to the Stars, by Henry C King
, November 1979 page 27
Watches, Their History, Decoration and Mechanism, by G H Baillie
, November 1979 page 27
Watches, by Cecil Clutton and George Daniels
, November 1979 page 27
Watches and their Values, by Donald De Carle
, November 1979 page 27
Watches in Colour, by Richard Good
, November 1979 page 27
Clocks in Colour, by Andrew Nicholls
, November 1979 page 27
The Englishman's Watch, by Robert Kemp
, November 1979 page 27
Shropshire Clock and Watchmakers, by Douglas J Elliott
, November 1979 page 27
Jonas Barber - Clockmaker of Winster by B W Cave-Brown-Cave
, November 1979 page 27, January 1980 page 62
The Vienna and German Regulator, by Rick Ortenburger
, November 1979 page 27
Viennese Clockmakers and What They Left Us, by F H van Wiejdom Claterbos
, November 1979 page 27
Spring-driven Dutch Pendulum Clocks 1657-1710, by Dr R Plomp
, November 1979 page 28, March1980 page 62
Staking Tools and How to Use Them
, January 1980 page 44
Origins and Evolution of the Watchmakers' Staking Tool, by G G Lucchina and B R Jenkins
, January 1980 page 44
A Catalogue of Tools for Watch and ClockM Makers, by John Wyke of Liverpool
, January 1980 page 44
Watch and Clockmakers' Handbook, Dictioary and Guide, by F J Britten
, January 1980 page 44
International Dictionary of Clocks, by Alan Smith
, January 1980 page 44
Discourses of Two New Sciences, by Galileo
, January 1980 page 50
How to Repair Antique Clocks, by John Wilding
, January 1980 page 62
English House Clocks, by A Bird
, February 1980 page 49
Thomas Tompion, His Life and Work, by R W Symonds
, February 1980 page 58, May 1980 page 36
Essex Clock and Watchmakers, by Clive Osborne
, March 1980 page 62
Modern Clocks, by T R Robinson
, April 1980 page 10
Watchmakers and Clock Makers of the World, Volumes I and II by G H Baillie and Brian Loomes
, May 1980 page 13
The Knibb Family, by R A Lee
, May 1980 page 30
Clockmaking in Oxfordshire 1400-1850, by C F C Beeson
, May 1980 page 30
Old Weight-driven Chamber Clocks, by Ernest L Edwardes
, May 1980 page 30
Orologi dal 500 all 800, by Antonio Simoni
, May 1980 page 30
Modern watch repairing and adjusting, by E Borer
, May 1980 page 36
Some Account of the Worshipful Company of Clockmakers
, May 1980 page 36
An Appeal to the Public, by Thomas Earnshaw
, May 1980 page 36
The Wetherfield Collection of 222 clocks, by W E Hurcomb
, May 1980 page 36
Old Clocks and Watches and Their Makers, by F J Britten
, May 1980 page 36
Record Books of the Firm, by Victor Kullberg
, May 1980 page 36
John Harrison The Man Who Found Longitude, by H Quill
, May 1980 page 36
Histoire de la Pendulerie Neuchateloise, by A Chapuis
, May 1980 page 36
La Pendule Francais
, May 1980 page 36
Carriage Clocks Their History and Development, by Peter Bonnert
, May 1980 page 36
Christopher Pinchbeck and His Family, by Rita Shenton
, May 1980 page 36
English Domestic Clocks, by H Ceskinsky and M R Webster
, May 1980 page 36
Sundials at an Oxford College, by Philip Pattenden
, May 1980 page 62
The Eureka Clock, by F G Alan Shenton
, May 1980 page 36
Clocksmakers of Cumberland, by John Penfold
, June 1980 page 12
Horologium, by Christiaan Huygens
, June 1980 page 21
The John Gershom Parkington Time Measurement Instruments Catalogue, by Captain Richard Meyrick
, June 1980 page 47
How to Make a Skeleton Clock, by John Wilding
, June 1980 page 52
Skeleton Clocks, by F B Royer-Collard
, June 1980 page 53
The Best of J E Coleman, Clockmaker, by Jess Coleman
, June 1980 page 54
Suffolk Clocks and Clockmakers, by A L Haggar and L F Miller
, June 1980 page 54
Paul Philip Barraud, by C Jagger
, June 1980 page 54
Taschenuhren, by Reinhard Meis
, June 1980 page 54
The History of Clocks and Watches, by Eric Bruton
, June 1980 page 55
Bournville carillon
, March 1980 page 6
Bow, watch
, June 1980 page 43
Bowes Museum, Barnard Castle
, August 1979 page 13
Bracket clocks
, July 1979 page 11, January 1980 page 10, May 1980 page 18, May 1980 page 62, June 1980 page 34
Bradford City (Town) Hall clock
, January 1980 page 8
Brass, identification of
, August 1979 page 24
Brass, polishing of
, September 1979 page 12
Brick Lane, London
, December 1979 page 8
British Clock Manufacturer, the
, May 1980 page 24
British Clock Manufacturers Association
, February 1980 page 43
British Horological Institute
, July 1979 page 6, August 1979 page 8, August 1979 page 54, January 1980 page 10, May 1980 page 27, June 1980 page 10
British Museum, London
, February 1980 page 58
Bronze, identification of
, August 1979 page 24
Bushes, make your own
, February 1979 page 15
Buntingford church clock
, April 1980 page 34
Buying and selling clocks
, August 1979 page 5

C
Calendars, Julian and Gregorian
, September 1979 page 10, December 1979 page 14
Cann-Hughes, T, research paper
, January 1980 page 62
Carillon
, January 1980 page 8
Carriage clock
, August 1979 page 25, August 1979 page 40, November 1979 page 13, January 1980 page 11
Cast-iron clocks
, November 1979 page 12
Central Station clock, Glasgow
, November 1979 page 8
Chime barrel shift mechanism
, May 1980 page
Chiming clock
, June 1980 page 35
Chronometer
, April 1980 page 7
Church clocks
,
see
'Public clocks'
City Museum, Hatfield Road, St Albans, Hertfordshirel
, January 1980 page 43
Clapham Clock Museum
, April 1980 page 6
Classes in horology
, December 1979 page 13
Clock widow
, April 1980 page 5
Clock shop
, May 1980 page 5
Clockmakers Company
,
see
'Worshipful Company of Clockmakers'
Clockmakers Company Museum, Guildhall, London
, February 1980 page 58
Clocks of the 1930s
, August 1979 page 28, November 1979 page 16
Clocks for Everyman exhibition
, August 1979 page 30, October 1979 page 5, March 1980 page 28, June 1980 page 14
Collecting watches
, August 1979 page 52, April 1980 page 48
Cotehele's 'Torture' clock
, December 1979 page
Cranbrook Parish Church clock, Kent
, March 1980 page 37
Crediton Church clock
, May 1980 page 57
Cromwell, Oliver
, June 1980 page 20
Crown, watch
, June 1980 page
Cuckoo clocks
, November 1979 page 45, January 1980 page 24, May 1980 page 17

D
Daniels, George
, December 1979 page 15
Dawson, Percy
, September 1979 page 6
Delletrez, Jean-Baptiste, of Paris
, February 1980 page 11
Dennison Quality Watch Cases
, June 1980 page 43
Dennison Safety Watch Bow
, June 1980 page 43
Detachable barrels
, May 1980 page 28
Deutches Reichs Gebrauchs Mustereschutz
, April 1980 page 9
Dial, iron
, February 1980 page 9
Dial lighting
, December 1979 page 9
Dial restoration
, January 1980 page 15
Dial, small
, January 1980 page 12
Dickens, Charles, letter to his clockmaker
, April 1980 page 10
Die Uhrmacher
, January 1980 page 24
DIY sundials
, January 1980 page 21
Dorset clockmakers
, September 1979 page 12
Dover Museum
, May 1980 page 6
DRGM
,
see
'Deutches Reichs Gebrauchs Mustereschutz'
Drills, making your own
, January 1980 page 47
Drop-dial clock
, July 1979 page 13, September 1979 page 11

E
E Grey & Son of Clerkenwell
, June 1980 page 7
Electric clocks
, August 1979 page 50, October 1979 page 28, November 1979 page 12, November 1979 page 13, November 1979 page 50, December 1979 page 62, January 1980 page 5, January 1980 page 10, January 1979 page 12, February 1980 page 5, February 1080 page 11, May 1980 page 62
Electric gravity escapement
, November 1979 page 14
Electric winder
, January 1980 page 8
Electronic display
, November 1979 page 62
Elizabethan poetry concerning Time
, February 1979 page 17
Enamelling, the art of
, September 1979 page 14
Engine clocks
, April 1980 page 6
English dial clocks
, December 1979 page 17
English mantel clock
, April 1980 page 7
Escapement, Brocot
, December 1979 page 13, February 1980 page 11
Escapement, new
, May 1980 page 12
Escapements, detached
, October 1979 page 26
Escapements, gravity
, October 1979 page 27, November 1979 page 14, December 1979 page 9
Exhibitions containing clocks
, December 1979 page 37, January 1980 page 56, March 1980 page 28, May 1980 page 8, June 1980 page 8, June 1980 page 14

F
Fairs containing clocks and watches
, April 1980 page 62
Fawcett Clock, the
, March 1980 page 39
Federal Republic of Germany, clocks produced by
, February 1980 page 7
Fitzwilliam Museum, Cambridge
, February 1980 page 58
Fixing a clock to the wall
, February 1979 page 13
Floral clock in Bendingo, Australia
, March 1980 page 6
Floral clock in Dunfermline, Scotland
, March 1980 page 6
Fly, the
, November 1979 page 12
French clocks
, January 1980 page 35
French Empire clock
, December 1979 page 15

G
General Committee of Watchmakers
, July 1979 page 6
German clocks
, July 1979 page 26, October 1979 page 10, January 1980 page 24, May 1980 page 11, May 1980 page 23, June 1980 page 12
Gershom Parkington Collection
, June 1980 page 47
Gilding, of spelter clocks
, February 1980 page 10
Glass domes
, November 1979 page 14
Good, Richard, of the British Museum
, December 1979 page 15
Grande Sonnerie carriage clock
, February 1979 page 22
Gravesend clock
, March 1980 page 6, March 1980 page 54
Great Clock of Westminster
, September 1979 page 35, November 1979 page 8, February 1980 page 52, March 1980 page 35, April 1980 page 24, April 1980 page 37
Great Fire of London
, December 1979 page 30
Greenwich Mean Time (GMT)
, November 1979 page 35, January 1980 page 22
Greenwich Observatory
, September 1979 page 6
Gridiron pendulum, Harrison
, January 1980 page 10
Guild of Craft Enamellers
, April 1980 page 5
Guildford town clock
, September 1979 page 35

H
Hampton Court clock
, August 1979 page 18
Harewood House, clocks of
, August 1979 page 30
Henry Ford Museum
, March 1980 page 15
Herbert Art Gallery and Museum, Jordan Well, Coventry
, January 1980 page 43
Hickory Dickory Dock
, April 1980 page 7
Holland House
, June 1980 page 14
Horological Journal, the
, January 1980 page 62
Horological literature, documentation of
, July 1979 page 10
H S Walsh & Sons of Clerkenwell
, June 1980 page 7
Hutchinson, Beresford
, September 1979 page 6

I
Ideal Homes Exhibition
, June 1980 page 8
Invar
, October 1979 page 25
Isle of Man clock
, April 1980 page 6

J
Jewelling in clocks
, October 1979 page 25
Johannesburg clock
, November 1979 page 55

K
Kensington Palace
, June 1980 page 14
Kensington Gardens clock
, August 1979 page 16
Kentisbeare clock
, November 1979 page 22
Killerton clock
, January 1980 page 8
King Henry VIII, his clocks and clockmakers
, August 1979 page 18, September 1979 page 26
Knightshayes clock
, January 1980 page 8

L
Lacquer, restoration of
, June 1980 page 10
Lancaster clockmakers
, August 1979 page 26, December 1979 page 14
Lancaster pocket watch
, December 1979 page 14
Lantern clocks
, August 1979 page 26, September 1979 page 12, December 1979 page 14, December 1979 page 25
Lathe, sale of
, October 1979 page 18, November 1979 page 13
Leeds City Folk Museum
, January 1980 page 42
Leighton House
, June 1980 page 14
Lever escapement, first application of
, September 1979 page 50
Liberty clock, Great Marlborough Street, London
,
Lighthouse clock
, May 1980 page 13
Lincolnshire makers
, December 1979 page 15
'Little Evelyn' clock, Johannesburg
, November 1979 page 55
Liver clock, Liverpool
, November 1979 page 8
Liverpool City Museum of William Brown Street, Liverpool
, January 1980 page 42
London Law Courts clock
, October 1979 page 22
London prices of clocks and watches
, February 1979 page 21
Longcase clocks
, July 1979 page 11, July 1979 page 12, July 1979 page 16, July 1979 page 22, August 1979 page 24, September 1979 page 7, September 1979 page 11, October 1979 page 11, November 1979 page 13, December 1979 page 8, December 1979 page 15, January 1980 page 10, January 1980 page 11, January 1980 page 15, February 1980 page 9, February 1980 page 21, February 1980 page 25, February 1980 page 37, February 1980 page 48, April 1980 page 9, May 1980 page 5, May 1980 page 6, May 1980 page 11, May 1980 page 18, June 1980 page 10
Lord Mayor of London
, June 1980 page 20
Louis XVI mantel clock
, May 1980 page 9
Lubrication
, October 1979 page 52

M
Mainsprings, unusual borken
, December 1979 page 62
Maker's name erased from dial
, February 1980 page 9
Mantel clocks, Edwardian
, February 1980 page 42
Marble clock
, December 1979 page 13
Marine Society
, February 1979 page 17
Mary Queen of Scots
, January 1980 page 28
Master clock
, January 1980 page 12
Matthew the Miller clock, Exeter
, August 1979 page 8
Mecanno clock
, January 1980 page 11
Mechanics of clocks and watches
, January 1980 page 50
Memorandum clock
, April 1980 page 7
Mermaid, the, in Lothbury
, December 1979 page 25
Mill clocks
, July 1979 page 13
Monastery Clock
, April 1980 page 6
Monastic alarums
, May 1980 page 34
Moon dials
, February 1980 page 37
Movement for longcase, new
, February 1980 page 28
Muir & Sons, jewellers, of Argyle Street and Renfrew Street, Glasgow
, January 1980 page 41
Musée National des Techniques, France
, June 1980 page 38
Museums containing clocks
, August 1979 page 13, September 1979 page 6, November 1979 page 7, December 1979 page 37, February 1980 page 57, March 1980 page 9, March 1980 page 14, April 1980 page 6, May 1980 page 6, June 1980 page 14, June 1980 page 38, June 1980 page 47
Musical clocks
, July 1979 page 13

N
'Nark' clock, the
, April 1980 page 7
National Association of Watch and Clock Collectors
, May 1980 page 8
National Grid
, January 1980 page 5
National Trust, The
, January 1980 page 7
NAWCC Bulletin
, November 1979 page
Neuchatel Museum
, March 1980 page 9
New Zealand museum
, April 1980 page 6
Newarke House Museum, Newarke, Leicester
, January 1980 page 42
Nicholl, Alex, of Dufftown, clock expert
, December 1979 page 7
Night silencing
, January 1980 page 11
Norwich clocks
, December 1979 page 17
'Notes on Some Westmoreland Clockmakers', research paper
, January 1980 page 62
Nuremberg clockmaker
, September 1979 page 6

O
Obsolete and Modern Watch Materials
, June 1980 page 7
Old Blundells clock
, January 1980 page 8

P
Painted dial, how to make
, October 1979 page 39
Painted dial clocks
,
see
'White dial clocks'
Palace of Westminster
, February 1980 page 52
Pelican sundial, Corpus Christie College, Oxford
, May 1980 page 62
Pendant, watch
, June 1980 page 43
Pendulum, geometry of
, January 1980 page 50
Pendulum length calculation
, October 1979 page 11
Pendulum, longest in the world
, December 1979 page 9
Pigeon racing clock
, June 1980 page 13
Pocket watches
,
see
'Watches, pocket'
Poetry about clocks
, November 1979 page 7, February 1980 page 6, February 1980 page 17, March 1980 page 12
Polish for clock cases
, October 1979 page 11
Pope Gregory XIII
, December 1979 page 14
Popular Crafts magazine
, April 1980 page 5
Portobello Road
, May 1980 page 5
Power input to clocks
, November 1979 page 12
Prague clock
, July 1979 page 34, July 1979 page 55
Precision clocks, regulation of
, October 1979 page 30
Precision pendulums
, September 1979 page 16, October 1979 page 24
Prices of clocks
, July 1979 page 16, November 1979 page 5
Public clocks
,
see
'Turret clocks'
Pump Room, Bath
, February 1980 page 58
Puritan clock
, November 1979 page 39

Q
Queen Anne House Museum, Angel Corner, Bury St Edmunds
, June 1980 page 47
Quartz timekeepers
, November 1979 page 35

R
Railway clocks
, November 1979 page 8, November 1979 page 13, February 1980 page 10, March 1980 page 6
Rate adjustment for longcase clocks
, August 1979 page 26
Red House Museum and Art Gallery, Quay Road, Christchurch, Hampshire
, January 1980 page 42
Regulator, American
, May 1980 page 8
Regulator, English
, April 1980 page 46
Regulator, longcase
, December 1979 page 8, January 1980 page 39
Regulators, Vienna and Vienna style
, April 1980 page 45
Repairing antique clocks
, January 1980 page 35, January 1980 page 62
Repairing a longcase movement
, June 1980 page 16
Repeat work
, November 1979 page 13
Researching a clock's history
, October 1979 page 47
Restoration, ethics of
, March 1980 page 46, May 1980 page 18
Ripon clocks
, November 1979 page 13
Ripon sundials
, September 1979 page 40, November 1979 page 13
Roberts, Josiah, of London
, March 1980 page 9
Romanov collection
, August 1979 page 57

S
Saffron Walden town clock
, October 1979 page 11
Saffron Walden watch and clock makers
, January 1980 page 12
Salaman Collection
, January 1980 page 43
Saltram House clock
, January 1980 page 8
Sand glasses
, July 1979 page 52, January 1980 page 27
Saunders, Ken, clockmaker
, December 1979 page 43
Scandinavian and Finish clockmaking industry
, September 1979 page 12
Science Museum, London
, June 1980 page 14
Self-correcting chime mechanism
, May 1980 page 28
Ships clocks
, April 1980 page 6
Signature on dial
, May 1980 page 12
Skeleton clock, great wheel
, February 1980 page 35
Skeleton clock, making of
, May 1980 page 11
Skeleton clocks
, June 1980 page 52
Slave clock
, January 1980 page 12
Solar timeswitch
, December 1979 page 9
Somerset House exhibition
, December 1979 page 37, January 1980 page 56
Sotheby Parke Bernet of London
, December 1979 page 15
South African clock
, November 1979 page 55
Spandrels, Four Seasons
, February 1980 page 9
Speaking clock
, November 1979 page 37
Splicing clock ropes
, July 1979 page 11, November 1979 page 13
St Dunstan's clock
, August 1979 page 26
St Dunstans, Cranbrook, Kent, clock
, January 1980 page 40
St Giles Cathedral clock, Edinburgh
, May 1980 page 46
St Johns Church clock and carillon, Bournemouth
, March 1980 page 6
St Martin-le-Grand clock, York
, September 1979 page 8
St Marys, Cambridge, chimes
, March 1980 page 37
St Marys Church clock, Hunlet, Leeds
, March 1980 page 6
St Mary church clock, Upottery
, June 1980 page 6
St Pauls Cathedral clocki
, March 1980 page 6, March 1980 page 24
St Stephens Church clock, Edinburgh
, December 1979 page 9
Striking, 'Dutch'
, December 1979 page 14, February 1980 page 10
Stuart, Susan
, December 1979 page 14
Stoke Canon church clock
, November 1979 page 21l
Stolen clocks
, July 1979 page 7
Sundials
, September 1979 page 40, September 1979 page 55, January 1980 page 21, May 1980 page 62
Sundials at Oxford
, December 1979 page 33
Sundial, how to make
, September 1979 page 46
Sunflower clock
, April 1980 page 7
Synchronous clocks
, December 1979 page 62, January 1980 page 5
Szewczyk, Bogulslaw
, June 1980 page 7

T
Tavern clocks
, December 1979 page 17, May 1980 page 7, May 1980 page 19, May 1980 page 57
Tay Bridge watch
, April 1980 page 5
Teak, for clock casemaking
, June 1980 page 10
Temperature compensation in pendulums
, September 1979 page 16, October 1979 page 24
Theft of clocks
, December 1979 page 7, February 1980 page 10
Tidal dials
, February 1980 page 38
Tillingham's church clock
, August 1979 page 22
TIM
, January 1980 page 11
'Time Flies' clock, Kensington Gardens
, August 1979 page 16
Time Museum, Rockford, Illinois
, December 1979 page 37
Time recorder
, April 1980 page 11
Time switch
, January 1980 page 11
Tompion type clock, making of
, December 1979 page 43
Tools for clockmakers
, January 1980 page 42
Torque
, September 1979 page 10
Town clocks
,
see
'Turret clocks'
Trademarks, horological
, February 1980 page 46
Transporting longcase clock
, November 1979 page 62
Tristram Shandy, time and
, March 1980 page 23
Turkish market watch
, February 1979 page 23
Turret clocks
, August 1979 page 7, August 1979 page 16, August 1979 page 22, September 1979 page 8, September 1979 page 30, October 1979 page 11, October 1979 page 22, November 1979 page 8, November 1979 page 21, November 1979 page 55, December 1979 page 9, December 1979 page 51, January 1980 page 7, January 1980 page 8, January 1980 page 11, January 1980 page 40, March 1980 page 6, March 1980 page 24, March 1980 page 35, March 1980 page 54, April 1980 page 24, April 1980 page 34, May 1980 page 46, June 1980 page 6

U
Uffington church clock
, April 1980 page 34
Underslung chime
, May 1980 page 28
Universal Time
, November 1979 page 35
Upton Hall
, January 1980 page 10

V
Valuation of clocks
, August 1979 page 5
Verge watches
, September 1979 page 36, February 1980 page 23
Victoria & Albert Museum, London
, February 1980 page 58, June 1980 page 14, June 1980 page 47
Viennese clocks
, April 1980 page 7, April 1980 page 45, June 1980 page 12

W
Wallington town clock
, November 1979 page 8
Watch and Clock Makers Guild
, September 1979 page 6
Watch collecting
, September 1979 page 7, September 1979 page 35
Watches, pocket
, July 1979 page 11, August 1979 page 6, August 1979 page 52, September 1979 page 50, October 1979 page 10, November 1979 page 7, December 1979 page 14, December 1979 page 15, January 1980 page 11, January 1980 page 12, February 1980 page 23, March 1980 page 10, April 1980 page 48, April 1980 page 55, June 1980 page 43
Watch papers
, October 1979 page 15, January 1980 page 11
Westminster clock
,
see
'Great Clock of Westminster'
Wheel cutting engine, appraisalk of
, May 1980 page 41
White dials and white dial clocks
, July 1979 page 16, January 1980 page 15, February 1980 page 7
Whitefield Church clock and carillon, near Manchester
, March 1980 page 6
Widecombe-in-the-Moors church clock
, January 1980 page
Willis Museum, Neew Street, Basingstoke, Hampshire
, January 1980 page 43
Winding clocks
, October 1979 page 51
Winchester town clock
, September 1979 page 30
Worshipful Company of Clockmakers
, July 1979 page 48, September 1979 page 43, November 1979 page 7, December 1979 page 25, February 1980 page 56, April 1980 page 62, May 1980 page 30, May 1980 page 52, June 1980 page 6, June 1980 page 20
Wristwatches
, November 1979 page 7, March 1980 page 43
Wristwatch revolution
, March 1980 page 43
'Wrong' clocks
, December 1979 page 13

CLOCKMAKER INDEX
A
ABEC
, November 1979 page 16
Addison, John, of York
, March 1980 page 39
All British Escapements Co Ltd
, February 1980 page 44
Allam, William, of London
, August 1979 page 10
Allan of London
, August 1979 page 30
Allen, Richard, of London
, September 1979 page 44
Allen, William, of Aberdeen
, June 1980 page 16
American shelf clock
, February 1979 page 14
Anderton, John, of Huddersfield
, July 1979 page 12
Anglo-Celtic Watch Co Ltd
, May 1980 page 23
Anns, Benjamin, of Highworth, near Swindon
, October 1979 page 15
Ansonia Clock Company
, September 1979 page 56, October 1979 page 10, April 1980 page 7, June 1980 page 62
Archer, Jonathan, of London
, November 1979 page 30
Arnold
, August 1979 page 44
Ashwin & Co, dialmakers, of Newcastle-upon-Tyne
, April 1980 page 10
Ashworth, F, of Oldham
, September 1979 page 11
Asprey SA, of Geneva
, January 1980 page 57
Atkinson, George, of Louth
, May 1980 page 13
ATO
, February 1980 page 11
Avenell, Philip, of Farnham
, August 1979 page 25
Aylwood, John
, September 1979 page 35
Azro, Daniel, of Worcester, Massachusetts
, January 1980 page 12

B
Badische Uhrenfabrik, of Guttenbach, Germany
, May 1980 page
Bagley, Thomas, of London
, December 1979 page 27
Ball, Leonard, of Lutterworth
, February 1980 page 30
Balliman
, June 1980 page 38
Bancroft, John, of Scarborough
, February 1980 page 40
Banks, Ralph, of Plymouth Dock
, July 1979 page 45
Bannister of London
, October 1979 page 11
Bannister, Mrs Sarah, of Derby
, August 1979 page 24
Barber, Jonas, of London
, January 1980 page 62
Barber, Jonas, of Winster, Westmoreland
, January 1980 page 16, January 1980 page 62, February 1980 page 48
Barclay, Hugh, of Edinburgh
, September 1979 page 44
Barker, William, of Wigan
, August 1979 page 10
Barkley & Colley of London
, December 1979 page 35, Decembere 1979 page 37
Barlow, the Reverend Edward
, February 1980 page 57
Barlow, William, of Worksop
, January 1980 page 11
Barnard, William, of Newark
, November 1979 page 13
Barr, John, of Port Glasgow
, March 1980 page 12
Barraud, Paul Philip, of Cornhill
, October 1979 page 29, December 1979 page 8, February 1980 page 23, June 1980 page 12
Bartlet, Anthony, bellfounder
, April 1980 page 41
Bartlet, James, bellfounder
, April 1980 page 41
Bartlet, Thomas, bellfounder
, April 1980 page 41
Barton, Jacob, of Norwich
, May 1980 page 52
Barton, Samuel, of Norwich
, May 1980 page 52
Barton, Thomas, of London
, July 1979 page 24
Bartrum, C O
, October 1979 page 28
Barwise, Lot, of Cockermouth
, December 1979 page 34
Barwise, Charles & Sons, of London
, August 1979 page 30
Barwise, John, of London
, December 1979 page 34
Baskett, Martin & Co, of Paris
, December 1979 page 14
Batty & Sons, W(illiam), of Manchester
, September 1979 page 50
Baüer, Joseph
, June 1980 page 12
Bawdyson, Allaine
, September 1979 page 27
Baxter, Charles
, May 1980 page 23
Baxter, John, of London
, February 1980 page 26
Bayes, John, of London
, September 1979 page 44, June 1980 page 20
Bayley, Barnard, of London
, August 1979 page 10
Bearcock, Joseph, of Chatteris
, April 1980 page 11
Beck, Richard, of London
, December 1979 page 26
Becker, Gustav
, August 1979 page 24, August 1979 page 46
Beeckman, Daniel, of London
, July 1979 page 50
Beha, Johann
, November 1979 page 48
Belgica Pigeon Racing Clocks and Accessories
, June 1980 page 11
Bennett, John, of (Cheapside) London
, July 1979 page 6, March 1980 page 14, June 1980 page 32
Benson, J W, of London
, July 1979 page 11
Bentine
, June 1980 page 62
Betts, Samuel, of London
, May 1980 page 6
Biddle & Mumford
, November 1979 page 44
Bilbie, Thomas, of Cullompton
, January 1980 page 8
Birchall, George
, September 1979 page 7
Bonniksen, Bahne, of 16 Norfolk Street, Coventry
, January 1980 page 30
Boot, the family, of Sutton in Ashfield
, August 1979 page 24
Boot, James, of Chesterfield
, August 1979 page 24
Booth, George, of Manchester
, February 1980 page 25
Boston Clocks
, March 1980 page 7
Boyfield, Richard, of Melton Mowbray, Leicestershire
, February 1980 page 7
Bradford, William, of Drayford
, July 1979 page 44
Bradley, Langley, of London
, November 1979 page 12, May 1980 page 46
Breguet
, August 1979 page 44, December 1979 page 15, February 1980 page 22, June 1980 page 54
Breguet Neveu
, June 1980 page 38
Briggs, John
, July 1979 page 48
Brockbank and Atkins
, October 1979 page 29, January 1980 page 30
Brocot
, June 1980 page 38
Brocot, Achille, of Paris
, December 1979 page 13
Broderick, Thomas, of Kirton-in-Lindsey near Brigg, Lincolnshire
, February 1980 page 10
Brown, Nathaniel, of Manchester
, April 1980 page 63
Brownsword, Mrs R, of Nottingham
, August 1979 page 24
Brownsword, Robert, of High Street and Carlton Street, Nottingham
, August 1979 page 24
Bryson of Edinburgh
, October 1979 page 29
Buck, Ashley, of Worcester, Massachusetts
, January 1980 page
Budgen, Thomas, of Croydon
, August 1979 page 11
Bull
, May 1980 page 52
Bulle
, January 1980 page 10, February 1980 page 5
Bulline, Benjamin, of London
, August 1979 page 10
Bullock
, July 1979 page 11
Bullock, Edmund
, September 1979 page 7
Bunell, J
, May 1980 page 13
Bunyan, Henry of Lincoln
, December 1979 page 15
Bunyan, John, of Lincoln
, December 1979 page 15
Burdess, Alan, of Coventry
, October 1979 page 12
Burdess, Robert, of Coventry
, October 1979 page 12
Burges, William
, July 1979 page 50, February 1980 page 49
Burgess, Martin
, July 1979 page 32
Burton, Emanuel, of Kendal
, February 1980 page 39
Butler, Abraham, of Northwich
, November 1979 page 14

C
C Schatz Ltd of Bradford Avenue, London EC1
, May 1980 page 232
Carre, L David, of Paris
, November 1979 page 11, January 1980 page 35
Carter, John, of Tirley, Gloucestershire
, August 1979 page 7
Carter, William, bellfounder
, April 1980 page 41
Cartier, Louis
, November 1979 page 7
Cattell, Thomas
, December 1979 page 32, December 1979 page 37
Cattell, William senior
, December 1979 page 37
Caygill, Christopher and Matthew, of Askrigg
, February 1980 page 48, March 1980 page 39
Chapman and Mears, bellfounders
, April 1980 page 41
Charles, William, of Chepstow
, February 1980 page 27
Chelsea Clocks, of Massachusetts, USA
, March 1980 page 7
Child, Richard, of London
, July 1979 page 51
Christoffe et Cie
, March 1980 page 33
Clapham, George, of Brigg
, December 1979 page 15
Clark, A
, June 1980 page 45
Clarke, William, of London
, December 1979 page 25
Claxton, Thomas, of Guildhall Yard, London
, July 1979 page 51
Clay, Elizabeth, of Newark
, August 1979 page 24
Cleak, Adam, of Bridport
, February 1980 page 27, June 1980 page 6
Cleak, John, of Bridport
, June 1980 page 7
Clement, William, of London
, July 1979 page 51, September 1979 page 17
Clements
, March 1980 page 56
Clifton of Liverpool
, February 1980 page 39
Clifton, John, bellfounder
, April 1980 page 41
Cole, James Ferguson
, December 1979 page 46
Cole, Richard
, June 1980 page 5
Coles
, August 1979 page 44
Collier, John, of Cheadle, Cheshire
, February 1980 page 7
Colston, Richard, of London
, January 1980 page 30
Comer, Jonathan, of Dorchester
, September 1979 page 12
Concentric Manufacturing Co Ltd of Birmingham
, January 1980 page 5
Connett, A J, of Exmouth
, February 1980 page 29
Cooke, Joseph, of Aylesbury
, April 1980 page 63
Cooke, Lewis, of York
, July 1979 page 49
Coster, Saloman, of the Hague
, September 1979 page 16, June 1980 page 22
Cowell, John, of London
, September 1979 page 30
Cox, James, of Shoe Lane
, January 1980 page 30, January 1980 page 53
Coxeter, Nicholas
, July 1979 page 51
Craft Tyme of Hounslow, Middlesex
, March 1980 page 8
Cranage, Mrs M, of Glossop
, August 1979 page 24
Crawford, Robert, of Kilmarnock
, June 1980 page 10
Crawley, Thomas, of London
, September 1979 page 44
Creith (Creyth), Robert, of Leith
, May 1980 page 46
Cronier, Jean Baptiste, of Paris
, August 1970 page 30
Cumming, Alexander
, October 1979 page 27
Cuper
, May 1980 page 52

D
Daniels, George
, June 1980 page 54
Dann, John, of Branston, near Lincoln, casemaker
, February 1980 page 30, April 1980 page 30
Daunton, Lawrence
, August 1979 page 20
Davies, Griffith, of Dolgelly
, October 1979 page 11
Davis, David
, July 1979 page 48
Davis, David P
, May 1980 page 8
Davis, Samuel, of London
, December 1979 page 25
Davis, Tobias, of London
, December 1979 page 25
Day, John, of Wakefield
, January 1980 page 16
Deacon, Samuel, of Barton-in-the-Beans, Leicestershire
, July 1979 page 12, January 1980 page 42
Debaufre, Peter
, August 1979 page 46
De Belle, Jean Fran?ois, of Paris
, August 1979 page 30
Demolyn, John
, September 1979 page 27
Denison, Edmund Beckett
, July 1979 page 57, September 1979 page 10, November 1979 page 12, January 1980 page 40, February 1980 page 53, March 1980 page 24, March 1980 page 37, March 1980 page 56, April 1980 page 24
Dennison, Aaron L
, May 1980 page 8
Dennison Watch Case Co Ltd
, June 1980 page 43
Dent, (E J)
, October 1979 page 29, November 1979 page 16l, February 1980 page 53, March 1980 page 35
Dent, Edwin
, April 1980 page 10
Dent, Frederick
, April 1980 page 24
Deparcieux
, October 1979 page 24
de St Germain, Jean-Joseph
, January 1980 page 57
Devon Instruments Ltd of Topsham
, February 1980 page 28, March 1980 page 30
Dewe, John, of Gravel Lane, Southwark
, December 1979 page 17
De Wyck
, March 1980 page 56
Dimier Bros
, November 1979 page 16
Donegan, John, of Dublin
, July 1979 page 12, October 1979 page 19
Donne, L
, June 1980 page 45
Dorrill, John, of London
, February 1980 page 37
Doute, Peter
, August 1979 page 20
Drake, John, of London
, July 1979 page 49
Draper, John, of Maldon and Chelmsford
, December 1979 page 18
Drew, John, of London
, February 1980 page 9
Drocourt
, August 1979 page 44, February 1980 page 22
Drywood, George, of Bishopsgate Without, London
, December 1979 page 46
Dubois & Wheeler
, December 1979 page 8
Dubuisson
, May 1980 page 9
Duchesne, Johannes
, January 1980 page 53
Duck, Richard, of London and Ipswich
, December 1979 page 17, December 1979 page 31
Dudson, Simon, of London
, December 1979 page 26
Duffner of Gosford Street, Coventry
, May 1980 page 13
Duffner, Bennett, of Coventry
, May 1980 page 13
Dunlop, Andrew, of London
, March 1980 page 31
Dunlop, Conyers, of London
, March 1980 page 31
Duplay & Salles of Paris
, December 1979 page 13
Durani, Paul
, February 1980 page 30
Durward, Joseph, of Edinburgh
, January 1980 page 30
Duverdry & Bloquel
, August 1979 page 25

E
Earnshaw, Thomas
, August 1979 page 46, December 1979 page 45
East, Edward, of London
, July 1979 page 49, December 1979 page 26, February 1980 page 50, May 1980 page 12, May 1980 page 51, June 1980 page 20
East, H
, June 1980 page 45
Edgcumbe
, November 1979 page 16
Edmonton Clock Company
, May 1980 page 24
E J Pearson & Sons Ltd
, March 1980 page 45
Ellicott of London
, July 1979 page 22, September 1979 page 30, October 1979 page 24
Elliott Ltd, F W, of Croydon
, November 1979 page 16, February 1980 page 32
Elliott, J J
, August 1979 page 45
Ellis, Henry, of Exeter
, July 1979 page 45
Emery, Josiah
, June 1980 page 38
Emperor Clock Company of Fairhope, Alabama
, October 1979 page 8
Enfield Clock Company
, November 1979 page 16, May 1980 page 23, June 1980 page 62
English Clock & Watch Manufacturers, of Coventry
, May 1980 page 27
English Watch & Clock Manufacturers Ltd
, November 1979 page 16
Etchers, John, of Nottingham
, August 1979 page 24
Etchers, Mary, of Nottingham
, August 1979 page 24
Eterna
, November 1979 page 7
Ethrington, George
, August 1979 page 46
Eureka Clock Company
, November 1979 page 50, May 1980 page 62
Evans, F W, of the Soho Factory, Birmingham
, June 1980 page 52
Ever Ready
, August 1979 page 51
Everitt, John
, January 1980 page 53

F
Fabergé, Peter Carl
, August 1979 page 57
Farquharson, Charles, of Dundee
, February 1980 page 25
Ferranti
, November 1979 page 16
Fielding, Mrs Elizabeth, of Glossop
, August 1979 page 24
Finnemore & Son, William
, October 1979 page 48
Firth, N C, of Chester
, January 1980 page 12
Fitzroy, Admiral
, August 1979 page 52
Fitzwater, John
, August 1979 page 19
Flight, B, of Kinross
, January 1980 page 18
Forde, Charles, of Barnstaple
, January 1980 page 8
Foster, G, of Sittingbourne
, May 1980 page 13
Fothergill of Knaresborough
, January 1980 page 15
Franklin, Benjamin
, November 1979 page 44
French, Santiago
, December 1979 page 8
Frodsham, Charles, of 84 Strand, London
, July 1979 page 7, August 1979 page 6, August 1979 page 10, August 1979 page 44, October 1979 page 29, April 1980 page 10
Fromanteel, Ahaseurus, of Norwich and London
, July 1979 page 49, September 1979 page 43, December 1979 page 27, May 1980 page 51, June 1980 page 20
Fromanteel, John
, December 1979 page 27
Fuderer, John, of Nottingham
, August 1979 page 24
Fuderer, Priscilla, of Nottingham
, August 1979 page 24
Fylberd, John, of Taunton
, July 1979 page 43

G
Gadsby, Sarah, of Gallowtree Gate, Leicester
, August 1979 page 24
Galileo
, September 1979 page 16, January 1980 page 50, April 1980 page 17, June 1980 page 21
Garbound, John, of London
, December 1979 page 27
Gardner of Manchester
, February 1979 page 13
Garner, Thomas, of London
, November 1979 page 30
Garnier, (Paul)
, August 1979 page 40, January 1980 page 53, June 1980 page 38, June 1980 page 54
Garrard
, November 1979 page 16, January 1980 page 53
Gent & Co of Leicester
, May 1980 page 27
George Mears & Co, bellfounders
, April 1980 page 41
Gerrod of Worley (near Wotton under Edge)
, December 1979 page 15
Gilbert
, April 1980 page 7
Gilder, John
, April 1980 page 10
Gillet & Johnston of Croydon
, July 1979 page 8, July 1979 page 12, August 1979 page 35, August 1979 page 45, October 1979 page 22, November 1979 page 12, November 1979 page 16, November 1979 page 55, January 1980 page 7, April 1980 page 343
Gillett, C E, & John Healey of Manchester
, April 1980 page 9
Gilliot of Paris
, March 1980 page 50
Girard-Perregaux of La Chaux-de-Fonds
, March 1980 page 43
Gould, Christopher, of London
, July 1979 page 51, September 1979 page 30
Graham, George
, August 1979 page 58, September 1979 page 17, September 1979 page 30, October 1979 page 28, December 1979 page 37, January 1980 page 10, February 1980 page 57, March 1980 page 56, April 1980 page 62
Grant of Fleet St, London
, December 1979 page 45
Gravell & Tolkein of London
, September 1979 page 30
Gray, Benjamin
, August 1979 page 58
Gregory, Jeremy, of London
, July 1979 page 49
Gretton, Charles, of London
, July 1979 page 50
Grimthorpe, Lord
,
see
'Denison, Edmund Beckett'
Grinkin, Robert, of London
, July 1979 page 50, November 1979 page 5, November 1979 page 40, June 1980 page 20
Grivolas, Claud
, June 1980 page 40

H
Haas, Philipp & Söhn
, September 1979 page 11
HAC
,
see
'Hamburg American Clock Co'
Hacket, Richard, of Harringworth
, April 1980 page 9
Hackett, Simon, of London
, June 1980 page 30
Hains of Prague
, July 1979 page 55
Hale & Son, Thomas, of Bristol
, July 1979 page 42
Hallam, the family, of Nottingham
, August 1979 page 24
Haller, Thomas, of West Germany
, October 1979 page 10
Hall, Robert, of Oswestry
, December 1979 page 19
Hamburg American Clock Co
, February 1980 page 11, February 1980 page 43, May 1980 page 17
Handley & Moore
, May 1980 page 12
Harbar, Jasper, of London
, July 1979 page 50
Harding, Mike
, February 1980 page 35
Hardouin
, June 1980 page 38
Hardy, William, of London
, October 1979 page 27
Harmer, Jasper, near Smithfield Barrs
, July 1979 page 50, February 1980 page 49
Harper, Henry, of London
, September 1979 page 44
Harper, Mary, of Mansfield Road, Nottingham
, August 1979 page 24
Harper, Samuel, of Ayr
, February 1980 page 9
Harris, John
, July 1979 page 49, June 1980 page 20
Harrison, James
, September 1979 page 8, September 1979 page 19
Harrison, James, of Hull
, April 1980 page 34
Harrison, James, of Hull
, September 1979 page 8
Harrison, John
, September 1979 page 8, October 1979 page 24, November 1979 page 30, November 1979 page 53, January 1980 page 28
Harrison, John, of Norwich
, December 1979 page 20, December 1979 page 31
Harrison, William
, November 1979 page 30
Harrison, Mrs Ann, of Queen Street, Southwell
, August 1979 page 24
Harrop, E, of Rosebery Avenue, London
, March 1980 page 44
Hartley, T M, of Shillingford, Oxford
, June 1980 page 6
Harwood, John
, March 1980 page 44
Hatôt, Leon, of Paris
, February 1980 page 11
Hawkins, Ambrose, of Exeter
, July 1979 page 43
Haycock, William, of Ashbourne, Derbyshire
, August 1979 page 10, February 1980 page 33, June 1980 page 28
Hebden, Jeffrey, of Hawes
, March 1980 page 39
Heeley of Deptford
, June 1980 page 10
Helden, Onisephorus
, June 1980 page 20
Henlein, Peter, of Nuremburg
, September 1979 page 6
Herbert, William, of London
, July 1979 page 51
Hill, Samuel, of Broad Lane, Sheffield
, September 1979 page 7
Hirst, C S
, June 1980 page 45
Hodgkinson & Son, (J)
, November 1979 page 16, February 1980 page 42
Hodgson, William Batty, of Lancaster
, June 1980 page 10
Hoff, John, of Lancaster, USA
, February 1980 page 51
Holland, Harry, of Dunstable
, February 1980 page 30, April 1980 page 30
Holroyd, Richard, of Stockport
, October 1979 page 16
Honeybone, Mrs Amy, of 48 Bridlesmith Gate, Nottingham
, August 1979 page 24
Hooke, Robert
, August 1979 page 52, September 1979 page 17, February 1980 page 57, April 1980 page 56
Hoppin, Matthew, of Exeter
, July 1979 page 43
Hornsey, William, of Exeter
, July 1979 page 45
Horse Guards clock
, August 1979 page 16
Hosmer, of Tonbridge, Kent
, July 1979 page 43
Houghton, Richard
, February 1980 page 57
Hour-Lapine of Paris
, October 1979 page 8
Howard, Edward, of Hingham, Massachusetts
, May 1980 page 8
Howe of Chatham
, July 1979 page 32
Hubert, Estienne, of Rouen
, February 1980 page 49
Hughes, Alan, bellfounder
, April 1980 page 41
Hughes, Albert A, bellfounder
, April 1980 page 41
Hughes, Douglas, bellfounder
, April 1980 page 41
Hughes, Henry & Son
, November 1979 page 16
Hughes, Thomas, of London
, May 1980 page 6
Hughes, William A, bellfounder
, April 1980 page 41
Hulbert, W, of Bristol
, January 1980 page 11
Hummell, Mrs H, of Derby
, August 1979 page 24
Hunt, Edward, of London
, July 1979 page 51
Husband, Thomas, of Hull
, June 1980 page 30
Hutchinson, Catherine, of New Gate, Retford
, August 1979 page 24
Hutchinson, William, of Retford
, August 1979 page 24
Huxtable, Edward, of Chittlehampton, North Devon
, July 1979 page 44
Huygens, Christiaan
, September 1979 page 16, November 1979 page 53, December 1979 page 27, June 1980 page 21, June 1980 page 38
Hyatt, Derek, of Hurstmonceux, Sussex
, June 1980 page 8

I
Ingersoll
, January 1980 page 12
Ireland, Henry
, December 1979 page 26
Ithaca
, April 1980 page 7

J
Jackson, William, of Frodsham
, April 1980 page 10
Jacot, Henri, of Rue de Montonerency, Paris
, January 1980 page 11
Jaeger le Coultre
, September 1979 page 57, January 1980 page 53
Jahresuhrenfabrik of Triberg
, May 1980 page 24
James, John, of London
, December 1979 page 27
Janvier
, June 1980 page 38
Japy of France
, February 1980 page 43, June 1980 page 62
Jaquet Droz of London
, March 1980 page 0
Jauch, Erhard, of Schwenningen
, October 1979 page 6
Jenkins, H, fusee and clock chain makere, Christchurch, Hampshire
, November 1979 page 30
Jerome, Chauncey
, July 1979 page 12, January 1980 page 10
Jerome & Co Ltd
, February 1980 page 7, April 1980 page 7
John Goode & Sons (Birmingham) Ltd
, March 1980 page 44
Jolly, Fran?ois, of Paris
, March 1980 page 9
Jones, Henry, of London
, July 1979 page 51, August 1979 page 52, Septembeer 1979 page 30, February 1980 page 49, May 1980 page 51
Jones, John, of Strand, London
, August 1979 page 54
Jones, William, of Monmouth
, May 1980 page 11
Joyce, J B & Co Ltd, of Whitchurch
, September 1979 page 7, November 1979 page 40, March 1980 page 6
Jullien, H J, of Paris
, March 1980 page 12
Julliot, Solomon
, July 1970 page 23
Junghans
, September 1979 page 56, February 1980 page 11, March 1980 page 19, May 1980 page 25

K
Kaiser, J, of Villingen
, May 1980 page 11
Kaufman, Rudy
, February 1980 page 51
Kienzle
, May 1980 page 25
Kienzler, Freddie
, May 1980 page 25
Kendal and Dent
, April 1980 page 10
Kendal, James
, April 1980 page 10
Kendal, James Francis
, April 1980 page 10
Ketterer, Franz Anton, of Schönwald
, November 1979 page 46
Kieninger, Joseph, of Aldingen
, July 1979 page 26
Kimich, B & Co, of Bath
, December 1979 page 15
Kinable, D D
, May 1980 page 9
Kipling, W[illiam], of London
, August 1979 page 25, November 1979 page 30, January 1980 page 30, February 1980 page 23
Kirk, Joseph and Ann
, August 1979 page 24
Knibb
, July 1979 page 22, January 1980 page 10
Knibb, John, of Oxford
, December 1979 page 33, May 1980 page 30
Knibb, Joseph
, July 1979 page 49, August 1979 page 58, January 1980 page 53, February 1980 page 9
Knight, William, of West Malling
, January 1980 page 10
Kommenda, Karl, of Vienna
, June 1980 page 12
Kratzer, Nicolaus
, August 1979 page 18
Kullberg, Victor, of Liverpool and London
, December 1979 page 45
Kutnow Brothers, Sigismund, Herman and Gustav
, November 1979 page 50

L
Lancashire Watch Company
, January 1980 page 42
Landeron, Hahn
, April 1980 page 49
Lane, Henry, of Bristol
, February 1980 page 39
Larible, August
, June 1980 page 39
Laurent of Paris
, March 1980 page 19
Lavet, Marius, of Paris
, February 1980 page 11
Lawrie of Carlisle
, February 1980 page 38
Lawson, Alfred, bellfounder
, April 1980 page 41
Lawson, Arthur, bellfounder
, April 1980 page 41
Le Coultre, Jaeger
,
see
'Jaeger le Coultre'
Lee, George, of Skipton
, March 1980 page 39
Lenzkirch, A G
, April 1980 page 7, June 1980 page 12l
Lepine
, August 1979 page 45
Le Roy
, June 1980 page 38
Le Roy et Fils
, October 1979 page 20
Le Roy, Julien
, March 1980 page 32
Leroy, L et Cie, of Paris
, October 1979 page 27
Le Seney, Sebastian
, August 1979 page 20
Le Sieur of Paris
, August 1979 page 14, August 1979 page 30
Lester, Thomas, bellfounder
, April 1980 page 41
Lester and Pack, bellfounders
, April 1980 page 41
Lester, Pack and Chapman, bellfounders
, April 1980 page 41
Levey, Emanuel, of Dover
, May 1980 page 7
Liberty of London
, March 1980 page 9
Lieutaud, B
, January 1980 page 56
Lion, E, of Lancaster
, December 1979 page 14
Lister, Thomas, of Halifax
, February 1980 page 49
Liston, Thomas, of Halifax
, February 1980 page 49
Litherland, Peter
, June 1980 page 54
Loebl, A, of Munich
, August 1979 page 51
Loomes, Thomas, of Lothbury
, December 1979 page 26, May 1980 page 53, June 1980 page 20
Lovelace, Jacob, of Exeter
, July 1979 page 43
Lowell, Paul, of London
, July 1979 page 51
Lowndes, Charles, of Pall Mall
, November 1979 page 30
Lucien of Paris
, June 1980 page 62
Luitprand
, July 1979 page 52
Lupton, William, of York
, September 1979 page 8
Lyseney, Sebastian
, September 1979 page 27

M
Malkinson, William, of Alford, Lincolnshire
, August 1979 page 11
Manger, John
, August 1979 page 50
Maple & Co Ltd
, August 1979 page 45
Martin & Roberts
, April 1980 page 46
Martin, Edward, of London
, July 1979 page 24
Marsh, R C
, June 1980 page 40
Marwick of London
, January 1980 page 30
Marwick Markham & Perigal
, January 1980 page 56
Mather, Darlon, of London
, May 1980 page 13
Maul, J, of Coldstream
, October 1979 page 12
Maule, William, of Coldstream
, October 1979 page 12
Mayhew, William, of Woodbridge
, December 1979 page 21
Maynard, Christopher, of London
, June 1980 page 30
McCabe, James
, August 1979 page 44, December 1979 page 8
Mears & Co of London
, December 1979 page 9, May 1980 page 46
Mears & Stanbank, bellfounders
, April 1980 page 41
Mears, Charles and George, bellfounders
, April 1980 page 41
Mears, William and Thomas, bellfounders
, April 1980 page 41
Mell, Davis, of London
, September 1979 page 44
Merryfield, John, of Hatherleigh
, July 1979 page 42
Metcalfe, Mark, of Bowbridge and Askrigg
, March 1980 page 39
Miraut, Lewis, of London
, May 1980 page 6
Mitchell, R
, June 1980 page 45
Mitchell, Tom, of London
, September 1979 page 44
Mitchell, William, of London
, May 1980 page 7
Mohren of Paris
, October 1979 page 24
Mojon, Edward
, August 1979 page 50
Molyneux
, October 1979 page 29
Moody of Cambridge
, October 1979 page 11
Moore, John (& Son)
, July 1979 page 12, June 1980 page 52
Morgan, Richard, of London
, September 1979 page 44
Morris
, November 1979 page 42
Morton, W, of Cambusnethan
, November 1979 page 14
Morton, William, of Liverpool
, December 1979 page 45
Moseley, Mary E, of Derby
, August 1979 page 24
Mot, Robert, bellfounder
, April 1980 page 41
Mowrey, P H
, August 1979 page 45
Mudge, Thomas
, July 1979 page 12, July 1979 page 43, September 1979 page 50, October 1979 page 27, December 1979 page 44, March 1980 page 9

N
Naftel, Thomas Andre, of Guernsey
, February 1980 page 25
New Haven Clock Company
, February 1980 page 7
Newsam, Bartholomew
, August 1979 page 20
Newton, George, of Seend, Wiltshire
, October 1979 page 12
Nicasius, John, of London
, July 1979 page 49, June 1980 page 24
Nicole Neilson & Company of Soho Square, London
, August 1979 page 6
Nikalls, Isaac, of Wells, Norfolk
, February 1979 page 21, June 1980 page 30
Noon, Sarah, of Ashby-de-la-Zouche
, August 1979 page 24
Noon, Thomas
, August 1979 page 24
Norris, Edward, of London
, December 1979 page 25
Northcote, Samuel, of Plymouth
, July 1979 page 43
Nouwe
, May 1980 page 52

O
Ogden, John, of Bowbridge and Askrigg
, March 1980 page 39
Olivers of Spencer Street, Clerkenwell, watch casemakers
, January 1980 page 42
Olsen, Jens
, June 1980 page 55
Omega
, March 1980 page 11
Oursain, Nicholas
, August 1979 page 20, August 1979 page 58, September 1979 page 27, January 1979 page 50
Owen of Llanwrst
, October 1979 page 11
Owen, John, of Llanwrst
, September 1979 page 12

P
Paliard, tthe family, of Paris and Besan?on
, August 1979 page 26
Papavoine of London
, May 1980 page 5
Paton, Robert G, of Newmilns
, August 1979 page 13
Patek Philippe of Geneva
, June 1980 page 5
Pattison, James, of Halifax
, October 1979 page 12
Paulet, Sir William
, September 1979 page 30
Paxton, the family, of St Neots, Nottinghamshire
, July 1979 page 12
Paxton, John
, July 1979 page 12
Pearce, George, of Nottingham
, August 1979 page 24
Pearce, Mrs R, of 11 Pelham Street, Nottingham
, August 1979 page 24
Pearmak
, March 1980 page 45
Pearson, Alfred
, March 1980 page 44
Peck and Chapman, bellfounder
, April 1980 page 41
Peckover, Richard
, January 1980 page 30
Peirce, Thomas, of Berkeley, Gloucestershire
, September 1979 page 43
Pemberton, George, of London
, June 1980 page 12
Penman, Lawrence, of Trusham, Newton Abbott
, February 1980 page 30
Percy, James, of Stradbroke (or Standbrook), Suffolk
, August 1979 page 26
Peream, John, of Ottery St Mary, East Devon
, July 1979 page 44
Perigal, Francis
, January 1980 page 30
Perrin, Daniel, of Amsterdam
, February 1980 page 10
Phelps, Richard, bellfounder
, April 1980 page 41
Philipson, the family, of Winster
, January 1980 page 62
Philipson, John, of Winster
, January 1980 page 62
Pickering, Dr R N U
, July 1979 page 32
Piggot, Nathaniel Kirk
, August 1979 page 24
Pinchbeck, Christopher, of London
, August 1979 page 10
Pitt, John
, September 1979 page 12
Plantart, Piers and Nicholas
, August 1979 page 18
Porthouse, William, of Penrith
, February 1980 page 38, February 1980 page 48, June 1980 page 11
Potts and Sons of Leeds
, March 1980 page 6
Powers, Timonthy Bernard
, November 1979 page 50, May 1980 page 62
Pratt, James, William and John, of Askrigg
, March 1980 page 40
Pridgin, William, of Hull
, February 1980 page 25
Pridham, Lewis, of Sandford, near Crediton
, July 1979 page 44
Priest, Elizabeth, of Middle Gate, Newark
, August 1979 page 24
Prime, Andrew, of London
, December 1979 page 27, May 1980 page 53
Prior, Edward, of London
, February 1979 page
Prior, George
, October 1979 page 27

Q
Quare
, July 1979 page 22
Quare, Daniel
, July 1979 page 49, August 1979 page 52, September 1979 page 43, January 1980 page 30, May 1980 page 30
Quesnay, Vincent
, August 1979 page 19

R
Rammell, Eliza, of Derby
, August 1979 page 24
Ramsay, David
, July 1979 page 49, May 1980 page 53, June 1980 page 22
Ramsden, John, of London
, December 1979 page 27
Raymond, P W
, April 1980 page 56
Recordon
, June 1980 page 40
Redford, Thomas, of Leeds
, February 1980 page 49
Reed, Richard, of Chelmsford
, September 1979 page 30
Reeve, Claude
, October 1979 page 43
Reid, Adam
, October 1979 page 25
Reid, Thomas, of Edinburgh
, October 1979 page 25, October 1979 page 27
Reid and Auld of Edinburgh
, October 1979 page 27
Remercier
, June 1980 page 40
Rendell, Henry and John, of Tiverton
, July 1979 page 42
Rentnow
, June 1980 page 5
Reutter
, January 1980 page 54
Revell, Samuel, of London
, December 1979 page 30
Riefler, Sigmund
, October 1979 page 27
Rimbault, Paul
, January 1980 page 53
Rippon, Frederick
, March 1980 page 37
Ritchie, Frederick, of Edinburgh
, December 1979 page 9
Ritchie, James & Son, of Edinburgh
, December 1979 page 9, May 1980 page 46
Roles, J W, casemaker
, May 1980 page 23j
Rolex
, March 1980 page 43
Rombach, Theo
, May 1980 page 24
Roque, Jean Leonard, of Paris
, August 1979 page 30
Roskell, Eliza, of Derby
, August 1979 page 24
Ross, Daniel, of Exeter
, January 1980 page 8
Rosse, Samuel, of London
, July 1979 page 49
Rotherhams of Coventry
, February 1980 page 44, May 1980 page 17
Roughsedge, Richard, of Twickenham
, July 1979 page 43
Rowntree, Robert, of York
, January 1980 page 17
Rudge, S T
, June 1980 page 45
Russell (or Rousel), Cornelius
, June 1980 page 24
Russell, George
, March 1980 page 16
Russell, Thomas, of Wootton, Bedfordshire
, June 1980 page 48

S
Sadler, Robert of London
, May 1980 page 62
Sagar, Edmund, of Skipton
, March 1980 page 39
Salmon, C, of Dundee
, January 1980 page 18
Sanderson, John, of Wigton, Cumberland
, September 1979 page 43
Sarton, Hubert, of Liege
, August 1979 page 30
Saunders, Kenneth
, December 1979 page 43
Savage, George
, June 1980 page 54
Savage, John and Peter, of Exeter
, July 1979 page 43
Savory & Sons, A B, of Cornhill, London
, June 1980 page 62
Schatz, Carl
, May 1980 page 23
Schatz Rombach Ltd, of Glasshouse Yard, London EC
, May 1980 page 24
Sectric
, January 1980 page 5
Sedwell, Edward, of London
, December 1979 page 30
Seigniour, Robert, of London
, February 1980 page 49
Sellars, John, of London
, July 1979 page 51
Selwood, William and John, of London
, December 1979 page 25
Sessions
, April 1980 page 7
Sheldrake of 17 London Street, Norwich
, October 1979 page 16
Shelton, Sampson, of London
, July 1979 page 51
Shipley, Mrs A, of Derby
, August 1979 page 24
Shortt, W H
, October 1979 page 28
Simoni, Antonio
, May 1980 page 30
Sinclair Harding of Chelteham
, February 1980 page 35
Sinclair, Harding & Bazeley
, October 1979 page 6
Sindry, Lawrence, of London
, July 1979 page 51
Skeaping, Professor J
, September 1979 page 55
Skinner of Exeter
, July 1979 page 45
Smith, John (& Sons), of Derby
, February 1980 page 10, March 1980 page 6, March 1980 page 24, April 1980 page 34
Smiths
, November 1979 page 16, December 1979 page 62
Smith & Sons, S
, August 1979 page 6
Smith & Sons Ltd of Strand, London
, August 1979 page 45, May 1980 page 6
Smith of Clerkenwell
, April 1980 page 46
Smith, James
, January 1980 page 53
Smith, John
, February 1980 page 49
Smith & Sons, John, of Midland Clock Works, Derby
, February 1980 page 11, March 1980 page 54
Smiths English Clocks Ltd
, February 1980 page 44, May 1980 page 27
Smith, Ambrose, of Stamford
, July 1979 page 50, February 1980 page 49
Snow, Richard, of Pateley Bridge
, January 1980 page 16
Snow, William, of Padside, Yorkshire
, February 1980 page 48
Sotiau, Nicolas, of Paris
, August 1979 page 30
Sparkes, Thomas, of Wapping
, February 1980 page 9
Speakman, Edward, of London
, June 1980 page 30
Spiller, Henry, of St Thomas, Exeter
, January 1980 page 8
Springall of Norwich
, September 1979 page 12
Staddon, Mrs Emiley, of Ripley
, August 1979 page 24
Stafford, Thomas, of Cleaton Moor, Cumberland
, June 1980 page 12
Stainbank, Robert, bellfounder
, April 1980 page 41
Stancliffe, John, of Askrigg
, March 1980 page 40
Standcliff, John
, February 1980 page 26
Stanton, Edward
, August 1979 page 10, February 1980 page 49
Starley, Francis
, July 1979 page 48
Stedman & Vardon, of Princes Street, Leicester Fields
, March 1980 page
Steer, Mrs Elma, of Derby
, August 1979 page 24
Stephenson, Luther
, May 1980 page 8
Stevens, Edward, of Liverpool
, February 1980 page 7
Stillinger
, July 1979 page 48
Stockell and Stuart, of Newcastle
, February 1980 page 27
Stonehouse of Leeds
, February 1980 page 32
Strachan, Abraham
, July 1979 page 50
Strasser, Professor
, October 1979 page 28
Stumbles, William, of Totnes
, July 1979 page 43
Suggate, George, of Halesworth, Suffolk
, August 1979 page 26
Sully, Henry
, August 1979 page 45
Swinburne, John and George, of Durham
, March 1980 page 51

T
Taber, Elnathan
, November 1979 page 43
Táborsky, Jan, of Prague
, July 1979 page 57
Tameside Clocks
, June 1980 page 28
Tate of Winterton, Lincolnshire
, February 1980 page 7
Taylor, F H
, May 1980 page 23
Taylor, John, of London
, August 1979 page 30
Tempex
, January 1980 page 10
Terry, William, of Bedale
, March 1980 page 39
Thomas Sampson (Oldham) Ltd
, June 1980 page 28
Thomas, Seth
, September 1979 page 57, October 1979 page 19, April 1980 page 7
Thompson, Mrs Macy, of Chesterfield
, August 1979 page 24
Thompson, William, of Northallerton
, March 1980 page 39
Thoms, F, of Clerkenwell, watch casemaker
, June 1980 page 32
Thorne, Simon, of Tiverton
, July 1979 page 42
Thorpe, Thomas, of Pateley Bridge, Yorkshire
, September 1979 page 51
Thwaites & Reed of Clerkenwell
, July 1979 page 12, August 1979 page 16, August 1979 page 22, December 1979 page 51, June 1980 page 6
Thwaites, John, of Clerkenwell
, July 1979 page 45
Tickell, John, of Crediton
, May 1980 page 57
Tinkingh, Jan, of Ozzaandam, Netherlands
, February 1979 page 21
Tolputt, James
, May 1980 page 7
Tompion
, July 1979 page 23, August 1979 page 58, September 1979 page 30, October 1979 page 47, November 1979 page 9, Decembeer 1979 page 37, January 1980 page 7, January 1980 page 30, January 1980 page 53, February 1980 page 10
Tompion, Thomas, of Bedfordshire and London
, July 1979 page 49, August 1979 page 52, September 1979 page 17, February 1980 page 56, March 1980 page 34, April 1980 page 62, May 1980 page 30, May 1980 page 51
Torricelli, Evangeliste
, August 1979 page 52
Tossiear, Clement
, September 1979 page 30
Toussaint, Franciseus
, July 1979 page 11
Toussaint, Marie, of Paris
, July 1979 page 11
Towneley
, September 1979 page 18
Tracellion, John
, August 1979 page 18
Trasillion, Anthony
, August 1979 page 18
Trugard, James, of Plymouth Dock
, July 1979 page 42
Tucker, John, of Exeter
, July 1979 page 45
Turner, Alexander and William Henry
, June 1980 page 11
Turner, F L
, June 1980 page 45
Tyler, George, of Popes Head Alley, London
, January 1980 page 10
Tyrell Timekeepers Ltd of Beckenham, Kent
, April 1980 page 30
Tyrell, Walter, of London
, January 1980 page 30

U
Upjohn, Thomas, of Exeter
, July 1979 page 45
Urseau
, May 1980 page 52
Usher, Joseph
, June 1980 page 5

V
Vacheron of Geneva
, March 1980 page 32
Valin
, May 1980 page 52
van Berthen, Jaques, of Norwich
, May 1980 page 52
Vanstripe, Nicholas
, July 1979 page 50
Verlinden a Gand, Jne
, August 1979 page 46
Villemsens of Paris
, October 1979 page 19
Viner
, January 1980 page 53
Vulliamy, the family
, August 1979 page 58
Vulliamy, Benjamin Louis
, August 1979 page 30, December 1979 page 37, February 1980 page 53, March 1980 page 35

W
Walker and Finnemore of Birmingham
, May 1980 page 13
Wallis, Joseph, of London
, February 1980 page 26
Walshay, I
, February 1980 page 49
Waltham
, April 1980 page 55
Ward, W, of Northallerton
, January 1980 page 17
Warden, William, of London
, December 1979 page 30
Waterbury
, January 1980 page 12, April 1980 page 7
Watkins, J, of London
, July 1979 page 24
Webb, William
, January 1980 page 12
Webster of Queen Victoria Street
, November 1979 page 14
Webster, Henry, of London
, November 1979 page 30
Webster, R
, May 1980 page 13
Weekes, Edward, of London
, February 1979 page 23
Welch, E N, of Forestville, Connecticut
, October 1979 page 8, April 1980 page 7
Welch, Pierce W
, February 1980 page 7
West Woodworkers Ltd of White Lion Street, Islington, London
, February 1980 page 42
Wheelhouse, Francis, of Sheffield
, December 1979 page 8
Whiston, Thomas, of Newport, Salop
, February 1980 page 27
White, John, of London
, December 1979 page 30
Whitechapel Bell foundry
, April 1980 page 32
Whitehurst, John, of Derby
, August 1979 page 10, September 1979 page 11, February 1980 page 53, March 1980 page 6, March 1980 page 35
Wilding, John
, May 1980 page 11, June 1980 page 52
Wilkes, John, of Birmingham
, September 1979 page 11
Willard, Aaron
, November 1979 page 43
Willard, Simon, of Grafton, Massachusetts
, November 1979 page 42
Willard, Simon junior
, November 1979 page 43
William Gilbert Clock Co, of Winstead, Connecticut
, November 1979 page 11
Williams, James, of London
, January 1980 page 11
Williamson Ltd
, March 1980 page 44
Williamson, Joseph
, July 1979 page 49
Williamson, Timothy, of London
, June 1980 page 49
Wills, Ernest
, May 1980 page 23
Wilmot, Thomaas, of London
, December 1979 page 27
Wilson, James, of Birmingham, dialmaker
, April 1980 page 11, June 1980 page 30
Wilson, James, of Askrigg
, March 1980 page 39
Wilson, James, of Belfast
, February 1980 page 48
Wilson, William, of Apperley Bridge
, February 1980 page 50
Windmills of London
, March 1980 page 8
Windmills, Joseph and Thomas, of London
, June 1980 page 48
Winegartens Ltd of London
, October 1979 page 10
Wise, John, of London
, August 1979 page 10, May 1980 page 30
Withnall of Holywell
, July 1979 page 16
Wolf-Jahn
, November 1979 page 30
Wontner & Son of Minories, London
, June 1980 page 5
Wontner, John, of Minories, London
, June 1980 page 5
Wontner, John junior, of St Petersburg
, June 1980 page 5
Wontner & King, of London
, June 1980 page 5
Woolley, James, of Codnor
, July 1979 page 62
Woolley, John, of Codnor
, July 1979 page 62
Worlidge, Daniel, of London
, December 1979 page 30
Wraight & Woolley of Tenterden, Kent
, December 1979 page 18
Wright, John, of Dorking
, December 1979 page 20
Wyld, John, of Nottingham
, July 1979 page 62

Y
Young & Son of Strand, London
, September 1979 page 11

© 1977 to 2015 Clocks Magazine & Splat Publishing Ltd