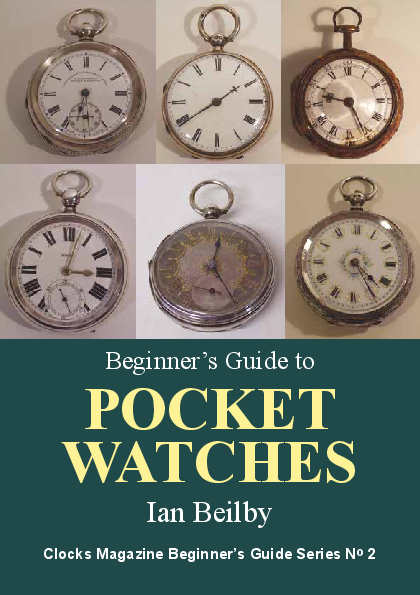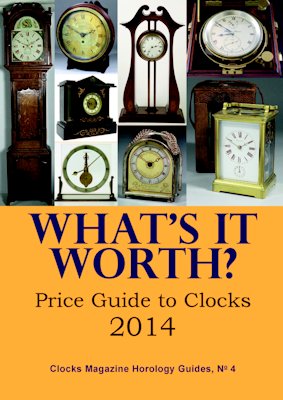 Index to Clocks Magazine


Volume 1


This volume runs from the pilot issue published in July 1977 to the June 1979 issue inclusive, 13 issues in all (Pilot issue 1977, plus July 1978 to June 1979 monthly).

The Index is in two sections. The 'General Horology Index' is an alphabetical list of topics covered, while the 'Clockmaker/Watchmaker Index', as the name suggests, lists clockmakers and watchmakers mentioned in this volume.


GENERAL HOROLOGY INDEX
A

Act of Parliament clocks, see 'Tavern clocks'
Alarm clocks, May 1979 page 51
American clocks, December 1978 page 36, May 1979 page 6
Antiquarian Horological Society, Pilot issue page 56, October 1978 page 23
Apostle clock, Prague, August 1978 page 35
Astrarium, by De Dondi, Pilot issue page 17, April 1979 page 29
Astrolabe, April 1979 page 29
Astronomical clocks, April 1979 page 29
Atmos clock, November 1978 page 22, February 1979 page 35, June 1979 page 42
Auctions, clocks sold at, April 1979 page 8






B

Balance wheel clock, electric, February 1979 page 48
Basle Fair, clocks at, April 1979 page 62
Beat, putting in, August 1978 page 45
'Big Ben', see 'Great clock of Westminster'
Bodgers, beware of, March 1979 page 50
Books, horological, Pilot issue page 20, Pilot issue page 56, July 1978 page 7, May 1979 page 54
'Bowler hat' clock, August 1978 page 51
Bracket clock, December 1978 page 40, April 1979 page 35
British Horological Institute, July 1978 page 20, April 1979 page 26
Bulle electric clock, January 1979 page 9






C
,
Capetown clock tower, May 1979 page 35
Carriage clocks, July 1978 page 42
Cartel clock, March 1979 page 27
Castle clock, Edinburgh, January 1979 page 6
Castle clock, Sauchiehall St, Glasgow, July 1978 page 35
Chamber clocks, January 1979 page 44
Chimes, May 1979 page 55
Chinese clocks, March 1979 page 50
Chronometers, October 1978 page 24, January 1979 page 16
Cleaning cases, marble, January 1979 page 17
Cleaning movements, August 1978 page 14
Clerkenwell, February 1979 page 12
Clockmakers Company, Worshipful, Pilot issue page 37, October 1978 page 13, October 1978 page 22, December 1978 page 8, December 1978 page 15
Clocksmiths, November 1978 page 16, March 1979 page 26, June 1979 page 38
Collecting clocks, October 1978 page 36, December 1978 page 26
Comic character watches, November 1978 page 11
Compressed air clocks, March 1979 page 44
Comtoise clock, August 1978 page 6, August 1978 page 15
Conical pendulum, November 1978 page 22
Courses in horology, August 1978 page 48, June 1979 page 24
Cupboard clocks, May 1979 page 46






D

Deck watches, January 1979 page 16
Devon clocks, February 1979 page 22
Dutch clocks, August 1978 page 18, January 1979 page 13






E

Electric clocks,January 1979 page 9, January 1979 page 26, February 1979 page 49, March 1979 page 22
England, clockmaking in, Pilot issue page 36
Eureka clock, November 1978 page 23, January 1979 page 9
Exhibitions containing clocks, May 1979 page 6, June 1979 page 41






F

Fairs, horological and containing clocks, February 1979 page 6, June 1979 page 10
Female horologists, May 1979 page 38
Floating balance, Smiths, January 1979 page 17
Floral clock, Edinburgh, November 1978 page 32
Franklin clock, December 1978 page 13
French clocks, October 1978 page 18, November 1978 page 11, December 1978 page 11, June 1979 page 34
Friesland clocks, August 1978 page 18






G

Gastown Steam clock, Vancouver, March 1979 page 31
German clocks, November 1978 page 27
Grasshopper escapement, April 1979 page 28
Great clock of Westminster, Pilot issue page 28, October 1978 page 13
'Great George', Liverpool, August 1978 page 19






H

Hampton Court clock, October 1978 page 55
Hollywood clock, April 1979






I

Incense clocks, March 1979 page 53






J

Jacks, use of in clocks, May 1979 page 55
Japanese clocks, July 1978 page 23, March 1979 page 28, April 1979 page 27, June 1979 page 32
Jubilee clock, August 1978 page 7






L

Lantern clocks, March 1979 page 27
Lathe, for horologists, May 1979 page 6
Lighthouse clock, June 1979 page 7
Liverpool clock, August 1978 page 19, April 1979 page 6
Lloyds Collection of Clocks, June 1979 page 18
Longcase clocks, Pilot issue page 24, December 1978 page 18, January 1979 page 27, February 1979 page 30, March 1979 page 8, May 1979 page 45
Longcase clock, restoration of, October 1978 page 46, November 1978 page 40, December 1978 page 42, January 1979 page 16
Lowne master clock,January 1979 page 9






M

Marble clocks, Pilot issue page 24
Marble, polishing of, see 'Slate, polishing of'
Marché aux Puces, Paris, March 1979 page 41
Marine chronometers, June 1979 page 48
Market, Portobello Rd, London, October 1978 page 6
Mass dials, November 1978 page 38
Maypole clock, November 1978 page 23
Mill clock, March 1979 page 26, April 1979 page 28
Movements, clock, July 1978 page 50
Museums containing clocks, Pilot issue page 17, July 1978 page 38, Augusst 1978 page 40, November 1978 page 22, November 1978 page 29, November 1978 page 36, December 1978 page 28, March 1979 page 24, March 1979 page 35, April 1979 page 7
Musical clocks, February 1979 page 30, April 1979 page 27
Mystery clock, August 1978 page 28






N

National Association of Watch and Clock Collectors, November 1978 page 50
Nightwatchman's clock, April 1979 page 26
Norwood clock, March 1979 page 20






O

Organ clock, January 1979 page 8






P

Pendulum length, calculation of, Pilot issue page 24
Pfeffenhauser, Wilhelm, November 1978 page 50
Planetary clock, March 1979 page 24
Plum-eater clock, January 1979 page 11
Port of Plymouth clock, March 1979 page 20
Public clocks, Pilot issue page 14, August 1978 page 6, August 1978 page 37, August 1978 page 48, August 1978 page 51, October 1978 page 59, November 1978 page 6, November 1978 page 48, December 1978 page 6, December 1978 page 15, December 1978 page 32, January 1979 page 6, January 1979 page 13, January 1979 page 52, February 1979 page 7, February 1979 page 22, February 1979 page 32, March 1979 page 6, March 1979 page 14, March 1979 page 20, March 1979 page 46, April 1979 page 6, April 1979 page 10, April 1979 page 41, May 1979 page 20, May 1979 page 25, May 1979 page 35, June 1979 page 8, June 1979 page 26, June 1979 page 38, June 1979 page 52, June 1979






Q

Quaker clockmakers, August 1978 page 58






R

Repair and restoration of clocks, March 1979 page 10, March 1979 page 43, June 1979 page 16
Researching clockmakers, April 1979 page 35
Railway clocks, August 1978 page 13, August 1978 page 26
Rouge, December 1978 page 10
Rye clock, St Mary's Church, Pilot issue page 14






S

St Dunstan's clock, London, March 1979 page 46
St James Clock Co of London, January 1979 page 34
St Paul's Cathedral, London, February 1979 page 18, March 1979 page 14
Servicing French clocks, October 1978 page 42
Setting up longcase and wall clocks, August 1978 page 45
Slate, polishing of, April 1979 page 19
Song, horological, Pilot issue page 24
Stackfreed, October 1978 page 12
Staartklok, January 1979 page 13
Steam clock, Gastown, Vancouver, July 1978 page 9
Stoelklok, January 1979 page 13
Stolen clocks, June 1979 page 6
Striking mechanisms, December 1978 page 22
Sundials, July 1978 page 20, August 1978 page 52, November 1978 page 8, November 1978 page 38, February 1979 page 6, March 1979 page 27, May 1979 page 26
Sundial, portable, March 1979 page 27
Swiss horological museums, August 1978 page 40






T

Tavern clocks, Pilot issue page 22, Pilot issue page 52
Time, daylight saving, July 1978 page 26
Timekeeping gun in Capetown, May 1979 page 7
Tiverton clockmakers, August 1978 page 36
Tools for clockmaking, June 1979 page 6
Trademarks, horological, March 1979 page 27
Tripoli, December 1978 page 10
Turret clocks, see 'Public clocks'






V

Vienna wall clocks, December 1978 page 12
Victorian clocks, April 1979 page 48






W

Wallace Collection, The, October 1978 page 28
Watches, August 1978 page 25, November 1978 page 20, December 1978 page 24, January 1979 page 8, January 1979 page 10, January 1979 page 40, February 1979 page 26, February 1979 page 45, February 1979 page 57, March 1979 page 26, March 1979 page 27, April 1979 page 45, June 1979 page 8
Watches, digital, June 1979 page 26
Watch manufacture, film about, June 1979 page 6
Watchman's clock, see 'Nightwatchman's clock'
Water clock, Su Sung, August 1978 page 54, March 1979 page 53
Welsh clocks and clockmakers, August 1978 page 39, March 1979 page 6
West Dean College, August 1978 page 48
Women in horology, see 'Female horologists'
Wooden movements, November 1978 page 46
Worshipful Company of Clockmakers, see 'Clockmakers Company, Worshipful'

Y

Yorkshire longcase clocks, March 1979 page 56



CLOCKMAKER INDEX
A

A & H Rowley and Parkes, June 1979 page 22
Adams, Thomas, of 36 Lombard Street, April 1979 page 50
Ainsworth, July 1978 page 13
Aldworth, Pilot issue page 52
Aldworth, Sam, March 1979 page 43
Allsop, Joshua, of East Smithfield, London, November 1978 page 36, May 1979 page 26
Alwood, William, of Tiverton, August 1978 page 36
American Tiffany Never Wind, April 1979 page 24
Andervalt, Pasquale, of Italy, October 1978 page 23
Ansonia Clock Co of New York, December 1978 page 30, December 1978 page 37, January 1979 page 18
Antram, Joseph, of London, December 1978 page 30
Archer, Henry, of London, November 1978 page 36
Arnold, June 1979 page 48
Arnold, John, Pilot issue page 17, July 1978 page 30, October 1978 page 22, April 1979 page 29
Arnold, John Roger, October 1978 page 22, October 1978 page 24
Arnott, Richard, of London, July 1978 page 10
Aske, Henry, December 1978 page 48
Askell, Elizabeth, May 1979 page 38
Asprey, June 1979 page 11, June 1979 page 12
Ateliers Vigreux et Brillié of Paris, December 1978 page 9
Atkinson of Ormskirk, June 1979 page 51
Audemars Piguet, December 1978 page 7
Ayloffe, Elizabeth, May 1979 page 38






B

Baillon, Albert, July 1978 page 13
Bain, Alexander, Pilot issue page 19, July 1978 page 10, October 1978 page 23, January 1979 page 36, February 1979 page 49, March 1979 page 22
Baltazar, G, October 1978 page 11
Balthazard of Paris, December 1978 page 30
Bancroft, John, of Scarborough, June 1979 page 50
Banger, Edward, December 1978 page 48
Barber, Jonas, of Skipton and Winster, November 1978 page 17, December 1978 page 18, December 1978 page 28, May 1979 page 45
Barclay (Barkley), Samuel, December 1978 page 50
Barker, William, of Wigan, June 1979 page 11
Barlow, Rev Edward, Pilot issue page 45
Barnett, John, of London, December 1978 page 35
Barnett, Mary, May 1979 page 38
Barraud, Paul Philip, October 1978 page 15, June 1979 page 48
Bartholomew, February 1979 page 18
Bate, Mary, May 1979 page 38
Bateman, Mary, May 1979 page 38
Baur, Gerardus, of Amsterdam, February 1979 page 45
Bautte, Jean-Francois, August 1978 page 43, April 1979 page 46
Bayard, August 1978 page 30
Baylie, Jeffry, of Holborn, London, October 1978 page 23
Becker, Gustav, of Freiburg, Silesia, July 1978 page 16, November 1978 page 28
Beckett, Edmund, October 1978 page 13, November 1978 page 14, March 1979 page 15, June 1979 page 55
Beha of Bridgend, August 1978 page 39
Belling, John, of Bodmin, November 1978 page 17
Bennett, John, of Plymouth, March 1979 page 43
Berthoud, Ferdinand, August 1978 page 41, March 1979 page 35, April 1979 page 29
Berthoud, Louis, August 1978 page 41
Binks, Thomas, of Barningham, December 1978 page 28
Black, Alexander, of Kirkcudbright, December 1978 page 12
Blakeborough of Keighley, March 1979 page 57
Blakeborough of Pateley Bridge, March 1979 page 57
Blakey, William, of Paris, March 1979 page 42
Bloor, John O, of Newcastle, October 1978 page 15
Blunt, T, of London, November 1978 page 36
Boddily, Elizabeth, May 1979 page 38
Boisson, Etienne, December 1978 page 29
Bolton of Chester-le-Street, December 1978 page 28
Booth, William, of London, July 1978 page 16
Boulle, Charles, October 1978 page 20
Bourgeois of Paris, December 1978 page 30
Bowell, G B and H T W,January 1979 page 9
Boyce, Lawrence, of Puddletown, February 1979 page 22, May 1979 page 25
Brahe, Tycho, April 1979 page 29
Bradley, Langley, October 1978 page 56, February 1979 page 19, March 1979 page 14, May 1979 page 25
Breguet, June 1979 page 48
Breguet, Abraham Louis, July 1978 page 43, August 1978 page 41, October 1978 page 20, November 1978 page 25, March 1979 page 36, April 1979 page 62
Breguet, Neaudet, August 1978 page 42
Breguet et Fils, December 1978 page 29
Brettonau, Auguste, of Paris, January 1979 page 46
Brillié Brothers,January 1979 page 9, April 1979 page 24
British United Clock Company of Birmingham, April 1979 page 26
Brockbank, John, October 1978 page 25
Brocot, Achille, Pilot issue page 32, October 1978 page 14
Brookhouse of Liverpool, November 1978 page 12
Brown, Edward, November 1978 page 26
Brown, Nathaniel, of Manchester, December 1978 page 10
Brownless of Staindrop, December 1978 page 30
Bulle Clock Company, April 1979 page 23
Bullock, Thomas, of Bath, October 1978 page 15
Bulova, August 1978 page 42
Burgi, Jost, October 1978 page 57, March 1979 page 35, April 1979 page 29
Bushman, John, of London, January 1979 page 40






C

Camm, Edward, of Brigg, January 1979 page 18
Campiche, H A, of Geneva, February 1979 page 49
Cardon, Pierre-Augustin, June 1979 page 49
Carruthers, George, of London, June 1979 page 25
Carruthers, George, of Pershore, December 1978 page 12
Carruthers, George, of Walsall, June 1979 page 25
Carruthers, James, June 1979 page 25
Carry, O, of Rue Rampon and Rue Vieille de Temple, Paris, June 1979 page 17
Cary, John, of London, May 1979 page 48
Cattaneo & Co of Leeds, October 1978 page 14
Cattell, Thomas, of London, June 1979 page 10
Cavet, Ebenezer, of Bedford, April 1979 page 35
Cheneviere, F & P, of Geneva, August 1978 page 43
Clarke, G, of London, August 1978 page 47
Clay, Charles, of London, November 1978 page 36
Clement, William, Pilot issue page 37
Clifton, Edward, May 1979 page 26
Closon, Peter, of London, Pilot issue page 40
Cole, Thomas , Pilot issue page 53
Coles, Angelo, of Scarborough, May 1979 page 27
Coles, John, of Barnstaple, February 1979 page 23
Collins, John Augustus, of Newgate Street, London, March 1979 page 43
Combret, Pierre, March 1979 page 38
Comer, Jonathan, of Dorchester, February 1979 page 25
Concordia, November 1978 page 28
Congreve, William, August 1978 page 28
Cooke, T & Son, of York and London, June 1979 page 8
Cope, William W, August 1978 page 48
Copernicus, April 1979 page 29
Cording, John, June 1979 page 20
Corrie, Philip, of Langholm, June 1979 page 25
Coster, Salomon, Pilot issue page 37
Cottey, Abel, of Philadelphia, August 1978 page 58
Cowpe, James, of Fox Hall, London, April 1979 page 33
Cox, Richard, of Christchurch, Pilot issue page 33
Cranshaw, Thomas, of Rotherham, June 1979 page 50
Cruttenden, Thomas, of York, November 1978 page 16






D

Dalgleish, Laurence, of Edinburgh, June 1979 page 10
Dallam, Thomas, November 1978 page 44
Daunton, Laurence, October 1978 page 55
Davies, John, of Chester, May 1979 page 51
Davis, of King William St, London, November 1978 page 36
Deacon, Samuel, August 1978 page 54
De Dondi, April 1979 page 29
de Félains, Jehain, May 1979 page 55
De Grange of London, December 1978 page 30
De Hecq of Orleans, January 1979 page 46
Delander, R, February 1979 page 45
Delunésy, Nicolas Pierre, October 1978 page 30
Denison, E B, Pilot issue page 29
Dent, June 1979 page 48
Dent, Edward John, of London, Pilot issue page 29, July 1978 page 58, August 1978 page 29, October 1978 page 11, October 1978 page 13, November 1978 page 12, April 1979 page 48
Dent & Co, March 1979 page 35
Dent of London, June 1979 page 8, June 1979 page 48
De Rivaz, Pierre, March 1979 page 35
Detouche, March 1979 page 36
Dewe, John, of Southwark, Pilot issue page 24, November 1978 page 52
Dickinson, P, of Preston, January 1979 page 11
Diquet of Rennes, December 1978 page 30
Ditisheim, June 1979 page 48
Dixon, J, Pilot issue page 24
DNH&S, October 1978 page 8
Doland, Jean Baptiste, Pilot issue page 32
Dold of Merthyr Tydfil, August 1978 page 39
Donald, John, of Kilmarnock, November 1978 page 14
Dondi, Giovanni de, Pilot issue page 17
Doute, Peter, October 1978 page 55
Drury, James, of 16 North Avenue, Pentonville, April 1979 page 50
Ducommun, François, August 1978 page 42
Dudley, Alan, of Harlington, Pilot issue page 34
Dumont, October 1978 page 20
Duncan, Robert, of London, April 1979 page 46
Duttertre, Vincenzio and Jean Baptiste, February 1979 page 59, March 1979 page 35, June 1979 page 20
Dutton, William, July 1978 page 29
Dwerrihouse of Berkeley Square, London, April 1979 page 47






E

Earnshaw, Thomas, August 1978 page 43, October 1978 page 24, February 1979 page 27, June 1979 page 48
East, Edward, of London, August 1978 page 60, November 1978 page 20
Easter, Henry, November 1978 page 20
Eayre, Joseph, of St Neots, December 1978 page 10
Edwards, William, of London, December 1978 page 30
Edwin, John, June 1979 page 7
Einstein, Albert, May 1979 page 10
Eisinger, Eise, April 1979 page 30
Ellicott, Edward, May 1979 page 30
Ellicott, John, November 1978 page 54, May 1979 page 28, June 1979 page 49
Ellicott & Sons, May 1979 page 30
Elliott, Edward, of Lenham, August 1978 page 13
Elliott, F W, July 1978 page 59, August 1978 page 28, May 1979 page 8, May 1979 page 32
Elliott, John, of London, July 1978 page 29, July 1978 page 38, April 1979 page 31, June 1979 page 19
Elliott, J C, of Leeds, March 1979 page 57
Elliots of Croydon, July 1978 page 6, August 1978 page 30, August 1978 page 34, February 1979 page 14, May 1979 page 58
Elliots of Leeds, March 1979 page 57
Embriaco, Giovanni B, February 1979 page 33
Embee, December 1978 page 12
Emery, Josiah, Pilot issue page 17, October 1978 page 23
Escapements, tic-tac, July 1978 page 15
Eschles of Aberdare, August 1978 page 39
Erhardt of London, November 1978 page 12
Eureka Clock Company of 361 City Road, Birmingham, April 1979 page 23
Evans, Moses, of Llanrwst, August 1978 page 39
Evans & Son of Birmingham, August 1978 page 13
Evans, William F, of Soho Street, Handsworth, April 1979 page 49
Ever Ready, April 1979 page 22






F

Fabergé, Pilot issue page 34
Fabian, Michael, of Thorn, Poland, January 1979 page 42
Fardoil, Pierre, March 1979 page 36
Favre-Bulle, April 1979 page 23
Ferguson, James, April 1979 page 30, May 1979 page 30
Fery, Professor Charles, April 1979 page 24
Finch, Joseph, March 1979 page 43
Finnery, James, of Liverpool, January 1979 page 18
Finney, Joseph, of Liverpool, January 1979 page 18, March 1979 page 43
Fitzwater, John, October 1978 page 55
Fletcher, Robert, of Chester, May 1979 page 51
Flowers, Captain A I, May 1979 page 27
Follett, Mary, of London, May 1979 page 39
Fordham, Joseph, of Braintree, Pilot issue page 43
Fortier, Alexandre, October 1978 page 32
Foster, Joseph, of Exchange Alley, London, April 1979 page 8
Fournier, Stanislas, March 1979 page 36
Franks of Tiverton, August 1978 page 36
Frémin, A, of Paris, January 1979 page 46
French of Yalding, November 1978 page 41
Frodsham, Charles, October 1978 page 22, April 1979 page 49
Fromanteels, Pilot issue page 37, August 1978 page 60, November 1978 page 16
Funnell, Edward, of 2 Clarence Place, Brighton, April 1979 page 50






G

Galbraith, William, of Goswell Rd, London, February 1979 page 14
Galileo, April 1979 page 29
Gallonde, March 1979 page 35
Ganthony, Richard, October 1978 page 22
Ganz, Xavier, of Swansea, August 1978 page 39
Gardelle, J, of Paris, December 1978 page 28
Garon, Peter, June 1979 page 20
Garrard, August 1978 page 46, June 1979 page 12
Garrard Limited Editions, August 1978 page 34
Garrards, May 1979 page 32
Garner, Paul, March 1979 page 36
Gavelle of Paris, December 1978 page 30
Gent & Co, August 1978 page 19
Germania, November 1978 page 28
Gilbertson of Newcastle, December 1978 page 30
Gillander, Joseph, June 1979 page 21
Gillet & Bland of Croydon, October 1978 page 59
Gillet & Company of Croydon, August 1978 page 36
Gillet & Johnston of Croydon, July 1978 page 6, July 1978 page 7, February 1979 page 34, May 1979 page 58
Gillow, Robert, of Lancaster, October 1978 page 6
Goldschmidt, Gideon, of Israel and London, England, November 1978 page 46
Goodall, George, of Aberford, Yorkshire, March 1979 page 57
Goodall, George, of Tadcaster, March 1979 page 56
Goode, Charles, October 1978 page 11
Goodwin of London, December 1978 page 30
Gorham, James, of Kensington, April 1979 page 35
Gothic clocks, April 1979 page 14
Gould, Christopher, June 1979 page 13
Gower, George, October 1978 page 56
Graham, George, Pilot issue page 45, July 1978 page 16, July 1978 page 29, August 1978 page 42, December 1978 page 48, February 1979 page 26, April 1979 page 30, May 1979 page 29
Grant, John, October 1978 page 23, May 1979 page 29
Grason, James, of Tiverton, August 1978 page 36
Gravell & Sons, of Charter House Square, London, October 1978 page 10
Gray, Benjamin, of London, June 1979 page 18
Gray, James, of Edinburgh, March 1979 page 36
Gregoire of Blois, March 1979 page 38
Green, John, of Skipton, November 1978 page 16
Greenbanck, John, November 1978 page 18
Greenhill, John, of Maidstone, December 1978 page 35
Gregg & Son of Clerkenwell, London, October 1978 page 60
Gregson of Paris, December 1978 page 29
Gretton, Charles, July 1978 page 38
Grignon of Paris, July 1978 page 32
Grimm, Paulus, of Nuremberg, March 1979 page 37
Grimshaw & Baxter, May 1979 page 7
Grimthorpe, Lord, see 'Beckett, Edmund'
Grinkin, Robert, of London, December 1978 page 30
Grimthorpe, Lord, see 'Beckett, Edmund'






H

Habrecht, Joachim, February 1979 page 33, February 1979 page 59
HAC, see, 'Hamburg American Company'
Hackett, Simon, of London, November 1978 page 20
Hadwen, Isaac, of Sedberg, November 1978 page 18
Halbrecht, April 1979 page 29
Hale, Thomas & Sons, of Narrow Wine Street Works, Bristol, May 1979 page 20
Hall, George Frederick, of Norfolk Street, Fitzroy Square, April 1979 page 49
Hamburg American Clock Company, Schramberg, November 1978 page 28, December 1978 page 27
Harel of Paris, December 1978 page 28
Harris of Chippenham, December 1978 page 11
Harris, Samuel, of London, December 1978 page 28
Harris, Stephen, of Tunbridge, June 1979 page 28
Harris, William, of Tunbridge, June 1979 page 28
Harrison of Newcastle, December 1978 page 28
Harrison, James, October 1978 page 22
Harrison, John, of London, Pilot issue page 17, July 1978 page 29, August 1978 page 42, October 1978 page 22, December 1978 page 50, January 1979 page 16, February 1979 page 27, April 1979 page 29, May 1979 page 29, June 1979 page 48
Harrison, John, of Newcastle-upon-Tyne, December 1978 page 10
Harrys, Thomas, of Water Lane, Blackfriars, London, March 1979 page 46
Harwood, John, of Bolton, February 1979 page 28
Hatton, June 1979 page 48
Hawina Company of Neustadt, May 1979 page 58
Hawkins, Ambrose, of Exter, February 1979 page 23
Haycock, C W, of Ashbourne, Derbyshire, May 1979 page 34
Heitzman of Cardiff, August 1978 page 39
Henlein, Peter, of Nuremburg, November 1978 page 27, February 1979 page 26
Herbert, William, February 1979 page 19
Herzenfro, Andreas, December 1978 page 30
Hessian of Paris, December 1978 page 31
Heywood of Northwich, November 1978 page 8
Hicks, James, of Whitechapel,January 1979 page 8
Hill, Benjamin, of London, November 1978 page 36
Hill, William, of Walsingham, May 1979 page 26
Hitt, Peter, of Liskeard, Cornwall, August 1978 page 15
Hobson, Charles, May 1979 page 7
Hodgson, E, of Bradford, February 1979 page 36
Holden, Frank, April 1979 page 24
Holland, William, of Chester, May 1979 page 46
Holloway & Co, December 1978 page 36
Holloway, William, of Stroud, August 1978 page 59, November 1978 page 10
Holroyd, John, of Wakefield, June 1979 page 51
Hones, John, of 338 Strand, April 1979 page 50
Hooke, Robert, June 1979 page 20
Hope-Jones, August 1978 page 12
Hoquet of Paris, December 1978 page 29
Houdin, March 1979 page 36
Houghton, Richard, Pilot issue page 45
Houriet, Jacques-Frederic, August 1978 page 41
Howard, E, of Boston, Massachusetts, May 1979 page 58
Howell James & Co of London, December 1978 page 30
Hubert, François, of Rouen, July 1978 page 32
Hudsons of Otley, March 1979 page 57
Hughes, William, of London, November 1978 page 6
Hume of Durham, December 1978 page 29
Humphreys, Thomas, of Barnard Castle, December 1978 page 29, December 1978 page 30
Hunter, John, Samuel and Thomas, of Clapham, London, March 1979 page 28
Hutchinson, Thomas, of Leeds, December 1978 page 10
Huygens, Christiaan, Pilot issue page 37, April 1979 page 29, May 1979 page 11






I

Ilbery of London, July 1978 page 32
Ingersol, April 1979 page 47
Ingraham, December 1978 page 37
I-sing, March 1979 page 53
Ismay, John, of Oulton, November 1978 page 18
Ismay, John, of Wigton, Cumbria, August 1978 page 14






J

Jaeger-le-Coultre, July 1978 page 44, February 1979 page 35, June 1979 page 42
Japy Frères, Pilot issue page 40, December 1978 page 10, January 1979 page 17, June 1979 page 24
Jaquet Droz, August 1978 page 44
Janvier, Antide, August 1978 page 41, March 1979 page 36, April 1979 page 29
Jeanmairet, Silvain, August 1978 page 41
Jequier Frères & Co of Fleurier, Switzerland, April 1979 page 46
Jerome, Chauncey, Pilot issue page 41, January 1979 page 18
Jerome & Co, November 1978 page 23, December 1978 page 37, February 1979 page 37
Johnson of Cowbridge, November 1978 page 10, February 1979 page 36
Johnson, Michael, of Barnard Castle, December 1978 page 30
Johnson, Thomas, of Richmond, December 1978 page 30
Jolly, François Antoine, October 1978 page 31
Jolly et Fils, Gaston, December 1978 page 28
Jones, Henry, Pilot issue page 59, June 1979 page 12
Jones, John Emlyn, of Cardiff, Ebbw Vale, Merthyr Tydfil, Pontypridd and North Wales, August 1978 page 39
Jones, Joshua and Robert, of Amlwych, Anglesey, May 1979 page 51
Jouanain of Paris, December 1978 page 30
Joyce, J B, of Whitchurch, August 1978 page 37
Junghans, Pilot issue page 41, November 1978 page 28
Jurgensen, Jules, August 1978 page 41






K

Kay, Will, November 1978 page 17
Keepfer of Denbigh, August 1978 page 39
Kelvey of Gainsborough, March 1979 page 57
Kelvin, Lord, see 'Thomson, William, of Glasgow'
Kendall of London, Pilot issue page 32
Kendall, Larcum, October 1978 page 22
Keplar, April 1979 page 29
Kienning, April 1979 page 29
Kienzle of Schwenningen, November 1978 page 28
Kinable of Paris, July 1978 page 39
Kintzing, Peter and Christian, of Neuwied, November 1978 page 28, March 1979 page 36
Kleiser of Holyhead, August 1978 page 39
Klock, Peter, of Amsterdam, Pilot issue page 31
Knibb, John, July 1978 page 15
Knibb, Joseph, Pilot issue page 52, April 1979 page 10, June 1979 page 11
Knibbs, the family, of Oxford, August 1978 page 59
Knox of Belfast, October 1978 page 14
Kullberg,January 1979 page 7
Kutnow, the brothers, of New York, November 1978 page 23, April 1979 page 22






L

Lacey, William, April 1979 page 30
Lacroix of Geneva, November 1978 page 8
Lamy of Paris, December 1978 page 30
Lancashire Watch Co, August 1978 page 54
Lane, Henry, of Bristol, December 1978 page 10, June 1979 page 51
Langford, Edwin, June 1979 page 55
Langlands, John, of Newcastle, December 1978 page 30
Latter, Andrew, November 1978 page 12
Lawson and Son of Brighton, August 1978 page 53
Le Count, Daniel, of London, December 1978 page 35, April 1979 page 8
Lee, Thomas, of Potton, Pilot issue page 23
Lejeune of Paris, December 1978 page 30
Lenzkirch, Pilot issue page 40, July 1978 page 7, November 1978 page 28
Lepaute, August 1978 page 42, October 1978 page 20, April 1979 page 29
L'Epee, October 1978 page 20, June 1979 page 35
Leroy, March 1979 page 36, April 1979 page 24
Le Roy, April 1979 page 29
Le Roy of Paris, October 1978 page 24, November 1978 page 21, December 1978 page 29, December 1978 page 30, December 1978 page 50, February 1979 page 27, February 1979 page 59, March 1979 page 35
Le Roy, Pierre, June 1979 page 20
Levy, D, of North Shields, October 1978 page 14
Liechti, Erhard, of Winterthur, January 1979 page 44
Liechti, Laurenz, of Winterthur, February 1979 page 33, February 1979 page 59
Liechti, the family, of Switzerland, April 1979 page 17
Lister, Thomas, of Halifax, February 1979 page 30, May 1979 page 48
Lister, William, of Keighley, February 1979 page 30
Litherland, Davies & Co, of Liverpool, May 1979 page 51
Lithgow, William, of Portobello, December 1978 page 12
Losada, J R, of Regent St, London, October 1978 page 15, June 1979 page 48
Lovelace, Jacob, of Exeter, January 1979 page 22
Lowne Electric Clock and Appliances Co Ltd of Catford, London,January 1979 page 9
Lund & Brockley, London Pilot issue page 41
Luterer, Hans, February 1979 page 33






M

MacDowall, Charles, of London, March 1979 page 25
Maeder of Andelfingen, February 1979 page 32
Maillardet, Jean David, August 1978 page 42
Mailly, D, January 1979 page 46
Maizière, J, of Geneva, August 1978 page 43
Mappin & Webb of London, October 1978 page 33
Market, John, of London, December 1978 page 30
Markwick of London, November 1978 page 52
Markwick Markham Perigal of London, July 1978 page 12
Marshall & Sons of Edinburgh, April 1979 page 28
Martin of Paris, December 1978 page 28
Martin, Benjamin, March 1979 page 24, April 1979 page 30
Martin, Johann, of Augsburg, January 1979 page 41
Mason, W, of Warwick, December 1978 page 12
Mauthe of Schwenningen, November 1978 page 28
McCabe & Sons, June 1979 page 24
McCabe, James, of Belfast and London, June 1979 page 24, June 1979 page 48
McCabe, the family, June 1979 page 24
McCaskie, John, of Liverpool, December 1978 page 30
McKay, David, of Arbroath, July 1978 page 46
Menzies, Robert, of Perth, July 1978 page 46
Mercer, Thomas, November 1978 page 34, April 1979 page 28
Mesnils, D, of Paris, December 1978 page 30
Metzger, Jeremiah, of Augsburg, July 1978 page 38
Meyer, Jacob, of Augsburg, August 1978 page 9
Meylan, P S, of France, October 1978 page 50
Mills, Humphrey, of Edinburgh, August 1978 page 54
Miroy Frères of Paris,October 1978 page 15
Monk, William, of Devon, February 1979 page 22
Moore, William, of London, Pilot issue page 33
Moorehouse, W, of Wetherby, Yorkshire, May 1979 page 46
Moreland, Thomas, of Chester, May 1979 page 51
Morland, Richard, of Kirkby Malzeard, March 1979 page 57
Morrison, Thomas, of Ayton, February 1979 page 58
Moseley, Elinor, May 1979 page 38
Motel, June 1979 page 48
Moulin, April 1979 page 23
Mottu of Geneva, July 1978 page 32
Mudge, Thomas, Pilot issue page 17, Pilot issue page 52, July 1978 page 29, August 1978 page 44, October 1978 page 25, February 1979 page 23
Murday, Thomas John, February 1979 page 49, April 1979 page 22






N

Naze, Jean, of Lyons, March 1979 page 37
New Haven Clock Co, December 1978 page 36
Newsam, Bartholomew, of Yorkshire and London, Pilot issue page 37, October 1978 page 55
Newton, James, of Newcastle, May 1979 page 27
Newton, Thomas, of Hexham, May 1979 page 27
Neill of Belfast, October 1978 page 14
Nicholas, Caleb, of Birmingham, June 1979 page 50
Norman, Matthew, July 1978 page 44, April 1979 page 62
Norton, Eardley, August 1978 page 11
Nouwen, Michael, October 1978 page 22






O

Ogden, John, of Askrigg, November 1978 page 17
Ogden, John, of Browbridge, May 1979 page 45
Ogden, Thomas, of Halifax, February 1979 page 30
Osborne, A A & Son, of Clerkenwell Rd, London, February 1979 page 13
Oudin of Paris, December 1978 page 29, December 1978 page 30
Oursain, Nicholas, October 1978 page 55
Owen, John, of Llanrwst, August 1978 page 39
Owen, John, of North Wales, March 1979 page 43
Owen, Watkin, of Llanrwst, August 1978 page 39
Owen, William, of Llanrwst, August 1978 page 39






P

Pace, J, of Bury St Edmunds, April 1979 page 49
Pack, Jacob, of Tiverton, Augusst 1978 page 36
Page, W, of Great Portland St, London, August 1978 page 9
Paine, J J, of London, June 1979 page 54
Palis, M Leon, May 1979 page 27
Palmer, Richard, of Whetstone, July 1978 page 46, October 1978 page 14
Parkes, Daniel, June 1979 page 21
Parkes, Daniel John, June 1979 page 21
Parkes, John William, June 1979 page 22
Peirce, Thomas, of Berkeley, Gloucester, November 1978 page 16
Pennington, June 1979 page 48
Perigal of Royal Exchange, London, July 1978 page 13
Perrelet, Abraham-Louis, of Le Locle, October 1978 page 50, March 1979 page 36
Philipson, Henry, December 1978 page 19
Pinchbeck, Christopher, July 1978 page 38, August 1978 page 10
Pinchbeck, Edward, of Fleet St, London, August 1978 page 10
Pinchin of Paris, December 1978 page 10
Pinchin & Johnston, April 1979 page 23
Polyphon, December 1978 page 9
Pons, Honoré, March 1979 page 36
Poole, June 1979 page 48
Powers, Timothy Bernard, April 1979 page 22
Porthouse, William, of Penrith, November 1978 page 19, May 1979 page 45
Pothenot of Paris, December 1978 page 29
Power, Thomas, of Wellingborough, March 1979 page 27
Powers, Ann, May 1979 page 38
Poy, Geoffrey, of London, July 1978 page 13
Pridham, Lewis, of Devon, February 1979 page 23
Prior, George, July 1978 page 39
Pyke, George, of London, November 1978 page 36
Pyke, John, of London, November 1978 page 36






Q

Quare, Daniel, Pilot issue page 53, July 1978 page 38, November 1978 page 12, December 1978 page 8, May 1979 page 32
Querforth, Edward, of Israel and London, England, November 1978 page 46






R

Radiguet of Rouen, December 1978 page 29
Railton, R, of Barnard Castle, December 1978 page 30
Raingo, August 1978 page 42
Ramsay, David, Pilot issue page 37, October 1978 page 23, January 1979 page 54, May 1979 page 36
Ravrio, Antoine, December 1978 page 29
Raymond, William, of Calne, October 1978 page 12
Reason Manufacturing Company of Brighton, February 1979 page 48, April 1979 page 22
Reeve, Claude, October 1978 page 10
Reid & Auld, June 1979 page 24
Reid, Thomas, of Edinburgh, August 1978 page 54
Reutter, J E, November 1978 page 22, February 1979 page 35
Rider of Belfast, October 1978 page 14
Riefler, Sigmund, December 1978 page 49
Rimbault, Stephen, August 1978 page 9
Ritchie, James & Son, of Edinburgh, November 1978 page 35, January 1979 page 9
Rittenhouse, David, April 1979 page 30
Robard, B, of Bishop Auckland, December 1978 page 29
Robb, William, of Montrose, Pilot issue page 41
Robert, Josue, of La Chaux-de-Fonds, January 1979 page 47
Robinson, P, of Bishop Auckland, April 1979 page 49
Rogers, Mark, of Ringwood, October 1978 page 15
Roskell, Robert, of Liverpool, April 1979 page 45
Ross, Daniel, of Exter, August 1978 page 37
Rotherham & Sons of Coventry, April 1979 page 50
Roussel & Co of Paris, October 1978 page 16
Rowley, A & H, of London, February 1979 page 31
Russell, T R, of Liverpool, October 1978 page 6
Russell, Thomas, of Cumberland, October 1978 page 6
Russels, June 1979 page 48






S

St James Clock Company, London, May 1979 page 33
Sanders, W, of Longton, Staffordshire, February 1979 page 57
Sayller, Johann, of Ulm, November 1978 page 27
Scafe, William, of London, March 1979
Schmidt, Johan Andreas, August 1978 page 28
Scholefield of London, December 1978 page 28
Schönmann, April 1979 page 29
Scott, Herbert, April 1979 page 22
Senex, John, May 1979 page 30
Shepherd, Charles, of 53 Leadenhall Street, London, April 1979 page 48
Silent Electric Clock Co Ltd,January 1979 page 9
Sinclair Harding & Bazeley of Cheltenham, Pilot issue page 33, July 1978 page 56, December 1978 page 35, April 1979 page 30, April 1979 page 62
Skinner, Alvah, of Boston, Massachusetts, March 1979 page 28
Skinner, Elija, of Sutton Ashfield, March 1979 page 28
Skinner, G M, of Montpelier, Vermont, March 1979 page 28
Skinner & Sawyer of Boston, Massachusetts, March 1979 page 28
Smallwood, John, of Macclesfield, November 1978 page 17
Smart, B, of London, December 1978 page 30
Smiths of Enfield, January 1979 page 17, June 1979 page 28
Smiths Industries Ltd, July 1978 page 36
Smiths of Derby, August 1978 page 37, February 1979 page 34
Smith, John & Sons, of Clerkenwell, London, February 1979 page 14, April 1979 page 41, April 1979 page 50, June 1979 page 26
Smith, John & Sons, of Derby, March 1979 page 15, April 1979 page 11, June 1979 page 55
Smith, W, of Maidstone, April 1979 page 50
Snow, Richard, of Pateley Bridge, March 1979 page 57
Snow, Thomas, of Knaresborough, March 1979 page 57
Snow, William, of Pateley Bridge, November 1978 page 19, March 1979 page 57
Société Clusienne of Cluses, France, August 1978 page 33
Soho Clock factory, August 1978 page 13
Stancliffe, John, of Barkisland, February 1979 page 30
Stanton, Edward, of London, November 1978 page 58
Stevens, William, of Cirencester, Pilot issue page 23
St James of London, Pilot issue page 31
Stolewerk, Michael, October 1978 page 32
Stonehouse of Leeds, March 1979 page 57
Street, Richard, of Fleet Street, London, March 1979 page 14
Streeter, Robert, October 1978 page 56
Stretch, Peter, of Leek, Staffordshire, and Philadelphia, August 1978 page 58
Su Sung, August 1978 page 54, March 1979 page 53, April 1979 page 29
Sully, Henry, October 1978 page 23
Swete, Mayne, of Modbury, Devon, July 1978 page 38
Synchronome Company of Alperton, Middlesex,January 1979 page 6






T

Ta'Bois, Noel C, March 1979 page 7
Talley Industries Inc of America, April 1979 page 62
Tanner, William, of 83 Upper Street, Islington, April 1979 page 49
Tansley, Thomas, February 1979 page 57
Taylor, B S, April 1979 page 62
Taylor, G E, November 1978 page 8
Taylor, John, of London, June 1979 page 7
Taylor, Samuel, of Rochdale, December 1978 page 13, March 1979 page 26, May 1979 page 34
Taylor, Thomas, of London, November 1978 page 6
Tavan, Antoine, August 1978 page 41
TEMCO, March 1979 page 26
Tempex, April 1979 page 23
Thiout, April 1979 page 29
Thomas, Seth, August 1978 page 33, December 1978 page 27, December 1978 page 37, December 1978 page 56, April 1979 page 62
Thomire, P Ph, October 1978 page 19
Thommen, G, June 1979 page 26
Thomson, William, of Glasgow, February 1979 page 40
Thwaites, Aynsworth, of Rosaman St, London, February 1979 page 14
Thwaites, John, July 1978 page 13
Thwaites & Reed of Clerkenwell, London, August 1978 page 37, October 1978 page 60, January 1979 page 8, March 1979 page 48
Tierbuck, William, of London, August 1978 page 9
Tiffany (George Steele) of New York, April 1979 page 24, May 1979 page 8
Tobias, Morris, of London, June 1979 page 48
Tompion, Thomas, of London, Pilot issue page 38, Pilot issue page 44, July 1978 page 15, July 1978 page 29, August 1978 page 30, October 1978 page 23, November 1978 page 12, November 1978 page 20, November 1978 page 54, December 1978 page 15, December 1978 page 40, December 1978 page 48, February 1979 page 19, February 1979 page 26, April 1979 page 35, May 1979 page 9
Trafalgar Watch Company, April 1979 page 62
Tribe, Tom, June 1979 page 22
Tryer, Thomas, June 1979 page 20
Tucker, John, of Tiverton, August 1978 page 36, February 1979 page 23
Tucker, John Walter Tothill, of Tiverton, August 1978 page 36
Tunnicliffe of Derby, November 1978 page 12
Twigg, Thomas, of Shelton, December 1978 page 10






U

Upjohn, John, of Exeter, November 1978 page 48, February 1979 page 23






V

Vallin(e), Nicholas, December 1978 page 40, March 1979 page 37, June 1979 page 49
Vautrollier, James, February 1979 page 45
Voisin, October 1978 page 20
Vulliamy, Benjamin, October 1978 page 22, March 1979 page 20
Vulliamy, Benjamin Lewis, Pilot issue page 29, August 1978 page 11, October 1978 page 22, October 1978 page 59, April 1979 page 35, April 1979 page 49
Vulliamy, Francois Justin, June 1979 page 20
Vulliamy of London, June 1979 page 12






W

Wagner & Collin, March 1979 page 36
Wake, T, December 1978 page 30
Walker, Adam, April 1979 page 30
Walker, John, Pilot issue page 53
Walker, John, of 48 Princes Street, Leicester, April 1979 page 51
Walker & Finnemore, October 1978 page 15, November 1978 page 10
Wall, William, of Richmond, April 1979 page 33
Wallingford, Richard of, April 1979 page 29
Walter the clockmaker of Southwark, February 1979 page 18
Walter, Francis, of 9 Devonshire Place, London, April 1979 page 50
Walters, John, of London, May 1979 page 28
Waltham, August 1978 page 25, February 1979 page 27
Waltham Clock Company, May 1979 page 58
Waltrin of Paris, March 1979 page 27
Ware, Robert and Mary, May 1979 page 38
Waterbury, August 1978 page 33, December 1978 page 26
Watson, John, of Kirby Moor, December 1978 page 30
Watson, Samuel, October 1978 page 23
Warren, William, of Thirsk, Pilot issue page 23
Webster, Richard, of London, July 1978 page 16
Webster, William, of London, June 1979 page 48
Weiss, Peter, April 1979 page 62
Welch, E N & Co, July 1978 page 17, December 1978 page 26
Werner, Pilot issue page 40
Westclox, April 1979 page 62
Whichcote, Samuel, of London, Pilot issue page 33
Whitehurst of Derby, Pilot issue page 29, April 1979 page 26
Whitefield, John, of Clifton near Penrith, January 1979 page 27, May 1979 page 26
Wicksteed, James, of Bath, December 1978 page 29
Wild, J M, March 1979 page 28
Wilkins of Leicester, June 1979 page 18
Williams, William, of Dolgellau, March 1979 page 56
Williamson, John, of Leeds, November 1978 page 16
Williamson, John, of London June 1979 page 19
Wilson of Belfast, October 1978 page 14
Wilson, Charles, December 1978 page 30
Wilter, John, of London, January 1979 page 18
Windmills, J, of London, July 1978 page 47, October 1978 page 16, November 1978 page 53
Winterhalder, May 1979 page 58
Winterhalder & Hofmeier of Neustadt, Pilot issue page 34, Pilot issue page 40, November 1978 page 28, May 1979 page 58
Witchell, Robert, of London, December 1978 page 11
Worcester Clock Company Ltd of Redditch, April 1979 page 62
Worgan, Matthew, of Bristol, Pilot issue page 22
Wright, John, of Dorking, Pilot issue page 23
Wright, Thomas, October 1978 page 25
Wright, William, of Crown Street, Southwark, March 1979 page 14
Wythe, Joane, May 1979 page 38






Y

Yale Clock Company of New Haven, Connecticut, April 1979 page 54
Yate, Cornelius, December 1978 page 29
Yates, Thomas, of Preston, November 1978 page 12
Young, J T, of Barnard Castle, December 1978 page 30






Z

Zenith, January 1979 page 18, June 1979 page 42




&copy 1977-2021 CLOCKS Magazine & Splat Publishing Ltd